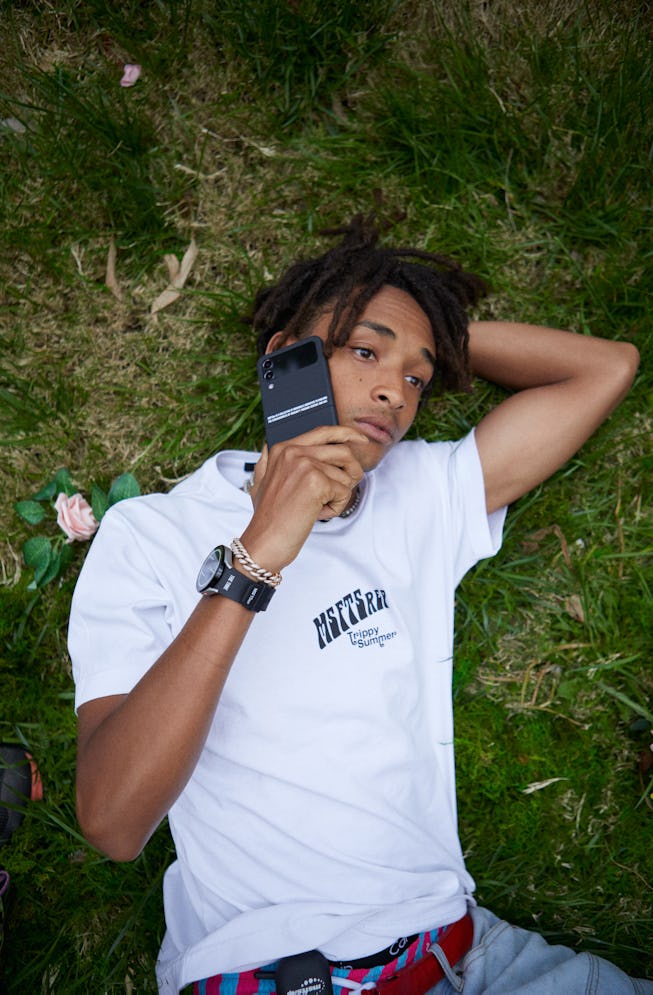 Jaden Smith & Samsung Galaxy's Latest Collection Is An Ode to Outside
Just in time for earth day.
Jaden Smith is committed to spending his entire summer outside. "I do everything outside. I'll work outside, I've recorded outside before, I rehearse for performances outside, eat all my meals outside, and even take super serious meetings outside," he told NYLON in a phone interview (while sitting outside). His latest collaboration with Samsung, through his brand MSFTSrep, will inspire you to get outside, too. Teaming up to celebrate Earth Month, Samsung has released a limited-edition collection of eco-minded accessories, featuring designs lifted from his MSFTSrep collections with four bold graphics created by JADEN himself.
The collection features four styles of accessories made from consciously sourced materials for the Galaxy S23 Ultra, Galaxy Z Flip4, Galaxy Buds2 Pro, and Galaxy Watch bands and matching watch face designs. Made from eco-conscious materials and packaged in recycled paper with card stock printed with vegetable ink, the collection is already available to purchase at Samsung. Smith, who spent the weekend on stage with his sister Willow at Coachella, has already been spreading the word about the launch, saying that the collection was designed to be shared (you guessed it) outside.
The accessories themselves are bright and colorful, with four bold graphics designed by Smith himself. This is something that he says is an intentional pushback against young people wearing all black. "The designs were inspired by the psychedelic movement and the psychedelic renaissance that's happening in the world right now," he says. "There's a countercultural movement happening right now where young people are wearing bright colors, hanging outside, and spending less time on social media."
Smith, who's collaborated with Samsung before, says he views technology as a tool for change. "I think new tech is really powerful and it can be used to really make the world a better place," he says. For the release, he drew inspiration from the planet's renewable resources. The musician hopes to expand sustainability measures in fashion, and he will continue to do so from his outside office, with a view of the sunset.
"Go outside and be in the sun," he says. "Explore your own mystical state of consciousness with yourself and with your friends and the people that you love, because that's where the creativity and the inspiration for art come from. That's what it's really all about." While you do so, of course, don't forget your MSFTSrep Wavy watch band, eco-conscious Galaxy Buds 2 Pro rainbow case, Galaxy Z Flip4 case, or Galaxy S23 Ultra case, all available now on the Samsung website.