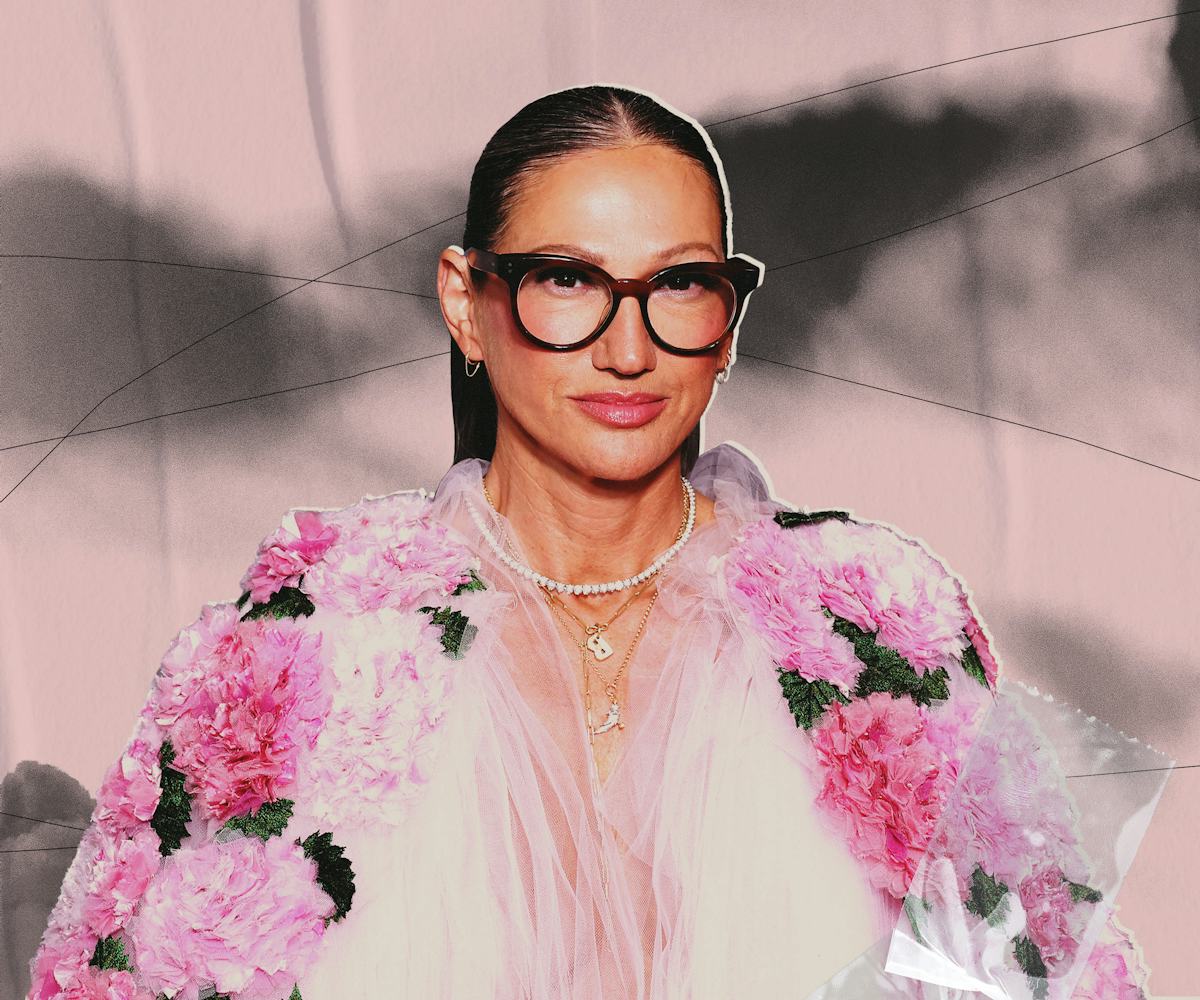 Jenna Lyons Is a Beacon Of Hope In Reality TV Style
In a sea of television personalities who reach for the flashiest, most viral pieces, the rookie New York Housewife is a breath of fresh air.
If there's one thing a reality television housewife tries to do, it's turn a look. But what does this mean in the age of formulaic, Instagram-bait outfits, and how has this subsequently turned the majority of them into fashion victims? And how does this coincide with the five-versus-one fights we saw against Jenna Lyons each week on this season of the Real Housewives of New York reboot? The shiny new RHONY cast seemed modeled to embody personal style, both old guard and new. You have Sai de Silva, an OG blogger turned influencer; Jessel Taank, a former Michael Kors publicist and PR executive; Erin Dana Lichy, real estate agent/interior designer; Brynn Whitfield, a real estate agent/influencer; Ubah Hassan, model-multi-hyphenate; and, of course, Jenna Lyons, former president and creative director of J.Crew.
Lyons, whose 26-year-long stint at J.Crew creatively and commercially resuscitated the company, represents an undeniable influence in the fashion industry that the other new Housewives lack. Each cast member has something to offer in terms of the personal style debate and represents the old guard versus the new — style for the sake of performance and staged influence versus comfort and authenticity — creating a perfect time capsule for how "flex culture" and social media have radically altered the way we dress. As a result, these women often attack Lyons for minute behaviors and quirks that simply amount to her expert level of taste and habitual, individualistic lifestyle. In a show that's known for its out-of-touch humor and ladies who lunch, it's surprising to watch the other housewives (like Lichy, who are throwing vow renewal parties with sponsorship logos on the invites) scoff at Lyons' preference to fly business class after a decadeslong career as a fashion executive and often neg her for not wearing flashier outfits to a dinner party where they're simply sitting inside one of their apartments.
One of the best things about reality TV is its documentary-like rolodex of global fashion trends and personal aesthetics. Audiences have watched, and have subsequently been influenced by, their favorite familiar faces' styles over the span of more than a decade. Many shows like The Simple Life and the Real Housewives franchise have delved into the inner workings of the glamorous and rich; however, when the curtain was lifted and access was gained by the cameras, audiences could relate to Paris Hilton's low-rise jeans and tacky hair extensions. These were items and looks that were casually thrown together and could be emulated from your own wardrobe. (Celebrities! They're just like us!) As soon as traditional bloggers transitioned into influencers — and Instagram became a photo diary for "personal style" — something happened with our collective fashion consciousness. There seemed to be a growing sentiment that jeans and a T-shirt would no longer cut it to perform our day to day tasks. Everything became a photo opp, and as a result, looks became more "put together," and eventually disposable, thanks to the rise in fast-fashion consumerism. It seems that the idea of a "full look" jumped from the red carpets and glossy pages of magazines and into our own iPhone cameras, turning many people into fashion victims as a result.
This social media-led sartorial shift coincided with reality television's style transition. We no longer tuned in to watch pre-Birkin Kyle Richards chase her children around and head to Costco with her sister Kim (both aunts of Paris Hilton); instead, we focused on the intense displays of wealth and immediately recognizable luxury items. The larger the branding on the Balenciaga all-over logo sweaters, the better. With the exception of perhaps Erika Jayne, the Beverly Hills Housewife who burst onto the scene with her full Moschino Spring/Summer 2019 marker-print confessional looks, household Bravolebrities like Sonja Morgan or Tamra Judge stopped wearing their signature dark-wash skinny jeans, riding boots, and cashmere sweaters casually thrown over their shoulders, instead trading them in for head-to-toe Fendi monogrammed sweatsuits and full Kylie-Jenner-inspired Instagram glam.
Even celebrities like Paris Hilton or Jessica Simpson, who were part of the first generation of reality TV, transitioned to the full glam, full fashion influencer method to transition their careers against the turning tides of Internet fame. Dorit Kemsley, another certified Beverly Hills all-star, exemplifies this stylish awkwardness. In comparison to Erika Jayne, who despite her tendency to flaunt her wealth and access to runway fashion goes without full glam throughout the show in her day-to-day life, or during tough times to evoke sympathy from the viewers, Kemsley seems to believe in the idea that she is selling: that she simply looks like this all the time.
Kemsley's not alone in this method, as stars across all franchises either began to peddle their own fashion lines (Sonja by Sonja Morgan, She by Sheree, Yummie Shapewear by Heather Thomson), or they opted for outrageous looks for the simplest of staged interactions. No one actually believes Meredith Marks is walking around Salt Lake City wearing a Margiela-knockoff crystal face mask and calling it high fashion — it's clearly for the show. As celebrities' perceptions of themselves were changing under this new microscope, the idea of personal style, among celebrity and laymen alike, has become a much less habitual form of expression in the cultural zeitgeist. Coupled with fast-fashion's incredible knockoff-designer production speed, the idea of a "full look" became easy to purchase, replicate, and dispose of after one Instagram post. Comfort and true personal style go hand in hand, and while this doesn't necessarily mean you have to wear tens of thousands of dollars worth of diamonds with your baseball cap and sweats like Jenna Lyons waiting for her shakshuka this season, it does mean that the nature of your personal expression possesses such a high degree of taste and security that you look and feel comfortable enough to wear rainbow unicorn leggings amongst a sea of furs and luxury logos.
This season on RHONY, we've started to see a fracturing in the Housewives format. Though New York is generally known as a fashion-forward city, most housewives in the franchise's past have either made their money as corporate moguls or as true housewives, at which the show pokes fun. Lyons, whose taste is often misunderstood as pretentiousness, has had her fair share of quips against the ladies as well, telling Jessel, "You can't have Alexander Wang on your back and Balenciaga on your bag," noting that that both of the logo-centric items do little to offer a personal style identity other than the social signaling that's being used for the rolling cameras. Although, that didn't stop Jessel from taking off her gold sandal at the dinner table to show everyone that it's Prada, nor did it stop her from joking that she hopes Sai's mother's ashes are in an Hermes bag, since a Walmart bag would "just be sad." Lyons also pokes fun at De Silva's full white look for wreath-making, saying, "I love when a person is overdressed," leading the audience to question whether she'd be dressed like that at all without the possibility of an Instagram snapshot. However, Lyons recognizes and respects her OG influencer hustle during Sai's content production breaks during their cast trips.
Though there is a massive difference between the likes of RHONY Housewives and the average fashion consumer, the structural change in our personal style has affected almost everyone, from the Bravolebrity down. Take Alix Earle, whose fame skyrocketed thanks to the parasocial allure of her GRWM videos; she's now frequently "getting ready" with celebrity makeup artist Patrick Ta, who assures her face will consistently be camera-ready. On the other hand, we're also beginning to see the tides turn as more Gen Z favorite personalities, including Addison Rae, Devon Lee Carlson, and Olivia Rodrigo, begin to embrace the more casual nature of day-to-day life, resisting the urge to get full glam every day. Rae is frequently spotted shopping in athletic shorts and baby tees, while Rodrigo has explained to her fans how she values style longevity and does not feel the need to reinvent her look between each album, often repeating red carpet looks or turning to vintage instead of recent runway fashion. Style is a path of slow resistance that applauds repetition and authenticity — that's what makes Jenna Lyons (and Rae and Rodrigo) so chic. Their relatability, humor, and casualness is where true style lies.