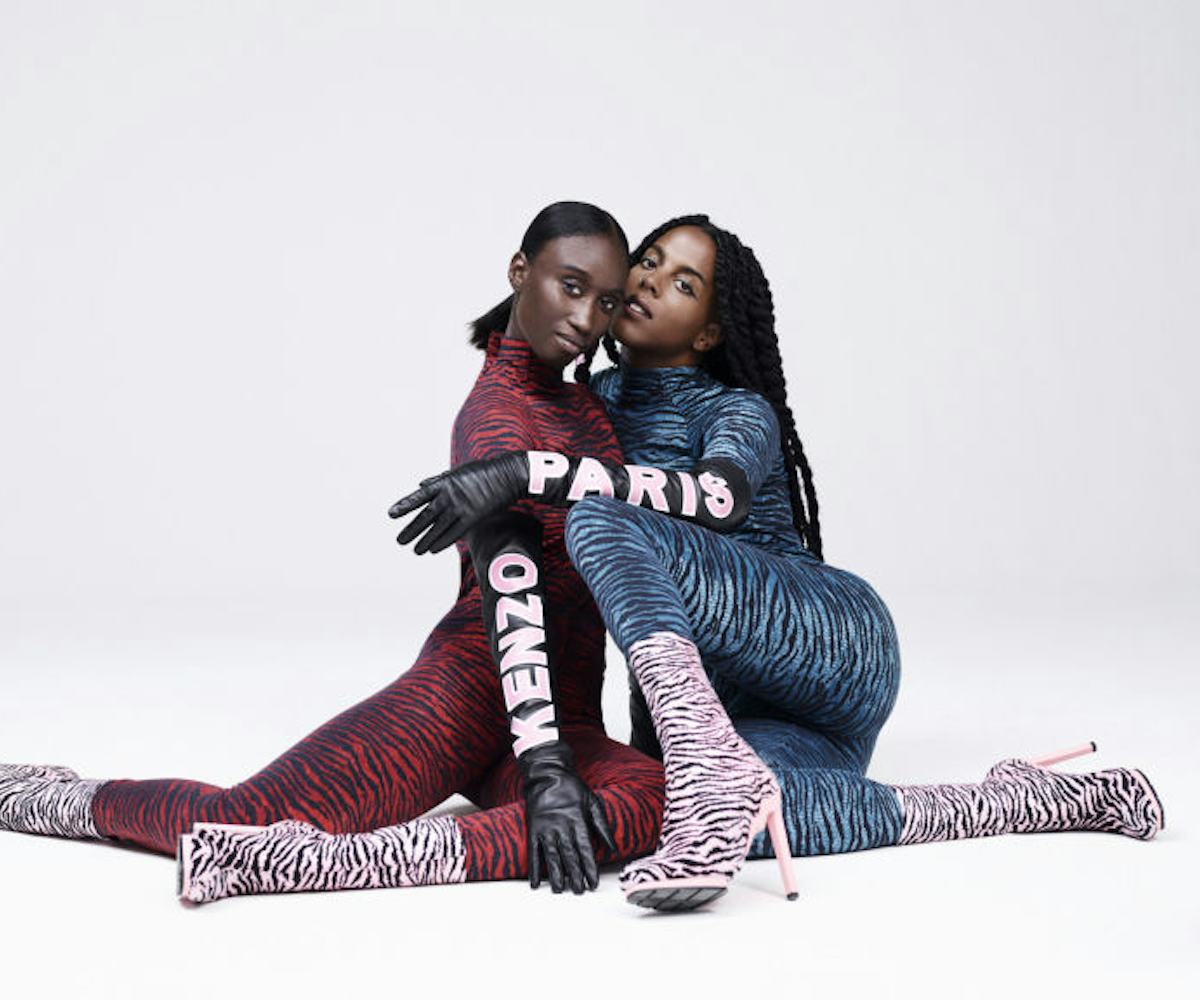 photo courtesy of H&M
Kenzo x H&M Is Defining Editorial Fast Fashion
A first look at the new capsule collection
Months after the madness that was Balmain x H&M settled down, the retailer announced they would partner with Parisian house Kenzo for their next designer collaboration. Speculations about what the collection would actually look like ran across the internet. Will it be pattern-play pandemonium? Will it be a new take on classic Americana style like Kenzo's FW16 collection? And, most recently, Will it be an ode to the '90s club kid, like their Resort 2017 offerings? Now, we have the first look at the collection, and it's totally different than any major fast fashion line we've seen before.
The three campaign images released this morning, shot by Oliver Hadlee Pearch, show super editorial-friendly, print-heavy looks that highlight Kenzo's infamous tiger stripe print, which designers Humberto Leon and Carol Lim resurrected from the fashion house's archives. "Lots of customers only know the side of Kenzo we worked on," Leon told Vogue. "But we're celebrating the brand's 50th anniversary. We've kept Kenzo Takada close to our hearts; he comes to all our shows. We want to do something that makes him feel proud."
If a tiger-print turtleneck catsuit seems a bit much to wear everyday, the accessories—whether pink print calf-length boots, slides, or a baseball cap—and separates are capable of turning any basic outfit into a statement. It's an exciting first glimpse into the capsule, and if it's indicative of the overall vision, Kenzo x H&M may just be capable of forcing the masses to have more fun with their personal style.
Click through the gallery below to see the first images, modeled by this generation's coolest creatives.
Makeup artist Isamaya Ffrench, member of Theo Adams Company collective and the woman behind the most badass beauty looks in recent fashion and music video history.
Oko Ebombo, Parisian-raised dancer, musician, photographer, and performance artist. If you haven't checked out his work yet, do so now.
Amy Sall, founder of SUNU: Journal of African Affairs, Critical Thought + Aesthetics, and Juliana Huxtable, and New York-based poet, artist, and DJ.