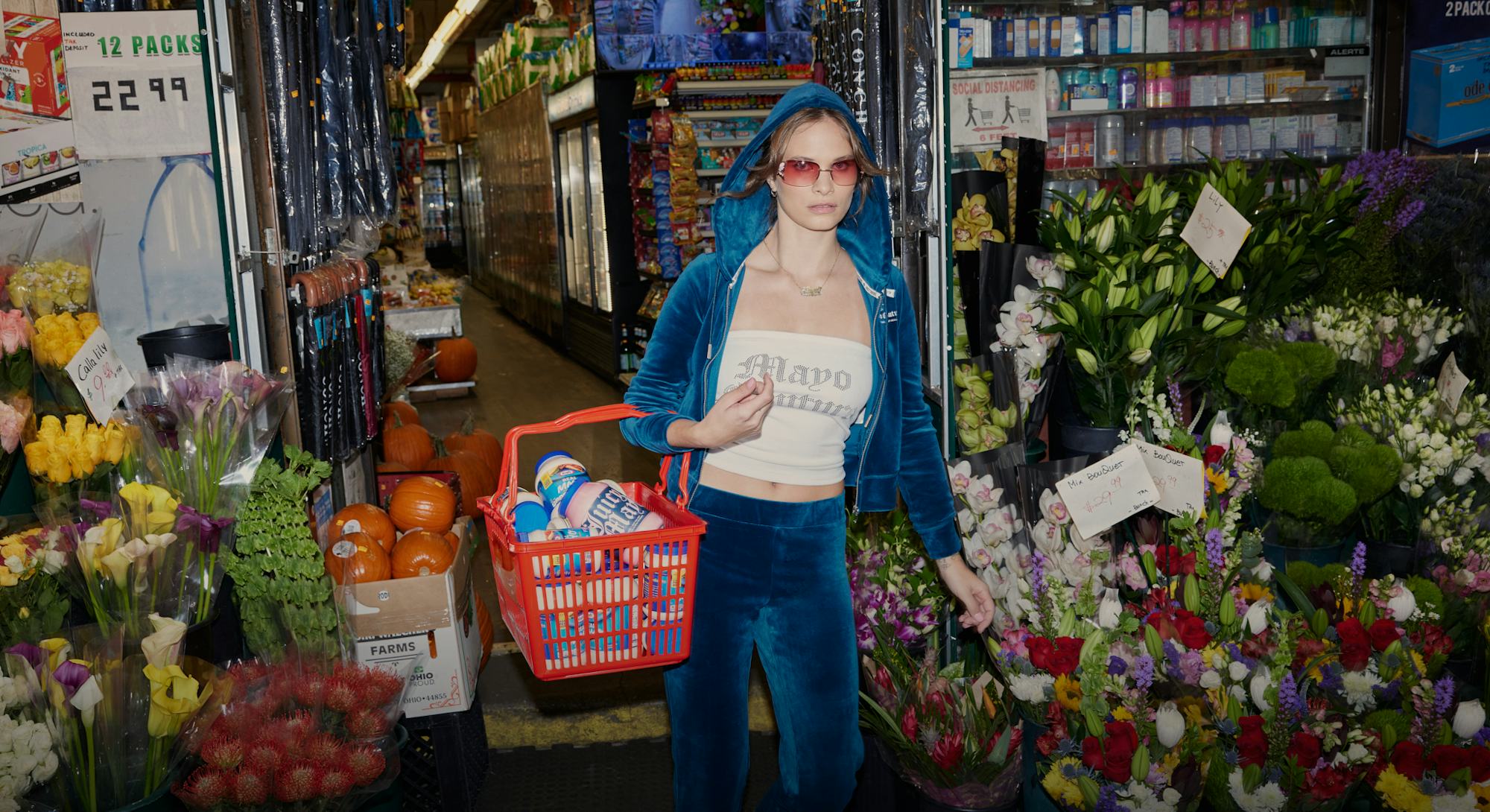 Kraft Real Mayo & Juicy Couture Just Dropped The Y2K Collab Of Your Dreams
NYC Insider Eva Evans takes the set for a spin.
Y2K style is back — and it's bigger and better than ever. The era's fashion has evolved in ways that are modern and more accessible, yet still embody its playfully indulgent spirit. While the decade launched many memorable trends, none compare to the phenomenon that is the Juicy Couture velour tracksuit. A fashion favorite of celebrities and It girls from the era, Juicy Couture and its tracksuits brought glitz and glamor (with a touch of self-aware cheekiness) to leisurewear. So it's no surprise that a brand like Kraft Real Mayo, which celebrates individuality, has paired up with Juicy Couture for the fashion-loving generation today.
In what will surely be deemed the collaboration of the year, the two brands have launched a limited-edition collection of tracksuits. Can someone say condiment couture? After all, Juicy Couture and Kraft Real Mayo are kindred spirits: They both celebrate those who embrace their individuality. And of course, both Kraft Real Mayo and Juicy Couture tracksuits are touted for their unparalleled, velvety smooth finishes — though distinctly different kinds, of course.
To love mayo is to defy the haters. Just ask NYC creator and Y2K style expert Eva Evans, who teamed up with NYLON to showcase the tracksuit in a tabloid-worthy photoshoot. "I know my style isn't for everyone — people are incredibly honest in the comment section — but it's for me," says Evans.
"Mayonnaise is still mayonnaise, whether or not someone likes it," Evans explains. "Be like mayonnaise."
Condiments follow this same principle, explains Evans, in that they are what they are regardless of how they're received. "Mayonnaise is still mayonnaise, whether or not someone likes it," she explains. "Be like mayonnaise." Follow Evans as she runs around downtown doing fascinatingly normal things, like grabbing a sandwich at the bodega, walking her dog, or catching the 6 train. We can't say who called the paparazzi on this one!
Eva Evans Is Just Like Us
On a typical day, you'll find Evans wandering around NYC walking her pomeranian, Slayer, and "sipping on a disturbingly expensive iced chai latte" while catching up with family or friends on a phone call. "My boyfriend has a great fire escape that looks out onto Bowery, so I'll sit out there with my notebook and write and people watch," she says. In her off-duty hours at home, Evans will prepare her go-to kimchi-and-avocado hot dogs. "The mayo and avocado go under the hotdog," explains Evans, "the kimchi goes on top. The order is key."
As a content creator, Evans very much represents the 2022 version of celebrity, which means she's prone to being recognized on the street (as she was several times on this shoot) — something that still surprises her. "I'm fairly introverted, but I really enjoy it! It's super flattering, and I'm a little proud to see who my content resonates with," says Evans. "The people who approach me are always lovely and seem like really cool people, and usually are other young women. It's sort of reinvigorating and inspiring, especially when someone says my content has helped them in some way."
"The Juicy Couture and Kraft Real Mayo tracksuit is lowkey empowering in its unapologetically girl-centric-ness, and we need that right now as a collective. Emotionally, we need some velvety, rhinestone-dappled feminism." - Eva Evans
"Usually, femme clothes are uncomfortable or constricting," Evans says. "Being able to run errands in a cute getup that you can actually move in was lowkey revolutionary." Like some people who grew up during the era, Evans wasn't always comfortable with the girliness that came with Y2K fashion, and has only begun to embrace it during its renaissance. "The world seemed to ridicule femininity, and so I hated aligning myself with it," she admits. "I wanted to be loved and respected, not belittled or sexualized, and I felt that femininity and respectability were mutually exclusive. In an attempt to be taken seriously (or possibly just to feel safe), my style really reflected an 'anti-girliness' up until just a few years ago."
Now, Evans enjoys expressing her femininity but also prioritizes comfort, which makes Juicy "the ultimate brand for the 'unapologetically girly' girl who likes to be comfy" she says. "I think it almost represents a level of self-acceptance or self-love with regard to femininity, which sounds intense, but it's true." It may also be a timely response to everything that has gone on and is going on in the world. "It's colorful, sexy, tongue-in-cheek, and low-key empowering in its unapologetically girl-centric-ness, and we need that right now as a collective," she explains. "Emotionally, we need some velvety, rhinestone-dappled feminism."
Stay True To Your Style, Whether They Like It Or Not
"You can either try to please everyone and end up watered down and, frankly, boring," says Evans, "or you can lean into your individuality and accept the fact that your style maybe isn't for everyone, but it is for you."
Wiser words have never been spoken.
Photography: Camilo Fuentealba
Art direction: Julie Vaccaro
Styling + Senior Branded Fashion Director: Jenna Wexler
Associate Branded Fashion Director: Elly Ayres
Hair and Makeup: Maya Rene
Set Stylist: Adri Suarez
Talent Booking: Mikaela Baruch
Production: Marilee Hodge and Nancy Valev