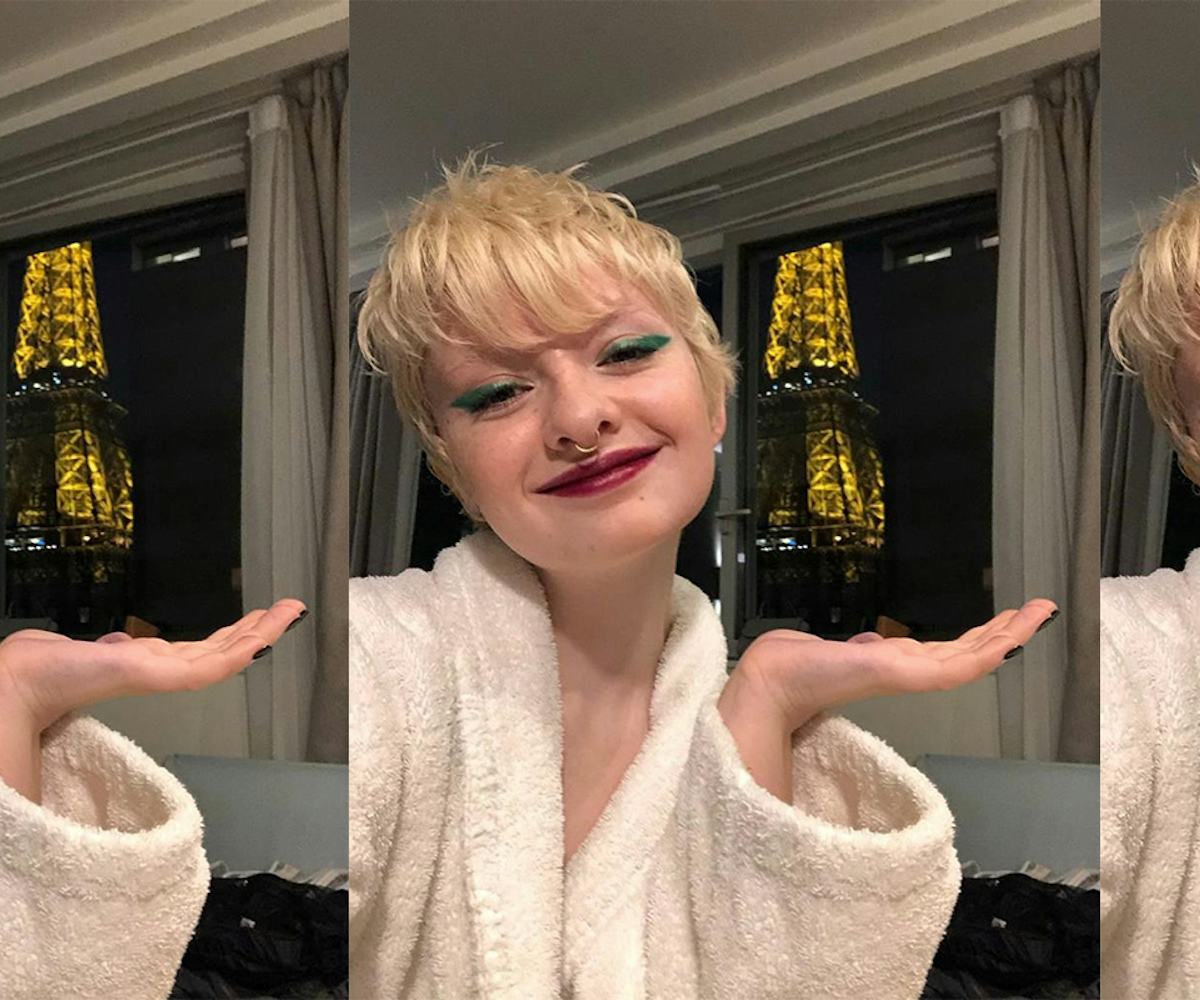 Photo courtesy of Lachlan Watson
See Lachlan Watson's Exclusive Givenchy Photo Diary
The "Chilling Adventures of Sabrina" star gives us an insider's view of Paris Fashion Week
A near constant downpour on the Sunday of Paris Fashion Week (not to mention the omnipresent threat of potential coronavirus), didn't stop show-goers from a fully packed day of runway presentations — among them, Lachlan Watson, the 18-year-old star of The Chilling Adventures of Sabrina, who has become something of a front row staple during the Fall 2020 season.
On Sunday alone, Watson took in the Valentino show at 5 p.m., then quickly changed to end their day at Givenchy. Held at the Longchamp Racecourse, guests were welcomed at nightfall with a giant Givenchy sign enveloped in smoke, outside a long corridor swathed in red light. Before entering the venue, a line of waiters with individual bar carts offered attendees a pre-show cocktail.
It was inside that Watson took their place in the front row alongside fellow actresses Maisie Williams, Naomi Scott, Barbie Ferreira, Noomi Rapace, and Abigail Spencer to take in designer Clare Waight Keller's latest collection, which was inspired by iconic silver screen heroines. The clothes themselves, modeled by the likes of Kaia Gerber, Vittoria Ceretti, and Cara Taylor, were graphic in nature, focusing on a mod color story of black, white, cobalt, red, and tan, with accents of feathers and tinsel.
Here, in a photo diary exclusively for NYLON, Watson provides a up-close look at how they got ready for the event, from hotel glam to a late night stroll by the Eiffel Tower.
"My new everyday casual look, for sure."
"Makeup mirror selfie time :)"
"Getting ready for a statement lime eyeliner moment to match my look."
"Getting ready with some killer views."
"Final looks, feeling ready!!!!"
"Givenchy accessory game STRONG!"
"Hallway posing lessons!"
"Entering the show — the set was stunning!"
"Red light, green light, GO."
"Saw my girl Naomi Scott and somebody snapped a picture!"
"The looks were inspired by Arthouse Chic, and I loved every one."
"Catching up with the designer, Clare, after a stunning show."
"Final look under the Eiffel Tower."