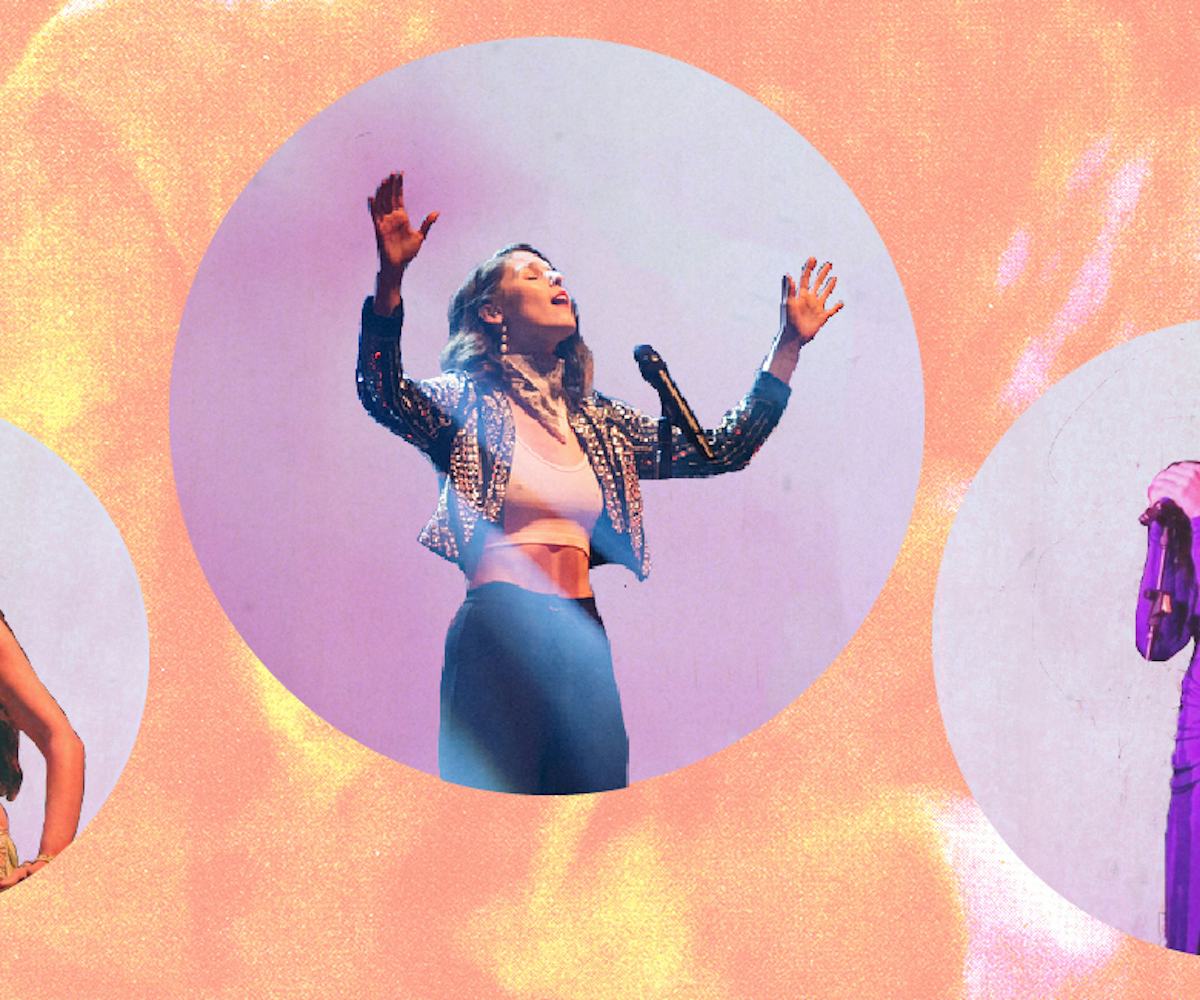 PHOTOS VIA INSTAGRAM
How Three Latina Singers Use Fashion To Elevate Their Performances
It's a crucial part of the live experience
Onstage fashion is a crucial part of any musician's visuals. Who can forget Celia Cruz's colorful outfits, Madonna's Gaultier cone bra corset, or Beyoncé's gold gown and headpiece from the 2017 Grammys? While fashion is often fun, fierce performers have shown time and time again how memorable fashion choices can help elevate a performance.
One half of Buscabulla, singer Raquel Berrios embraces a high-low aesthetic, a lot of her pieces are customized DIY and found at thrift stores. She counts Iris Chacón, Solange, and Cyndi Lauper as some of the artists whose fashion inspires her. Known as "La Vedette de América" or "America's Showgirl," Chacón was a Puerto Rican entertainer. "Iris Chacón is somebody I really, really admire," says Berrios, "because I think that she kind of really owned her sexuality in a way. She was so over-the-top about it, she was almost unapologetic about it, and I feel like there was something very strong about that."
With her onstage clothing, Berrios is embracing her Latina identity and at the same time, fighting stereotypes like the hyper-sexualized Latina. "What I wear is an active part of the artistry behind the music and the message that I'm trying to tell," she says. "It's really about sort of the whole package of the message of the music and the art that I'm trying to bring forward."
Berrios is, of course, not alone in viewing onstage fashion this way. Nan de Miguel, a singer who is known as Girl Ultra, describes her current onstage style as "a mixture between '70s simplicity and '80s avant-garde fashion," also saying that fashion is a part of the music's message. "I think fashion and art always had very strong relation towards music... it supports the message you're trying to transmit. So I think it's equally relevant for any artist, it's part of any character. And I do really think it affects [the performance], because it helps you build your personality up there. It really matters if you feel confident and even comfortable."
Among the people she looks up to for fashion inspiration are Prince, Grace Jones, David Bowie, young Julia Roberts, and Sade. Her style has evolved and matured as, she says, she started "becoming a grown-ass woman." De Miguel explains, "I used to care about just being comfy in the mirror, but I realized I also needed to support who I really am somehow, and create a conversation about the whole package. So I unleashed the beast and became a research addict. I started working with very talented national stylists and designers who I can relate to, and that made me learn a lot." She says her movements onstage are influenced by fellow Mexican women like Silvia Pinal, María Félix, and Dolores del Río—all stars from Mexico's Golden Cinema Era, during the 1940s and '50s.
When it comes to Ruidosa Fest founder and singer Francisca Valenzuela, her onstage fashion reflects her culture in her own way, including her Chilean and Latino background. Fashion inspiration comes from many sources for Valenzuela, including theatre, art, singers, and films. Prince, Michael Jackson, Frida Kahlo, and Annie Lennox are some of her fashion muses. She said her fashion is always evolving and has included pin-up styles, suits, and dresses. Her favorite onstage look, though, involves fitted pants and red lipstick.
A vocal supporter of gender equality, Valenzuela's fighting back against double standards and criticism that many female musicians face: "I think anybody should and can wear whatever they want onstage. Of course women and females have been criticized and under scrutiny for all their decisions—misogyny, patriarchy, and machismo, unfortunately, have reigned everywhere, and still very much do. I think the only important thing is: feel comfortable, express yourself, be who you are. And it doesn't matter if it is jeans, pajamas, ball gowns, or [if you're] naked. The stage is a place to be free, to feel powerful and connect."