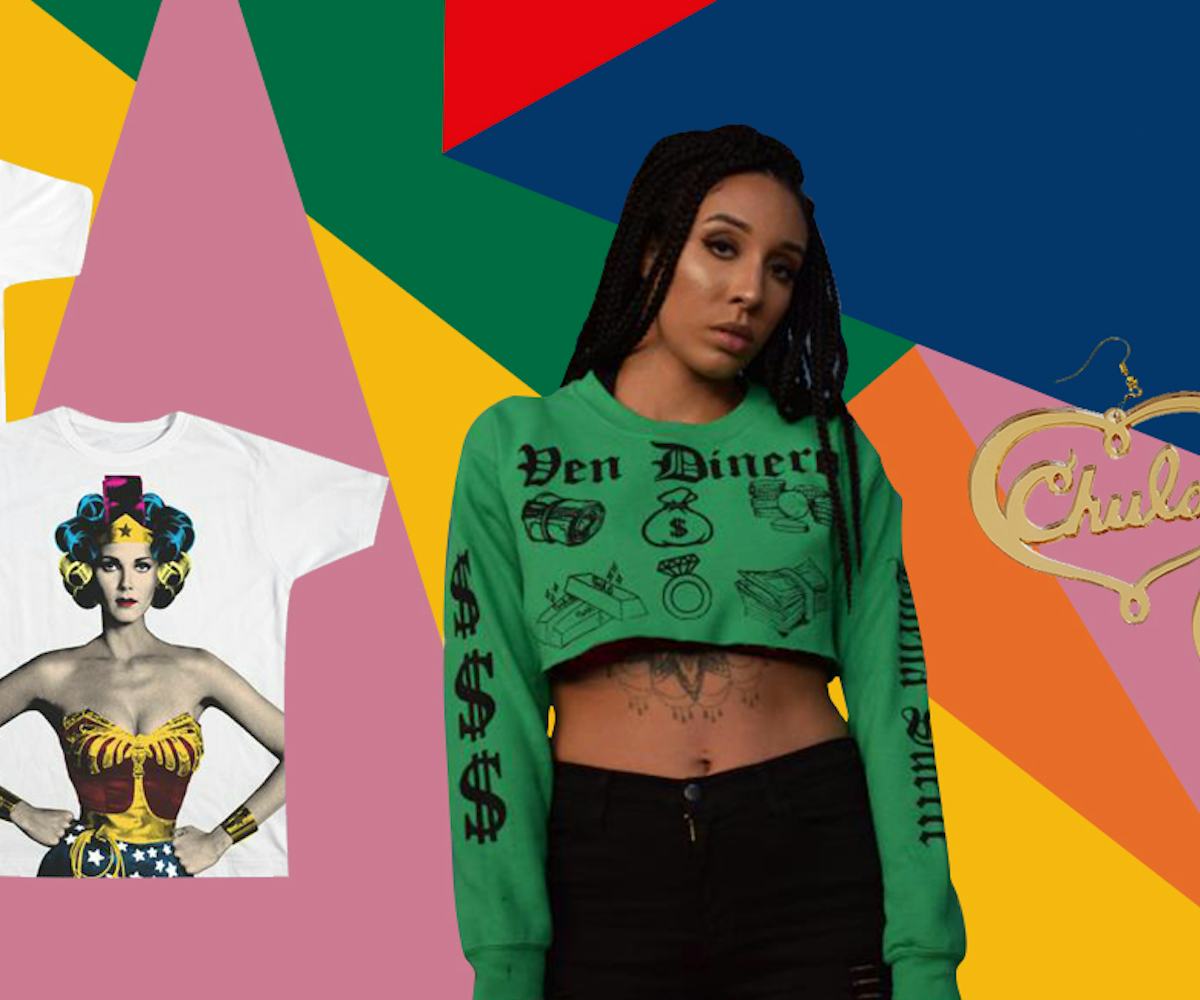 17 Latinx-Owned Fashion Brands You Need To Know
Are you looking to support Latinx creatives? Do you want to wear pieces that showcase aspects of Latinx identities and cultures? Yes and yes, right? After all, Latinx-owned fashion brands are important, since they represent the fact that there's a significant—and growing—Latinx population in the United States, and representation matters. So check out the following 17 brands that'll help you represent in style.
Based in California and founded by Jessica Resendiz, Raggedy Tiff allows you to shop everything from bleeding heart shirts to luna tops and rosas y recuerdos tees. Are there also tons of accessories? Check!
You get a pin! You get a pin! Everybody gets a pin—or a tote, print, or postcard—at this store founded by writer and artist Emerald Pellot. If you love Beyoncé and Cardi B (which, I know you do), there are plenty of pieces here to spend your coins on.
Family-owned and perfect for adults looking to match their clothing with what the kids in their lives wear, Spanglish Threadz allows the whole family to look fresh at the same time.
From jean jackets with the virgencita on them to motherland necklaces, you can find a variety of styles to include in your casual #ootd. You'll have your Instagram followers jealous and wanting to buy from "Your Mother's Daughter" or "Hija de tu Madre," too.
Known as Cuba's first clothing brand to sell online, designs are made in Cuba, though the pieces are manufactured and sold in the United States. Launched by designers Idania Del Rio and Leire Fernández, this brand allows you to show Cuban pride in style.
Based in the 305, Martha of Miami allows you to show off your Latinx roots, Miami swagger, and croqueta love with apparel and accessories. Get ready for a lot of cafe and colada merch.
Are you looking for t-shirts with messages encouraging you to "give all the damns" or be politically active? Interested in giving back to good causes while you shop? Enter Rabble and Rouse, an Atlanta shop that donates 20 percent of its profits to nonprofit organizations.
You'll find tops, bottoms, and accessories influenced by Chicanx culture at this shop whose name roughly translates to "That Crazy Woman." Yes, please!
Inspired by and honoring indigenous textile artistry from Ecuador, Bruja Feminism was created by Salome Egas, an Ecuadorian in New York. The shop has different pieces like shawls, pants, and sweaters that'll add color to any outfit and are designed by Otavalo indigenous women. "Bruja" means "witch" in Spanish, and these pieces might just put a spell on you.
Founded by artist M. Tony Peralta, a New York native with Dominican roots, the Peralta Project includes menswear and womenswear, hats, keychains, and pins. Make sure to check out the rolos and icons posters and tees featuring legends like Selena Quintanilla, La Lupe, Frida Kahlo, and Celia Cruz.
Twin designers Coco and Breezy's eyewear is fly-wear, featuring a collection of frames found in more than 100 stores internationally. Their specs have been worn by the late, great Prince and Demi Lovato and Rihanna, among other performers.
Celebrating body-positivity and declaring that "Brown is Beautiful" on her shirts, Nalgona Positive Shop founder, Gloria Lucas, has created a platform beyond her Etsy shop called Nalgona Positivity Pride. Come for the clothing, stay for the messages of self-love.
Located in Los Angeles, Mi Vida offers apparel, stickers, candles, and other goodies, including these fun "Chula" earrings.
Multi-stone rings, hoop earrings, and necklaces with pendants are some of the delicate pieces available from this Puerto Rican jewelry designer. Buy enough gold pieces and you'll be channeling Walter Mercado. Almost.
Is your outfit really complete without the right accessories? Home to pieces like visors and neckerchiefs, Carolina Rodriguez helps you add that final touch to make your look a 10 out of 10.
You've probably seen the "Why Be Racist When You Could Just Be Quiet" t-shirt Frank Ocean wore at Panorama Music Festival. Well, it comes from this store founded by Kayla Robinson. With messages like "Pizza Rolls Not Gender Roles" and "Not Here For Your Eurocentric Beauty Standards," the shop's clothing makes the kind of important statements you'll want to share with the world.
Find shirts that show you're familia with graphic renditions of "Hermana," "Abue," and "Papá," among others. The apparel is kid-friendly and inspired by the owner's own children, but style-wise, you can wear the pieces at any age.