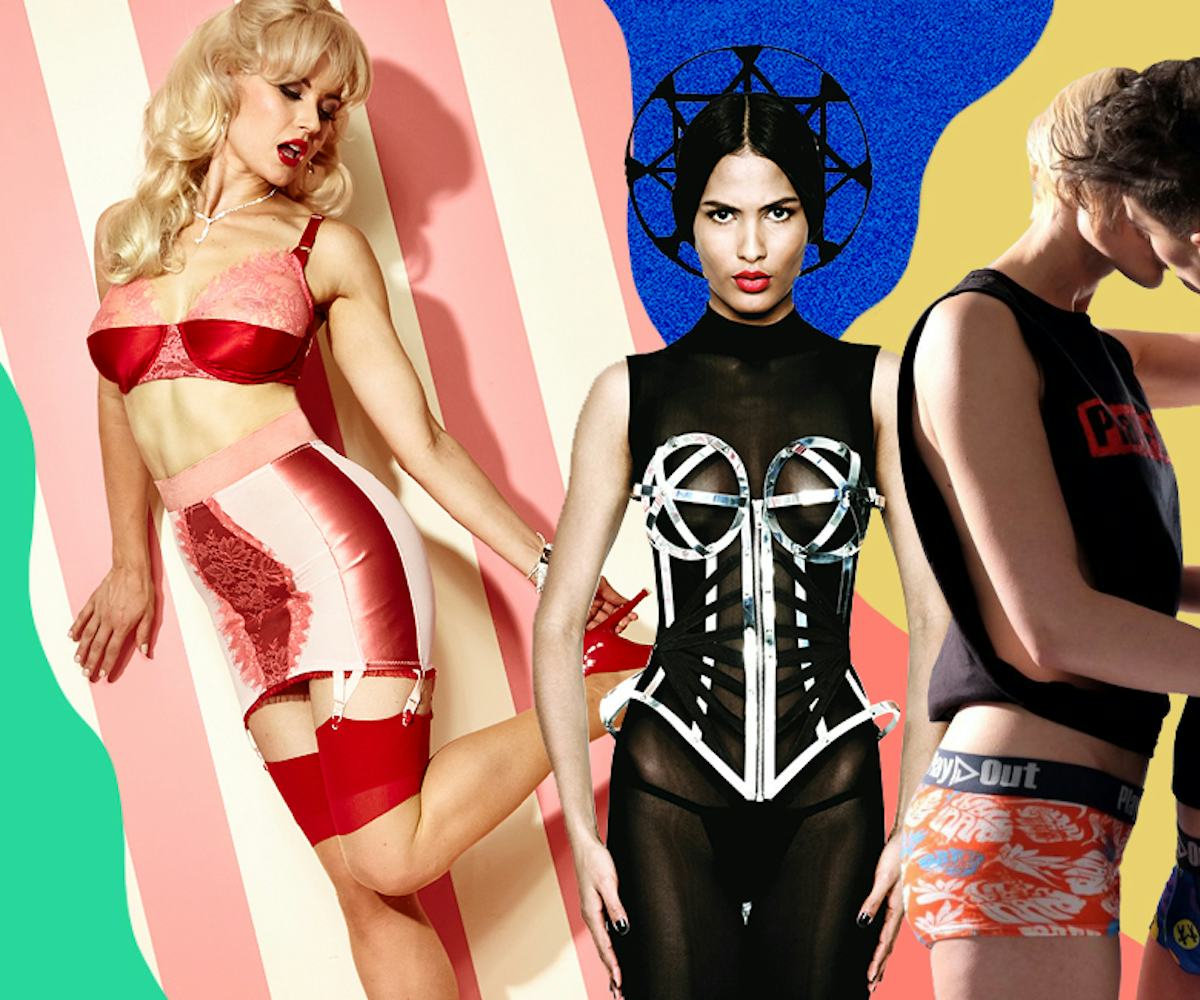 Collage by Jihyang Lim
7 Super-Inclusive, LGBTQ+ Owned Brands You Need to Know
These under the radar lines are worth checking out
White gay men designing high-end luxury women's fashion? Y'all know about them. But do you know about these small, indie designers killing it with their own super-inclusive, gender-bending clothing lines? Possibly not! Which is exactly why you should check them out, and then tell your friends.
ChromatCFDA-winner and New York Fashion Week darling Becca McCharen-Tran of Chromat has split the fashion world wide open, breaking boundaries of what is innerwear and outerwear, what is for the bedroom and what is for the street. Of her architectural intimates and streetwear, McCharen-Tran says, "As fashion designers, we have the power to highlight and celebrate beauty in all different forms. Every fashion week is an opportunity to celebrate those inspirational people and have these incredible women and non-binary babes reflected in our runway show. It's not a trend—it's our life."
You can check out Chromat's most recent endeavor, a futuristic, decidedly non-normative collaboration with M.A.C Cosmetics, when it hits makeup counters June 29.
Ready to StareAlysse Dalessandro started Ready to Stare, a clothing brand specifically oriented toward plus-size femmes, more than five years ago because she wanted to create a brand for folks who had been left out of mainstream fashion. "I wanted to create a haven for those who get stared at because they're different and who choose, instead of hiding, to stare back and keep shining," Dalessandro said over email. "Over the years, it's been extremely important to me to create imagery that I longed for growing up: people of all sizes and all genders boldly and confidently being their most authentic selves."
Today, Ready to Stare houses Dalessandro's fashion brand alongside her personal style blog and other resources. Definitely check out her "Thank You For Staring" lookbook, which is explicitly LGBTQ+ and size inclusive.
Play OutPlay Out is a queer-owned brand that designs gender-neutral underwear and features visibly LGBTQ+ models in its campaigns. But inclusivity was never optional, Play Out designer and founder Abby Sugar says. "As a queer-owned brand, we knew that we wanted to create something for our LGBTQIA family, but also embody and proudly display who we are to the rest of the [heterosexual, binary-gendered] world."
Play Out has intentionally worked with diverse groups of models of all backgrounds. They've also partnered with FlatTopper Pride, working with topless models who have undergone double mastectomies without reconstructive surgery for ad campaigns. 
Tyler Wallach StudiosTyler Wallach brings bold, bright graphics to its clothing, featuring street characters, streamlined shapes, and unisex designs that can be worn by people of any gender. The New York-based Texas native has a background as a visual artist, which is apparent in the strong, fearless lines that would seem equally at home on the wall in MoMA as on a person's body.
In addition to fashion, Wallach also works as an interactive artist with canvas, producing multiple large-scale paintings a year that are donated and auctioned off by national LGBTQ+ charities, with 100 percent of the proceeds going to at-risk youth and anti-bullying efforts.
Rebirth GarmentsWith Rebirth Garments, Sky Cubacub is leading a revolution with gender non-conforming wearables for people on the full spectrum of sizes, abilities, and genders. And when Cubacub says "the full spectrum," they mean it: Rebirth Garments is inclusive and representative in its imagery and garment customization like few, if any, brands have been. Every garment is customized, and brand photography features models of all sizes and genders, doing splits and backbends, in wheelchairs and with oxygen masks.
"Rebirth Garments challenges mainstream beauty standards that are sizeist, ableist, and conform to the gender binary," Cubacub says. "Instead, we maintain the notion of Radical Visibility, a movement based on claiming our bodies and, through the use of bright colors, exuberant fabrics, and innovative designs, highlighting the parts of us that society typically shuns."
Kirrin FinchWomen and femmes don't always want to wear dresses. Founded by real-life partners Laura Moffat and Kelly Sanders Moffat, Kirrin Finch brings eco-conscious, androgynous, and tomboy styles to the masses. The name of the company was inspired by iconic fictional tomboys Georgina Kirrin, from The Famous Five series, and Scout Finch, from To Kill A Mockingbird. 
"Many women, trans folks, and gender non-conforming people don't feel comfortable in frilly clothes and prefer the more functional aspects of men's clothes. We think people should be free to wear whatever makes them feel comfortable," Moffat says. "We understand that shopping for clothing is something that can be traumatic, either consciously or subconsciously, for our customers. Something as basic as using our shirt's design to de-emphasize a person's bust can make a world of difference."
Dottie's DelightsOver the last few years, Stephanie Kuhr has been at the forefront of the retro revolution in the indie lingerie world. Her designs have been worn by Nicole Kidman and Lizzy Caplan but are popular for their accessibility; in every collection, Kuhr produces items across a range of price points and sizes, with the opportunity for customization. All items are handmade by Kuhr and a small team of seamstresses between Nashville and Chicago.
In a previous interview (disclaimer: I stock Dottie's Delights in my own store, Bluestockings), Stephanie said, "People may be surprised to find out that I'm not actually very girly in my personal life, even though my line tends to present itself that way. Blame it on being a Gemini or somewhere on the queer spectrum, I don't know, but I love the duality. I've always been a fan of playing around with gender expression in a variety of different ways. I think I started Dottie's Delights, in part, because it was a way for me to explore a really feminine side of my personality."