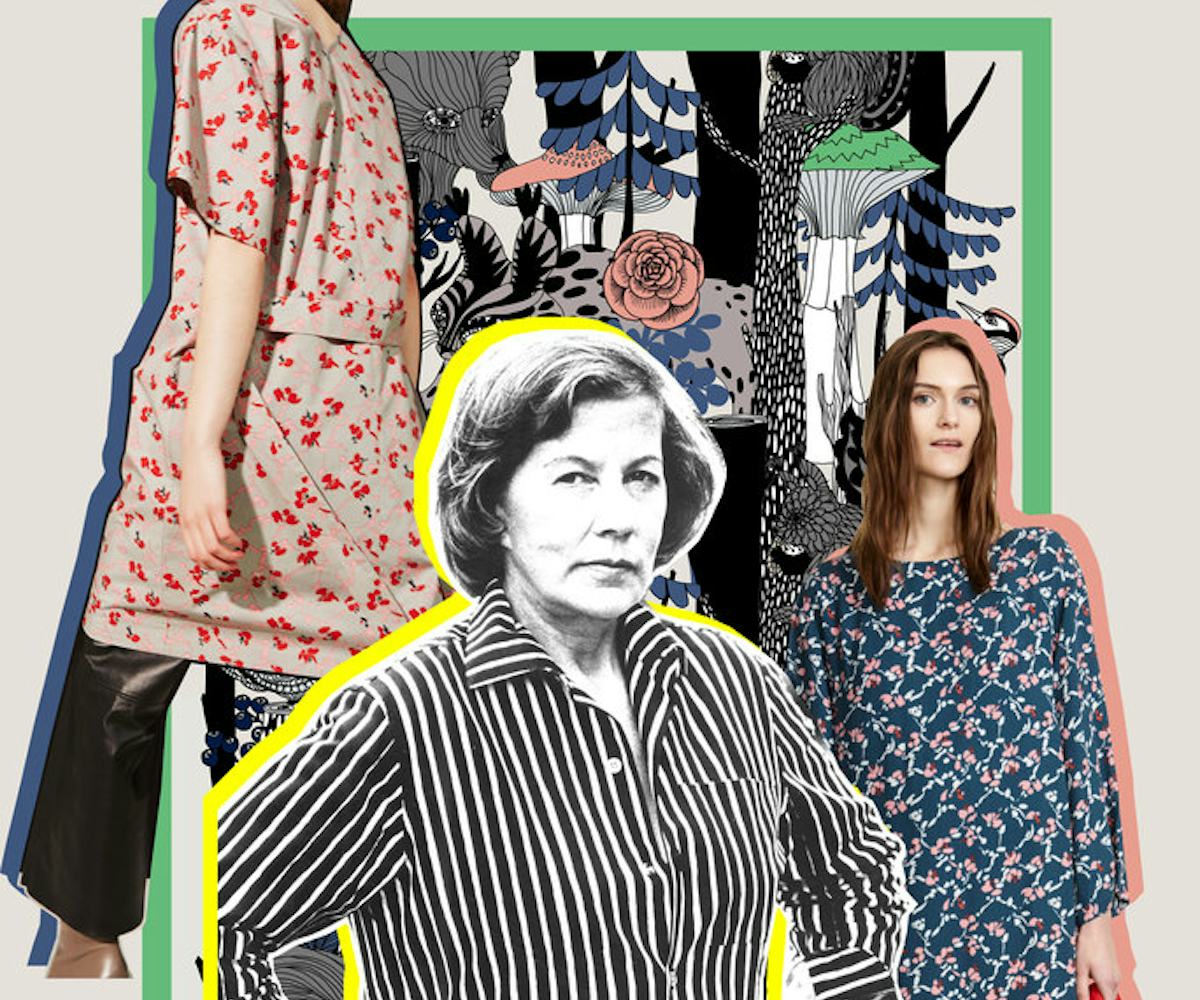 Photos courtesy of Marimekko
How Finnish Fashion Brand Marimekko Can Teach You All About Life
Marimekko's headquarters, located a half-dozen tram stops outside of Helsinki, Finland, doesn't look like much at first. If it weren't for the constant stream of foot traffic (mostly comprising design fans, drawn to the industrial suburb by the brand's outlet store) and a tiny sign in their iconic font, it would be easy to miss the unassuming gray warehouse that serves as the fashion brand's headquarters.
Inside, however, the building is the Wonka's Factory of fashion one would imagine, from the café where visitors can lunch alongside designers (on Marimekko plates, naturally), to the slick showrooms, to the industrial on-site factory where workers still toss paint onto handmade screens by hand. Occasionally, the creative spirit takes these artists down some strange paths; objects previously given the Marimekko sparkle include televisions and walking sticks. But these days, the company has focused on fashion, fabric, homewares, and accessories, all which they seasonally define and refine.
"The founder once famously said, 'Marimekko could be anything. An ice cream shop, a flower shop, jazz,'" explains Lila Vertanen, Marimekko's communications coordinator. "It just took the form of a lifestyle brand. And if you look back at the history, you can see that it's been quite a lot of things."
But what has kept us obsessed with the company's bright colors, multidimensional prints, and fluttery dresses for 66 years? With strong options on collaboration, equality, and creativity, Marimekko's sprawling work compound is only one of many things they're doing right. Here's what Vertanen had to say about what everyone can learn from her company's continuing success.
A failed idea doesn't make you a failure
Every good idea will have its time and place—you just have to continue moving forward trying new things and listening to the people around you. Despite being best known for their clothing, Vertanen reveals that their now-signature dresses were a bit of an afterthought. She recounts:
In the 1950s, it was a post-war time in Finland. There was this woman called Armi Ratia. She was thinking how she could bring joy and happiness to people's everyday lives. Finland was kind of poor. It was a gray time here. So she was thinking, What could I do? She found female artists and asked them to draw bold colorful prints for the factory. So it all started with young female designers designing all different kinds of prints. People loved all the prints. But it wasn't a success. People weren't actually buying the prints… So she had a fashion show. They made unique pieces just for the fashion show—just to inspire people. People loved it and all the pieces were sold immediately. That wasn't the purpose at all. But people wanted more. So, just five days after the fashion show, Armi Ratia decided to found Marimekko.
Learn from your past
Sure, innovation is great, but don't fall into the trap of creating something for the sake of "new." While last year Marimekko caused a stir by announcing they were going to bring back several original dress designs, the move isn't wholly unusual for the fashion house. They're always looking back at their successes and using them to help determine future designs. There's a reason their iconic poppy design is known around the office as "The Poppy" and referred to like it's a treasured employee. As the old saying goes, "If it ain't broke, don't fix it."
"We have a big archive here," Vertanen says. "For each collection, we're always taking some prints from the archives, maybe trying new colors. Maybe scaling the print a bit. Seeing the poppy big and small. We're always mixing those with a couple of new prints… Overlapping prints are part of the heritage. We want that to continue, even though now with machines, we could do whatever we want. But it's more interesting for the eye to have a little imperfection. You don't see that before someone points it out. The colors are overlapping."
The world won't end if you take time off
On the day of our conversation, the factory was a ghost town. Despite the fact that the plant prints over one million meters of fabric every year, the entire staff takes the month of July off. No sneaky trips to the office, zero email. Turns out, grinding things to a halt for a full 31 days is, quite possibly, the healthiest thing a company could do.
"Finland has a very good work and life balance, that's really important for us," Vertanen laughs. "When you have time off, you will be much more energetic when you come back to work. You have new ideas and a new perspective on things."
Keep your friends close
Remember those collaborative group projects in school, the kind where one of two people would do all the work, and the others would just coast by? Yeah... that's not Marimekko. With design and administration offices literally attached to the factory, a culture of collaboration is woven into the very fabric of the company.
"Our designers can come and go and talk to the staff and get new ideas as to what we can do and get inspired and be here," Vertanen explains. "If we're going to be a forerunner in print design, we need to have our own factory. We need to have our own playground, our own creative hub. If it was outsourced, it wouldn't be the same. We know everyone working here. We can have the dialogue and the design. It's the heart and soul of the design and brand."
Support other women
Resounding duh on this one. While the glass ceiling has sustained a few cracks, it won't shatter completely unless women work together. From the top of the company to the workers in the factory who scan each piece of fabric for imperfections, Marimekko gets it.
"We don't have a policy that you have to be a woman to work here," Vertanen notes"
That would be weird. But maybe it's the prints and patterns or the atmosphere that draws women here. At the moment, 94 percent of our company is women. Our CEO [Tiina Alahuhta-Kasko] is a 35-year-old woman. The members of the board are all women at the moment. It's basically women leading. This is something we've had since the '50s. Now it's really relevant. People are concerned about women's rights and people's rights in general. We need to stand for ourselves and be really brave.
Give the next generation the tools they need to succeed  
The kids are alright. And, as Vertanen notes, they're working hard to give the next generation their shot at success.
"We're creating this thing called design-a-thon, where we're inviting 50 young creators to create something with our patterns in virtual reality," she says. "We're going to have a really big hack-a-thon next September in here. We were thinking about what fun things we can do in honor of Finland's 100th birthday. Something that is based on our heritage but taking it forward, taking it to the next level. Challenging the textile industry that's old tradition but in a good way. Seeing if we can create something new and fun."