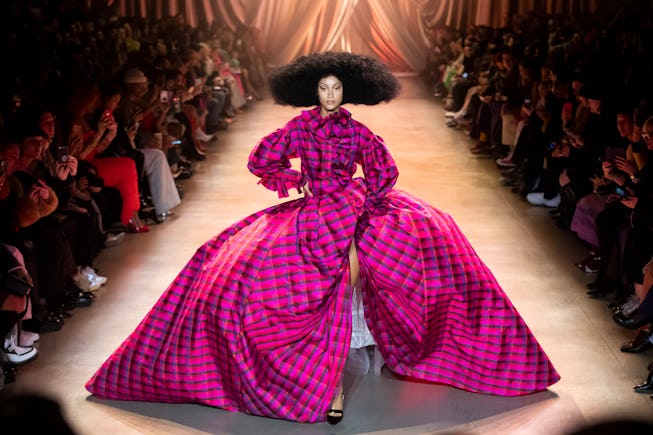 Victor VIRGILE/Gamma-Rapho/Getty Images
LVMH Prize Announces Its 20 Semi-Finalists
Including Christopher John Rogers, KidSuper, Lagos Space Programme, and more.
On Tuesday, The LVMH Prize revealed its 20 semi-finalists for 2021. Christopher John Rogers, KidSuper, Lagos Space Programme, and more were announced as the leading contenders for this year's prize. The winner will receive 300,000 euros to further develop their brand and a year-long mentorship from designers and executives in LVMH. Plus, for the first time ever, the LVMH Prize will be open to the public to vote for their favorite designer, as well.
"Today, designers are asked to be much more than designers, and the candidates have adapted to this new reality," Delphine Arnault, executive vice president of Louis Vuitton and founder of the LVMH Prize, said in a statement. "They are very aware of their image, they build their businesses…and above all, they think about creation and its environmental issues. All the semi-finalists show a sincere and deep commitment, whether it be social, ethical, artisanal, environmental, or local. They are anchored in today's world."
Over 1,900 designers from around the world applied for this year's LVMH Prize, which will also welcome tennis champion Naomi Osaka as its newest ambassador to take part in the final announcement of the winner later this year. Osaka will join newly added experts to the judging committee Bella Hadid, Léa Seydoux, Vogue China editor Margaret Zhan, Harper's Bazaar editor Samira Nasr, and French Vogue fashion director Aleksandra Woroniecka.
"[Osaka] is an exceptional young woman, authentic and committed, who embodies her generation," said Arnault. "Her career and her convictions, her personal artistic involvement are a model for all the semi-finalists. I am very happy that she has accepted to be the ambassador of this edition."
Head over to the LVMH Prize website to read more about the 20 semifinalists and cast your own vote, too.