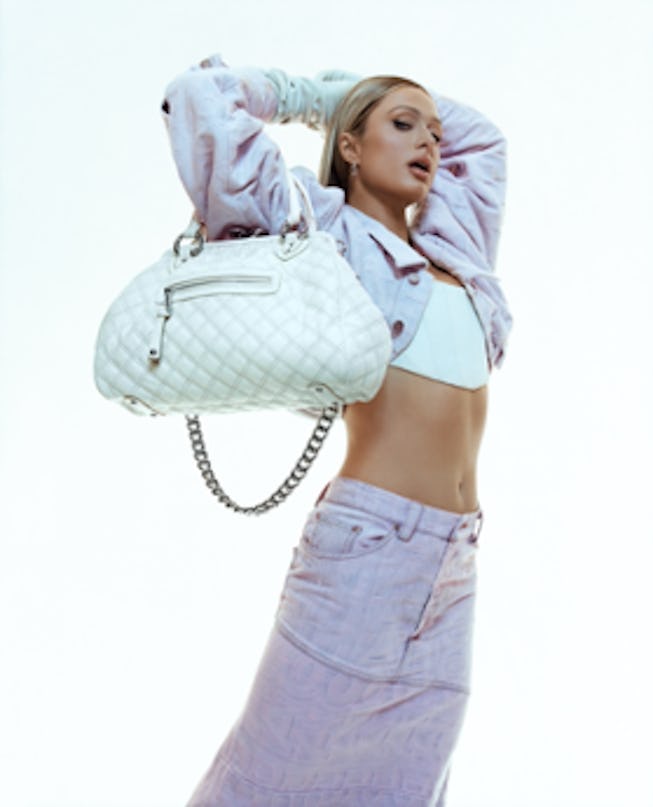 Courtesy of Marc Jacobs
Marc Jacobs Is Bringing Back The Iconic Y2K Stam Bag
The It Girl bag of the aughts is back, complete with a campaign starring Paris Hilton, Ashanti, Ashlee Simpson Ross, and more.
At long last, it's time for the mid-aughts Renaissance. Y2K has had fashion in a chokehold for the last few years, and now it's time to transition into a less bubblegum, more gunmetal aesthetic of the era. There's no better bag to welcome back 2005 than the cult-favorite Marc Jacobs Stam bag, which is being re-released on Wednesday.
The quilted top-handle purse with a metal chain coin-purse enclosure, soft quilted leather, and a "downtown edge" (Marc's words) was named after model Jessica Stam and first introduced in the designer's Fall/Winter 2005 collection. It was quickly exalted by the It Girls of the era, and was soon found on the arms of stars like Paris Hilton, Ashley Tisdale, Rihanna, Hilary Duff, and Beyoncé.
The bag was tragically discontinued in 2013, but is still popular on resale sites — although we're guessing they're about to get snatched up — and has since enjoyed a cult status. (It is, for instance, the subject of a not brief Purse Blog ode.)
Now, ten years later, it's returned for a new generation of It Girls. And there's nobody better to help us revisit the golden era of the bag than the women who popularized it in the first place: Paris Hilton, Selma Blair, Ashanti, Ashlee Simpson, and Jessica Stam herself, who all star in the new Stam campaign. Shot by Harley Weir and styled by Alastair McKimm, they all look nothing short of stunning, in bandeaus, denim skirts, mesh dresses, platforms in baby blue and black, taking the Y2K aesthetic firmly into 2023.
Courtesy of Marc Jacobs
Courtesy of Marc Jacobs
Courtesy of Marc Jacobs
Courtesy of Marc Jacobs
If Marc Jacobs Heaven casting, which has an algorithmic quality, is appealing to Gen Z sensibilities, the Stam casting is certainly solidifying Tumblr-era millennial obsession with the brand. Throw Paris on anything and we're listening!
The Stam bag retails for $1495 and is available in black and cloud white, with the Little Stam bag retailing for $995, available in black and rose. You can shop the collection on marcjacobs.com.