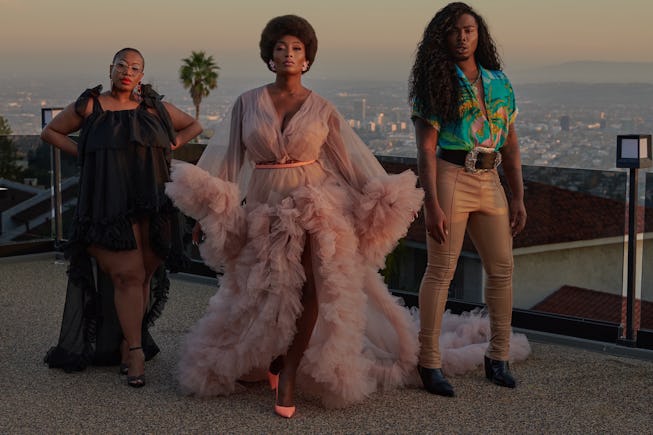 Photo Courtesy of 'Thick House'
Exclusive: Meet The Models Of Thick House, A New Plus-Size Fashion Reality Show
Reality television is about to get curvier.
Premiering on Sunday, May 16, on Facebook Watch, Thick House will follow seven hopefuls as they compete to be the next plus-size modeling sensation. Under the guidance of former America's Next Top Model contestant Toccara Jones, as well as stylists Kelly Augustine and EJ King, the the brand new fashion reality series will do what ANTM didn't accomplish: bring true inclusivity to the forefront.
"When you watch this group, they're all very supportive of each other because they understand the challenges they each go through as Black, plus-size women," says Angelica Nwandu, CEO and Founder of The Shade Room, the multi-platform Black media company behind the show. "And I'm so happy that we showed different body types: We showed women who are a size 20; women who didn't have an hourglass, small-waisted figure; women who have hips like mine."
As conversations have erupted online regarding ANTM's controversial past, Nwandu believes there's never been a better time for a show like Thick House to propel the body positivity movement to the next level. And as a plus-size woman herself who felt inspired by Toccara's presence on cycle three of ANTM, Nwandu knew that bringing the curvy legend back to host the series was also crucial. (Plus, spoiler alert: Toccara is just as fabulous as they day she walked up to Tyra Banks herself and declared, "I'm big, Black, beautiful, and loving it.")
With the series premiere coming soon, NYLON has the exclusive cast reveal of the seven women competing in the debut season of Thick House. Read on for more.
Thick House will premiere on Sunday, May 16 via Facebook Watch.