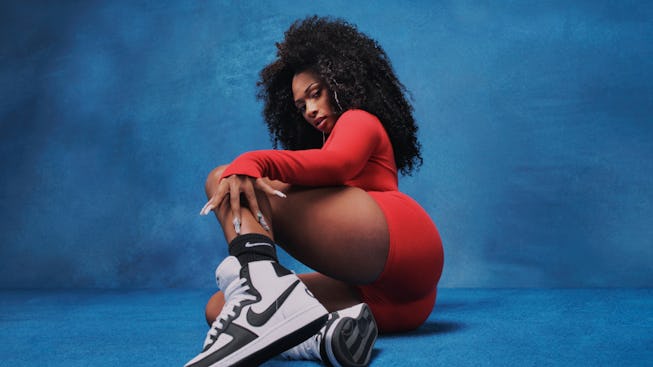 Courtesy of Nike
Megan Thee Stallion, Yoon Ahn, and Parris Goebel Star in Nike's Latest Campaign
Styled by Gabriella Karefa-Johnson.
Nikes' latest campaign — released today — is not just a shoot but an elaborate link-up. Bringing together 14 women, Nike tapped stylist Gabriella Karefa-Johnson and photographer Renell Medrano to shoot the athletes, collaborators, Nike trainers, and partners in the world of dance, design, style, and photography. With Megan Thee Stallion, Yoon Ahn, and Parris Goebel all in attendance, the result was the group shots that look like the most iconic girl band of all time. The campaign celebrates the "joy, possibility, freedom, and boundless expression that can be found in all forms of movement."
Bringing together a group of people that represent competitive sport, fitness, movement, and style, the shoot embodies togetherness, strength, and attitude. "For the last 50 years, we've been both irreverent and directive — Just Do It. We've encouraged people everywhere to take charge and go for it," said Liz Weldon, VP, Nike Global Women's Brand Management, said in a press release. "Today, we're meeting people where they are. We want everyone to be able to realize their best selves across mind, body, and life. And we're celebrating all forms of movement, for all women and all bodies. We see women and girls leading change in all facets of society, and we want to be her biggest champion."
Other cast members include Anna Cockrell, Track & Field Athlete, Betina Gozo, Athlete and Nike Trainer, Crystal Dunn, Global Football Athlete, Feng Chen Wang, Designer and Nike Collaborator, Kirsty Godso, Athlete and Nike Trainer, Liu Xiang, Swimming Athlete, Sabrina Ionescu, Basketball Athlete, Stephanie Au, Swimming Athlete, Tatyana McFadden, Track & Field Athlete, Tunde Oyeneyin, Fitness Athlete and Nike Trainer, and Young-Ju Lee, Global Football Athlete.
Introducing a new era for Nike Women, with a stronger focus on holistic wellness, some of the cast members reflected on the power of movement for the campaign. "I love movement in all forms – dancing, drawing, cutting fabric or draping a mannequin… I can't just sit for a whole day. Movement inspires me," said Feng Chen Wang. "Dance brings me to life. It's like oxygen to my body, to my soul. When I move, I feel not an inch of insecurity. I feel invincible. I feel like I can fly. It's the most magical feeling," said Goebel. Now where do we apply to be part of the next group hangout?