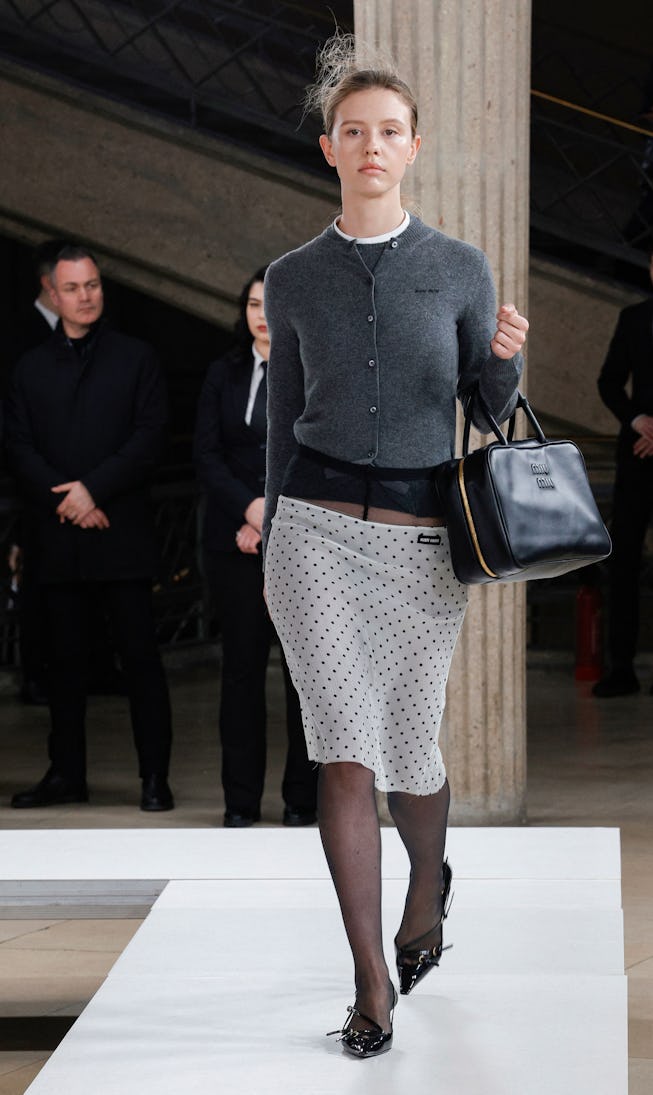 GEOFFROY VAN DER HASSELT/AFP/Getty Images
Mia Goth, Ethel Cain, Zaya Wade, and Emma Corrin All Walked For Miu Miu
The Italian label's Fall 2023 show was an "It" girl-studded occasion worthy of every sparkle on every pair of hot pants.
Miu Miu knows the power of an "It" girl: The Italian fashion house has had everyone from Sydney Sweeney to fka Twigs walk its runway in the past. While casting is a beautiful Fashion Week tactic to generate buzz (search "Miu Miu" on Twitter and you'll see what I mean, or just revisit Greg from The White Lotus' Eckhaus Latta appearance), Miu Miu's Fall 2023 show was an "It" girl-studded event worthy of every sparkly pair of hot pants and micro micro miniskirt.
On Tuesday, the last official day of Fashion Month, Miu Miu cast Mia Goth, Ethel Cain, Zaya Wade, and Emma Corrin to walk its show. This is Cain and Emma Corrin's second season in a row walking in Miu Miu shows, but it is Goth and Wade's debut. The brand's last runway outing also included Miranda July, Emily Ratajkowski, and Bella Hadid. (NBD!)
This isn't, however, Goth's first foray into the world of Miuccia Prada's ladylike brand — albeit her first since becoming a bonafide scream queen after haunting performances in films like X, Pearl, and Brandon Cronenberg's Infinity Pool, all of which came out in the last year. She does not rest!
In 2016, Goth was the star of a Miu Miu ad that was pulled after the Advertising Standard Agency said it was "irresponsible," due to the fact that it appeared to be sexualizing a minor. Goth was 22 years old at the time; can't blame her for having a baby face!
Though the brand said goodbye to micro miniskirts this time around (they have already become a cultural touchstone, so no need), but they took their penchant for everyday sexy a step further with glittery gold hot pants, which Corrin wore with a tan fitted crewneck sweater; knitted blazer and skirt sets, which Wade wore in a deep olive; and fitted buttoned cardigans with sheer midi skirts, which Goth wore with a delicate rats' nest of hair, and because it is one of the biggest trends of a season, a rosette on a sheer halter dress.
See below for more images from Miu Miu's Paris Fashion Week show.