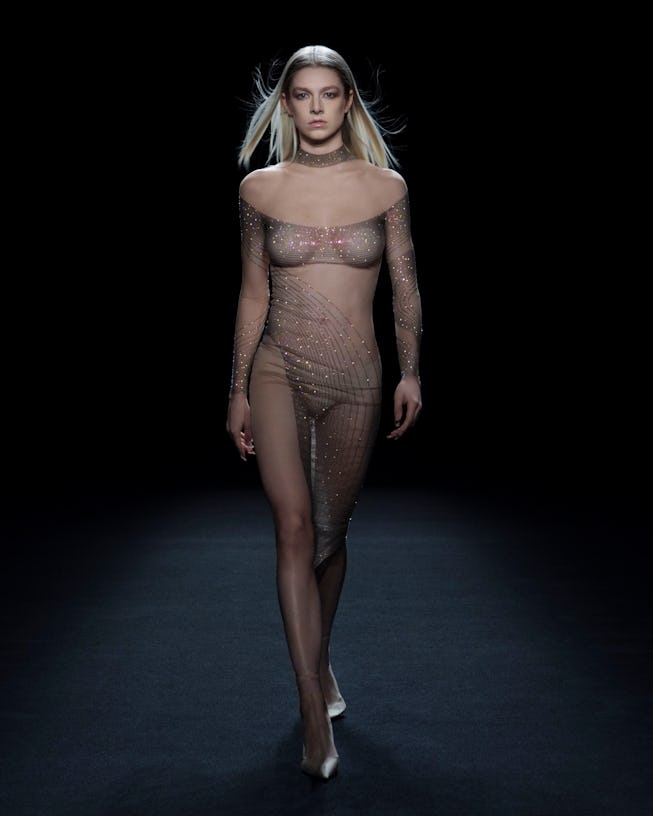 Courtesy of Mugler
Hunter Schafer And Bella Hadid Flip Around The Runway In Mugler's Spring 2021 Show
Schafer and Hadid were joined by Dominique Jackson, Patia Borja, and more to present the new collection.
Mugler has, at long last, presented its Spring 2021 collection with an all-star cast of just about every major fashion player. Alek Wek, Bella Hadid, Irina Shayk, Dominique Jackson, Patia Borja (of Patia's Fantasy World), and Hunter Schafer all walked in the pre-taped short fashion film unveiled on the brand's Instagram account and YouTube channel on Wednesday.
Mugler creative director Casey Cadwallader has carved out an era of figure-hugging catsuits and embellished mesh tops beloved by pop stars like Miley Cyrus, Cardi B, Lizzo, and almost any other "It" girl sitting pretty on the musical charts. Plus, Cadwallader claims Dua Lipa (most likely on behalf of her stylist) already staked her claim to the new sheer bodysuit worn by Jackson on the runway.
"Mugler is about enhancing the body," Cadwallader told WWD during a press preview of the collection.
The short film shows the Mugler ladies jumping and flipping their way down the runway in death-defying stunts. Perhaps a testimonial to just how wearable the new collection is, even for the most animated pop stars.
"For me, all bodies need to be designed for, not just skinny bodies, although, even skinny bodies sometimes have a bigger butt or boobs," Cadwallader told Vogue. "The clothes help you out with that instead of making you feel bad for having them. I'm celebrating different body shapes."
Check out the full Mugler Spring 2021 fashion film, below.