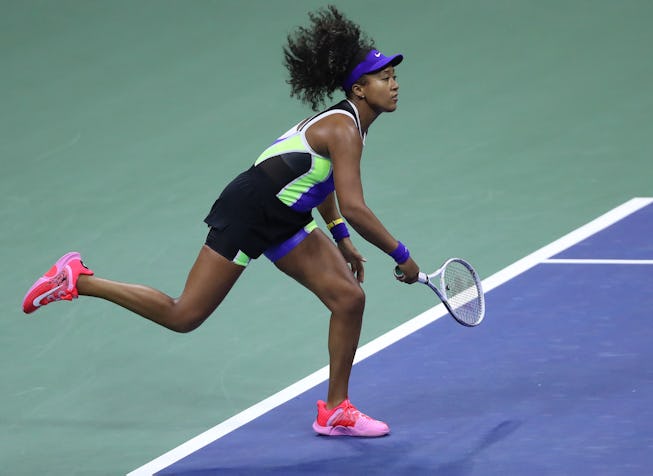 Matthew Stockman/Getty Images Sport/Getty Images
Naomi Osaka Paid Tribute To Black Lives Matter With Her Face Masks At The U.S. Open
She plans to wear a different mask with a different name for each day of the tournament.
Tennis star Naomi Osaka may have won her match against Misaki Doi on the first day of the 2020 U.S. Open, but it was her face mask that got people's attention. The 22-year-old athlete wore a black face mask with Breonna Taylor's name on it while speaking to the press after her match.
"I'm aware that tennis is watched all over the world, and maybe there is someone that doesn't know Breonna Taylor's story," Osaka told reporters on Monday. "Maybe they'll Google it or something. For me, [it's] just spreading awareness. I feel like the more people know the story, then the more interesting or interested they'll become in it."
Osaka has been vocal in her support of Black Lives Matter. Last week, she released a statement in both English and Japanese stating her plan to withdraw from the Western & Southern Open semifinals after the shooting of Jacob Blake by police in Kenosha, Wisconsin.
"I don't expect anything drastic to happen with me not playing, but if I can get a conversation started in a majority white sport, I consider that a step in the right direction," she wrote. "Watching the continued genocide of Black people at the hand of the police is honestly making me sick to my stomach."
Osaka later met with the Women's Tennis Association, which agreed to postpone the match in honor of Blake, and Osaka played her match the next day. (She wore a Black Lives Matter T-shirt upon her arrival.)
After her match, Osaka mentioned she has a mask for each round of the tournament, each with a different name of a victim of police brutality. On Wednesday, she was photographed wearing a mask with Elijah McClain's name followed by a mask with Ahmaud Arbery's name on Friday.
On Monday, Sept. 7, she posted a photo of her at Arthur Ashe Stadium wearing a mask with Trayvon Martin's name on it.
"Actually I have a lot to say about this," she wrote on Instagram. "I remember Trayvon's death clearly. I remember being a kid and just feeling scared, irreverent info but I actually didn't wear hoodies for years cause I wanted to decrease the odds of 'looking suspicious.' I know his death wasn't the first, but for me it was the one that opened my eyes to what was going on. I remember watching the events unfold on tv and wondering what was taking so long, why was justice not being served. To see the same things happening over and over still is sad. Things have to change."
The following Tuesday, Sept. 8, Osaka's new face mask honored George Floyd, which she wore to the U.S. Open's quarterfinal match against Shelby Rogers. Upon Floyd's murder by the police on May 25, Osaka flew to Minneapolis and penned an op-ed for Esquire in July. "When I came back to Los Angeles, I signed petitions, I protested, and I donated, like many of us," she wrote. "But I kept asking myself what can I do to make this world a better place for my children? I decided it was time to speak up about systemic racism and police brutality."
On Thursday, Sept. 10, Osaka defeated Jennifer Brady and wore a mask with Philando Castile's name on it. The 32-year-old Black man was fatally shot by the Minnesota police in July 2016.
"Even a couple of days ago when I got the video messages, for me it was really touching," said Osaka, who received messages from Martin and Arbery's families thanking her for spreading awareness at the U.S. Open. "Me and everyone I knew cried, so just knowing that people are hearing my voice."
For the finals on Saturday, Sept. 12, Osaka wore a mask with Tamir Rice's name on it. The 12-year-old boy was killed by police in Cleveland in 2014. She defeated in Victoria Azarenka, garnering her second U.S. Open championship trophy.
During her on-court interview at the end of the final match, Osaka was asked what was the message behind her masks. "Well, 'What was the message that you got?' is more the question," Osaka responded. "I feel like the point is to make people start talking."
For Osaka's official U.S. Open trophy shoot, she continued to convey strong messages through her clothing choices. In the photo, she wore a printed dress and head wrap to pay homage to her Haitian heritage. "This is one player who understands the power of the visual statement," tweeted Vanessa Friedman, fashion director and critic of The New York Times.
This article was originally published on