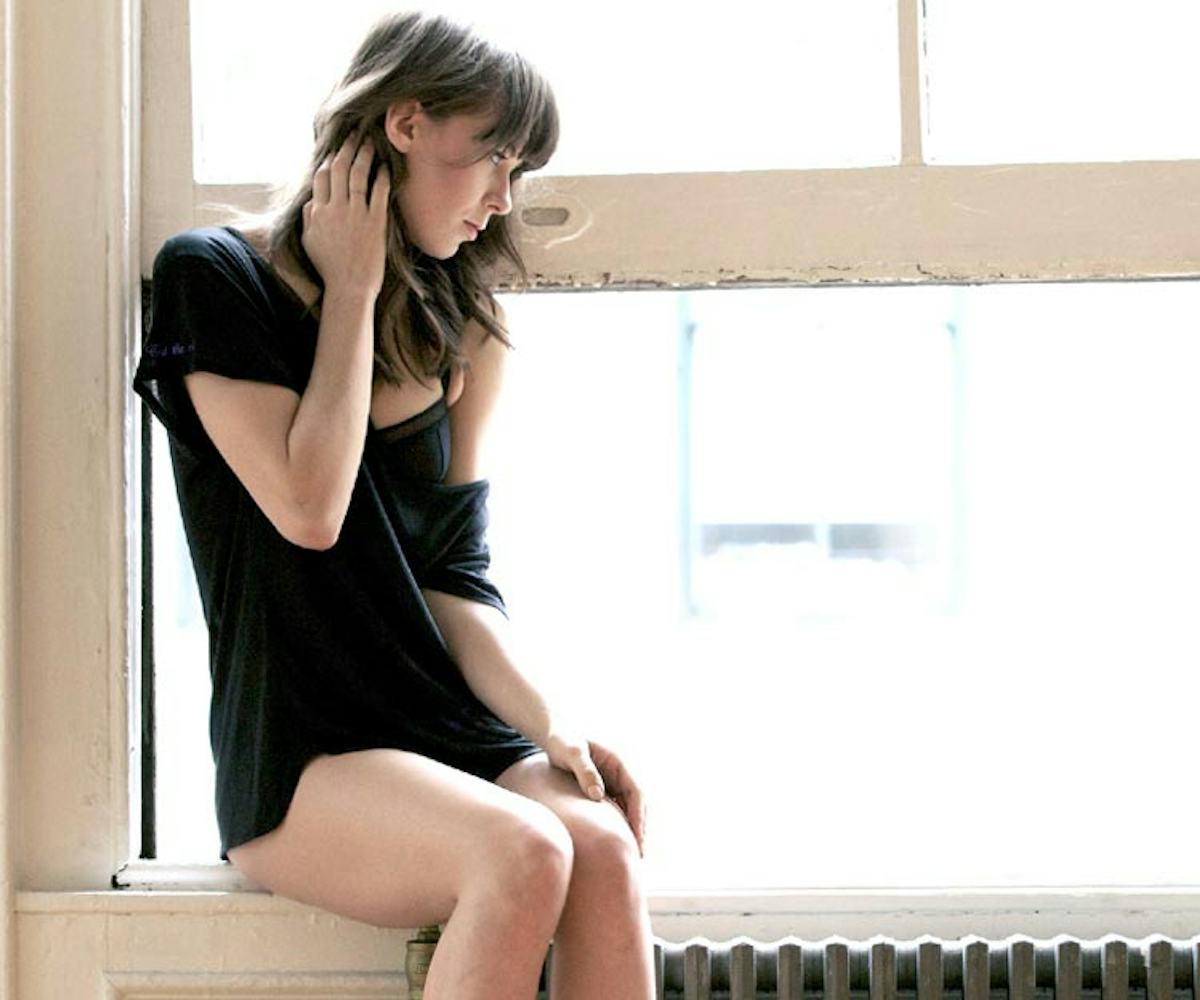 you oughta know: negative underwear
lingerie has never looked so cool.
Understated, cool, affordable lingerie is surprisingly hard to find. It's almost as if the industry is divided into two categories: sultry lace stuff for weekends, and casual comfy stuff for weekdays. But if you're looking for something that strikes the balance between easygoing and still good-looking, well, it can be tough.
This is where Negative Underwear comes in. The new lingerie line is based upon the idea of a sexy minimalism--think flattering cuts, uncomplicated details, and classy prints and colors. Within the past six months already the label has expanded from bras and underwear into tissue-thin tees, tanks, and more of the pieces we want for Monday mornings and Friday nights alike, and it's only the beginning. We got the scoop from Marissa Vosper, Co-Founder of Negative Underwear, on how the brand is blowing up...and why you haven't seen bras like this before. 
How did the idea of Negative Underwear come about? Why was it the right time to start a line?
Negative was born out of a desire to create something that solved a real problem. There's so much great ready-to-wear in the world today yet so few options for great underwear - we would argue almost none! We took this observation, our business backgrounds, our fashion sense and our self-taught bra-making expertise to build a better business - providing women with high quality, everyday underwear that merges comfort and cool at a more accessible price.
What do you think is missing in the lingerie industry today?
First, we wanted to design a line that was both comfortable and cool-- something you could happily wear every day and not immediately want to rip off at night when you get home from work! A line that felt as good as it looked. When it comes to most lingerie today, we found you get one or the other: really functional basic T-shirt bras that are super boring with no sex appeal (AKA, not something you'd be proud to wear without clothing on...), or really fanciful, beautifully delicate pieces that have almost zero function and feel miserable on. It's basically a no-win situation for working girls with a social life--unless you bring a change of underwear--and really, who has the time?
The second gap we wanted to solve for was around the price/quality ratio. Again, the industry is rather polarized-- affordable stuff that's cheaply made in China and falls apart way too fast or super luxurious pieces made from delicate materials that are simply unaffordable for daily wear (or even special occasion wear) for the average customer. We didn't see a lot of options in the middle. So, we decided to go to the luxury suppliers to find the best elastics, the best fabrics, the best hook and eyes, but sell our line direct to consumer exclusively through our own website to keep our prices in a more accessible space.
The last piece of the mix is the brand. So much lingerie today is still marketed as this sexed-up, pushed-up, hyper-girly boudoir thing that just feels dated to a lot of women in 2014. We wanted to build a brand that was more real, more pared back, more unisex, even. The idea of less is more feels very much tied to a new consumer culture and our brand is meant to speak to that and channel that in all we do.
Who is the Negative Underwear girl?
When we envisioned the brand in its early stages, we were honestly designing for ourselves and our peers. Young, cosmopolitan, professional women who care about what they wear on the outside but don't have great options for what to wear underneath. A girl who wants something understated, effortless, well-made and cool-- at a price she can justify. We thought a lot about the Rag & Bone jean customer, or the Helmut Lang blazer customer, or the Mansur Gavriel customer. Smart girls who are unsatisfied with their existing lingerie options, care about quality and style, but don't want to compromise on fit and comfort are more universal than we thought!