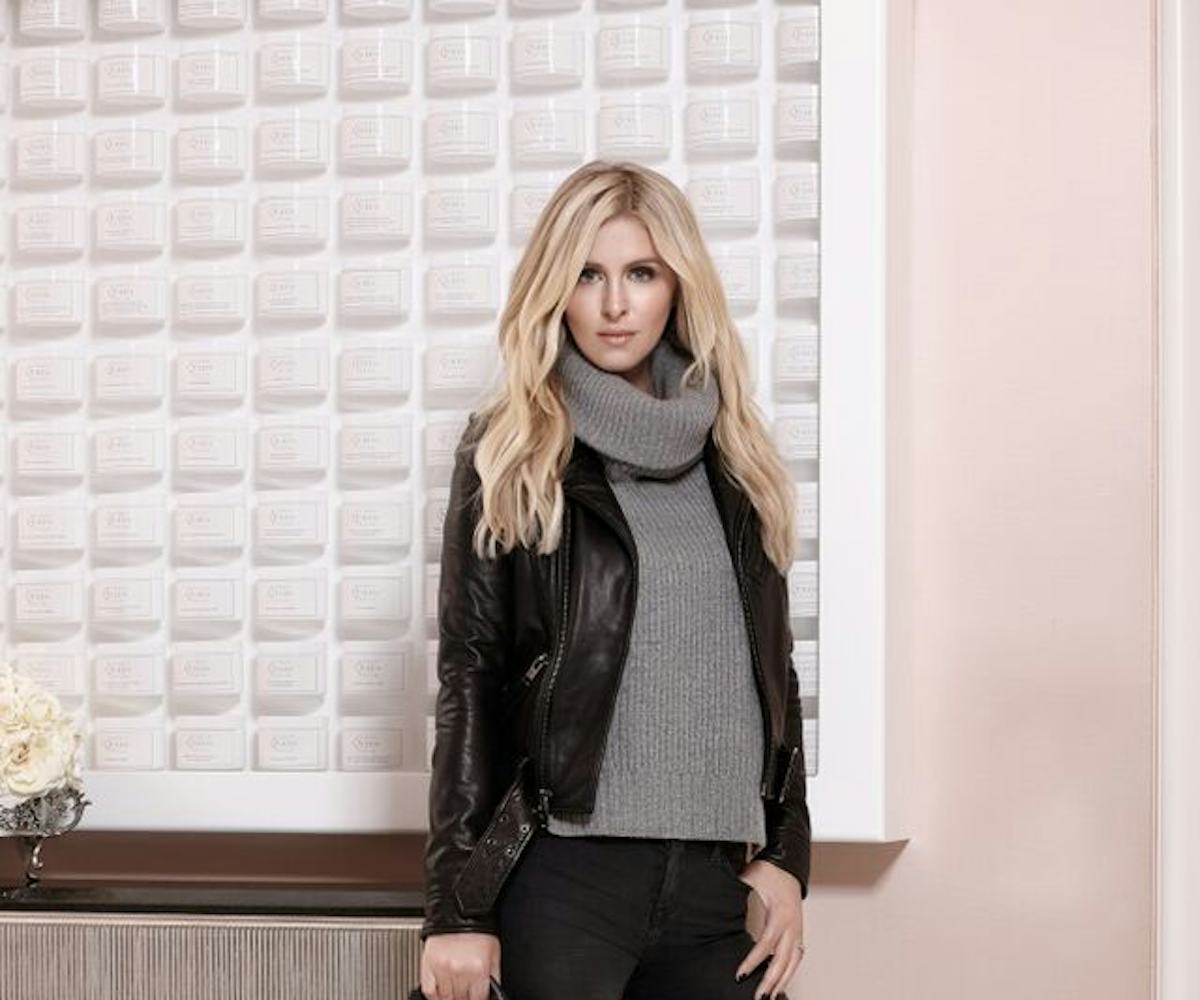 Nicky Hilton Spills The Bag On Her Bag Line
the chicest capsule collection
Nicky Hilton and Linea Pelle teamed up to release of a fall 2015 capsule collection, named Nicky Hilton x Linea Pelle. It features 11 sleek designs, including clutches, backpacks, and larger, everyday styles in genuine leather and animal-printed calf—so there's a lot to choose from. Since we're total bag hoarders, we wanted to find out more about the new line, so we rang up Nicky Hilton herself.
Following in the Hilton Family footsteps, Nicky is well on her way to total brand domination as a designer, author, and entrepreneur. Below, she gives us all the details about her brand-new collection coming out this season, including inside secrets like how the bags get their names.
So, let's talk about all these things: First of all, I find that day to night is a key thing. You're always transitioning from something in the day...you don't have time to go home. Do these sizes really lend themselves to that lifestyle?
Well, the Mercer Tote, that's obviously too big. Traditionally, large bags for evening were an absolute no-no. I think that more recently, they've definitely become appropriate and almost on trend. I, personally, love an oversized clutch because I carry so much with me and I like a roomy bag that can carry my iPhone, my Blackberry, my camera, candy, and whatever crap I carry around.
I'm sorry I must interrupt—an iPhone and a Blackberry?
I am a Blackberry girl and loyal and I love it. I love my iPhone for apps and photos, but I cannot type my email on it for the life of me. So I have both!
That is amazing: Two devices to lose, two devices to break. I love an oversized clutch too, and I feel like all the old rules have just been broken in general. For example, "You can't wear white after Labor Day," or, "You shouldn't wear an oversized clutch." I don't think these rules stand true anymore, and I also don't think that evening wear is defined the same.
No, I think there are no rules with fashion anymore. I think everything is just a free-for-all, which is fun.
Have you always been a bag girl?
Yes. I've always been a bag addict. Some girls have shoes, jewelry... Bags were always my thing. At 17 years old, I got the opportunity to design my first collection with Samantha Thavasa, and I just had so much fun. I loved it. I was still in high school, and I did that for a few years and got into apparel and jewelry. To be doing bags again is just a dream come true. I love bags. I love buying them; I love designing them.
We've known each other for so long and I feel like one of the things that we have both always had in common is this sort of love-slash-obsession with accessories, in general. And I can say that you have excellent taste, so I love that you're doing this collaboration. When I saw some of the early line sheets, I immediately went to that leopard. One of the things that I've always liked about your style is that you're open to having fun, and know that fashion is fun and that it doesn't have to be so serious.Yeah, I love mixing clothes and colors that you wouldn't think would go together. I like to experiment and have fun with it.
How many bags do you think you have? I mean, I could tell you that I have hundreds.I have hundreds. I was just in L.A. at my parents', and in their basement there are hundreds in storage. They're everywhere.
Oh my God, that must be the most amazing vintage/consignment store ever. Ugh, that is like a dream. "Come to My Basement"—it's a new column. Tell me this. Are you a Fashion Week girl?I like going to my friends' shows. I'm not the girl who is attending every, single show. I like to see what my friends are doing and the rest I can see online.
I mean, that's the thing. It used to be like if you didn't go to that show, you wouldn't see it unless you read about it in the paper, or six months later when a September or March issue came out. I think it's so different now that everything's online. For me, as an editor, it's important to go and it's part of the job, but I appreciate that you can see everything you like and sort of pick and choose. I think that's cool. It's kind of hard to be everywhere.There's so much going on, but I love to go to my friends' shows and support them and see what they're up to.
My favorite thing is the fall dressing, because I think fall is the most fun time to get dressed.Yes, but I'm good with both, let's be real. I do love a chunky sweater, leather leggings, and boots—I have been missing that, and I'm looking forward to that. Hanging up the sandals and the sundresses to transition into fall. I'm so excited to wear all my bags for fall, because they just go with everything.
I always feel like I move into a bag. Like, I have hundreds of bags, but I kind of get all my stuff in one and I stick with it. Do you have one that you're like, "Okay."I have been wearing the Chateau bag a lot, which is sort of like a doctor's style bag. And I've been wearing that in black and leopard a lot. I love a doctor bag.
I love a doctor bag, too. There is this amazing—I guess it was more of a bowling bag-doctor bag, but I remember when I was first an intern in college at magazines, that was like the thing. I remember saving up to get one of those fancy bags. The Prada doctor bags?
Yes! See? Great minds think alike! I think that's where it started.
That is where it started. At least for us. What else do you want to say? Well, I name all of the bags after my favorite hotels.
Oh, no way! So the Mercer, the Chateau... I get it, I get it.The Valerie, the Waldorf...
Oh, that's so cool! Yeah. The hotel girl. I love my hotels, so I want to come up with cute names for each one of them.
Oh, that's so chic and so you. I love that.And I love the Waldorf brown one. I love wearing that as a cross body, or even tucking the chain in, which I've done recently, and wearing it as like a little round clutch. 
Oh, I like that, too. What is your favorite color for the bags?My favorite color?
Yeah, you're favorite color. I meant for the bags but...I love powder blue. 
I always think of you with blue because you have those piercing, bright-blue eyes.I love a powder blue.
Maybe in the next collection.Every year, I make a resolution to wear more color and stop wearing black, but I break it every year.
Okay, well powder blue is the new black, we heard it here first.Yeah, exactly.