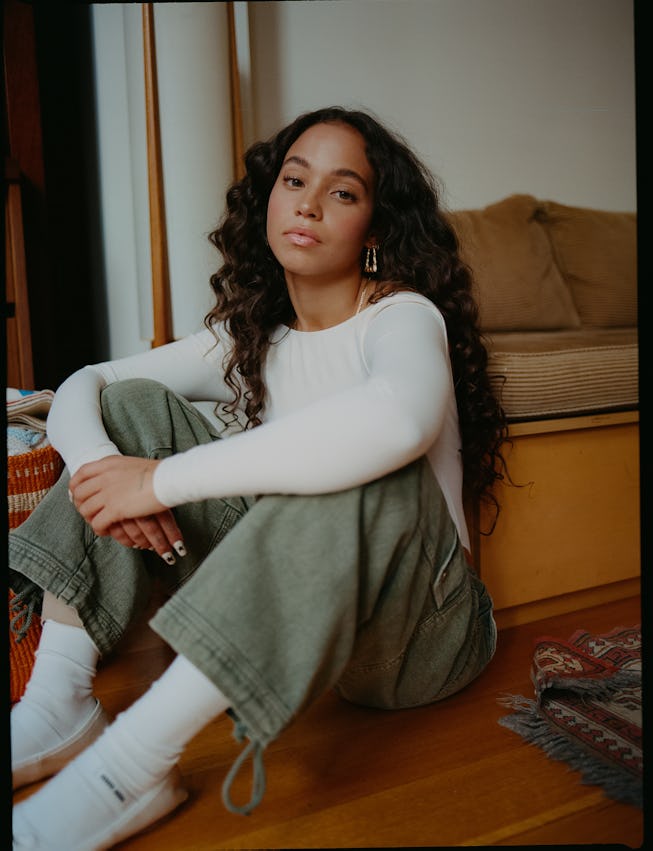 Emma Trim
R&B Artist María Isabel Is Making Room For New Style With Nuuly
Your chance to shop the closet of the rising star.
At the end of 2022, Dominican-American musician María Isabel had just learned how to sew and wanted to try her hand at making a shirt. The result was a dark green velour halter top with matching gloves. While the musician, who grew up in Queens, New York, says she doesn't plan to make any other pieces soon, her handmade top is just one of the ten exclusive items from her personal wardrobe that she's dropping today as part of her Nuuly Thrift along with other pieces she's worn for performances and music videos. Access to thrift Isabel's closet, as well as a curated selection rentals, is part of the artist's partnership with the vintage rent and resell platform for their "More Life in Your Clothes" campaign which encourages renters and thrifters to explore new versions of themselves.
Isabel said that she decided to make the homemade shirt in order to break her life-long aversion to trying new things that she might not be good at. "I've been wanting to try new things in the past year and a half because growing up I always hated being bad at things," she tells NYLON. "Singing came more naturally to me and that was my thing so I pretty much shied away from anything else. But, in growing up, working, and traveling, it's nice to have a break from my normal routine with fun things that don't have to be good at." Although, saying Isabel is "good" at singing would be an understatement, as the singer-songwriter is quickly establishing herself as a rising R&B artist to watch with two critically acclaimed EPs under her belt.
Through Nuuly Rent and Nuuly Thrift, the URBN brand is working to empower those who are interested in creating a nearly endless wardrobe through a circular fashion ecosystem. For Isabel, this means clearing out pieces for the new year and making space for her next era. She describes putting together outfits in the same way she writes music: "just whatever I'm feeling that day". Recently, that style has consisted of minimalist and comfortable pieces because she's currently moving. "Thrifting and renting are mostly—if not completely—how I like to shop," she says. "What I want now is just a solid closet that I can mix and match with and move around with. More things that go together and things that will stand the test of time."
Isabel's selected pieces of clothing include a colorful UNIF top, a cream butterfly puffer jacket, a Stussy fleece vest, an Armani Jeans leather vest, and Adidas cut capris. When asked if it will be difficult to part with the pieces, she says she's excited to see them get a new life. "I think clothes can have multiple lives and Nuuly Rent and Nuuly Thrift are perfect ways to support that," she says. "I'm super excited to be a part of this campaign because I believe that renting and thrifting clothing are the best ways to edit your closet," adds Isabel. "As a New Yorker, I love figuring out new pieces to wear and how to style them by people watching as I go about my day."
Proceeds from the sales of Isabel's pieces will be donated to a charity near and dear to her, the Queens Community House. "I grew up in Queens and a lot of my family still lives there and a lot of where I grew up was pretty low income," she says. "I just feel like the community served me growing up because I went to a lot of community events and I just want to make sure the same things are available for other kids growing up there."
Isabel's Nuuly Thrift Closet and her Nuuly Rent Edit are available starting January 18.