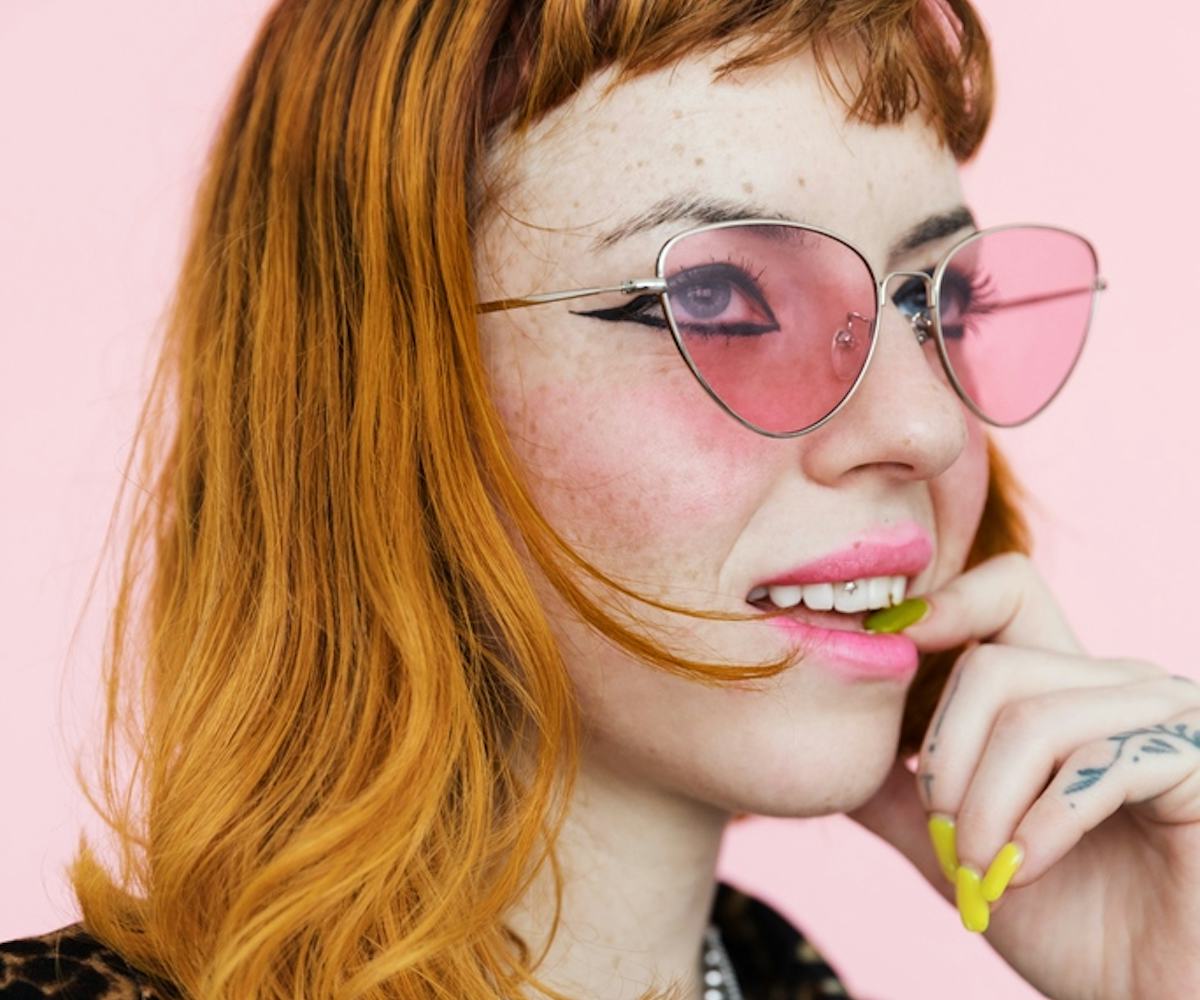 photographed by kacie tomita
Alanna Pearl Tells Us Why Looking Like Other People Drives Her Crazy
Meet the model and style pioneer shaking up L.A.'s creative scene
The following feature appears in the October 2017 issue of NYLON.
Save for some dramatic, wobbly winged eyeliner and three tiny gold decals that spell out "O-V-E" on her bottom front teeth (the "L" fell off), Alanna Pearl's face is nearly bare. "It's the anti-Kardashian beauty that I love: imperfections and artsy stuff," she explains while posted up at a homey café in Los Angeles's Echo Park. "I usually don't cover up my pimples because I think they're cuter than having perfect skin." 
Twenty-six-year-old Pearl is something of a poster child for the aesthetically askew, recently appearing in a campaign for alternative beauty mainstay Milk Makeup in a smeared lipstick look. "As soon as I start to look like other people, that's what drives me crazy," she says. Today, there's little risk of that with Pearl's Raggedy Ann red hair, lime green sunglasses, black-and-white tube top, navy pinstriped pencil skirt, and—the pièce de résistance—a leather purse shaped like a pig, which she pierced herself with hoop earrings. 
"I'll create a character for each day," she says of her eclectic fashion taste between sips of an iced almond milk latte. What about this look? "Eighties slutty businesswoman."
In a world where styles come and go as quickly as you can thumb through your Instagram feed, it makes sense that Pearl is resistant to genre tags. And even though she's been modeling for years—"I've always had to support myself," she notes—being a model isn't the primary way she describes herself.
Just like her day-to-day look, Pearl is constantly refreshing her title. "I've turned my personality into its own weird job. I feel like I've worn every hat in Los Angeles and I've exhausted myself doing it, but I don't like to stay stagnant," she says, reflecting on the past six years since she relocated to L.A. from rural Colorado. This tireless work includes activism. Pearl is currently in the midst of planning a period awareness workshop focused on sustainable menstruation for the female residents of Skid Row. "Period cups are a beautiful thing," she says resolutely. "These things should just be available."
Pearl also maintains a strong presence on Instagram, where she pioneers trends via her frequent experimentations with makeup—her latest being clouds of blush under her eyes—and clothing for her tens of thousands of online fans. (Pearl's impressive Insta following even includes stars like Katy Perry, whom she describes as "so nice.") "I've been able to navigate trends before they happen," Pearl says. "The whole existence of the internet is people trying to re-create photos and cultivate a personality."
Vintage curation is another of Pearl's passions: remixing old pieces and selling them on the app Depop. "My mom taught me how to thrift and look for beauty in the trash of things," she says. "I knew I wanted to be an artist of some kind, and I've always been interested in fashion. I'd experiment with vintage clothing, cutting it up and putting it back together." It was her eye for vintage that led to her recent work as a stylist—her preferred job description, at least for the time being. After Pearl sold a piece to Brett Alan Nelson, stylist to famed photographer David LaChapelle, she was invited to assist on set with LaChapelle, whom she describes as her "biggest inspiration since [she] was 13."
Perhaps unsurprisingly, Pearl immediately made an impression on the icon. "I came in wearing this vintage '70s patchwork dress," she remembers. "[LaChapelle] was like, 'This is so Harajuku. Holly Hobbie is your name,' which I will take to my grave."
Since then, she's worked with LaChapelle on everything from his own forthcoming fashion book to the legendary "lost" original Britney Spears music video for her 2016 Glory cut "Make Me," which has achieved cult status despite never having been officially released. 
"There are conspiracy theories about it all over the internet," she says. "David LaChapelle got hired last July to do it and it was a million dollar music video, and I styled 30 male pole dancers. We made them look like sexy cowboys. They ended up scrapping it, and it will never come out. [Allegedly] Britney Spears's dad is the one who said no. How crazy is that? My life is so weird."