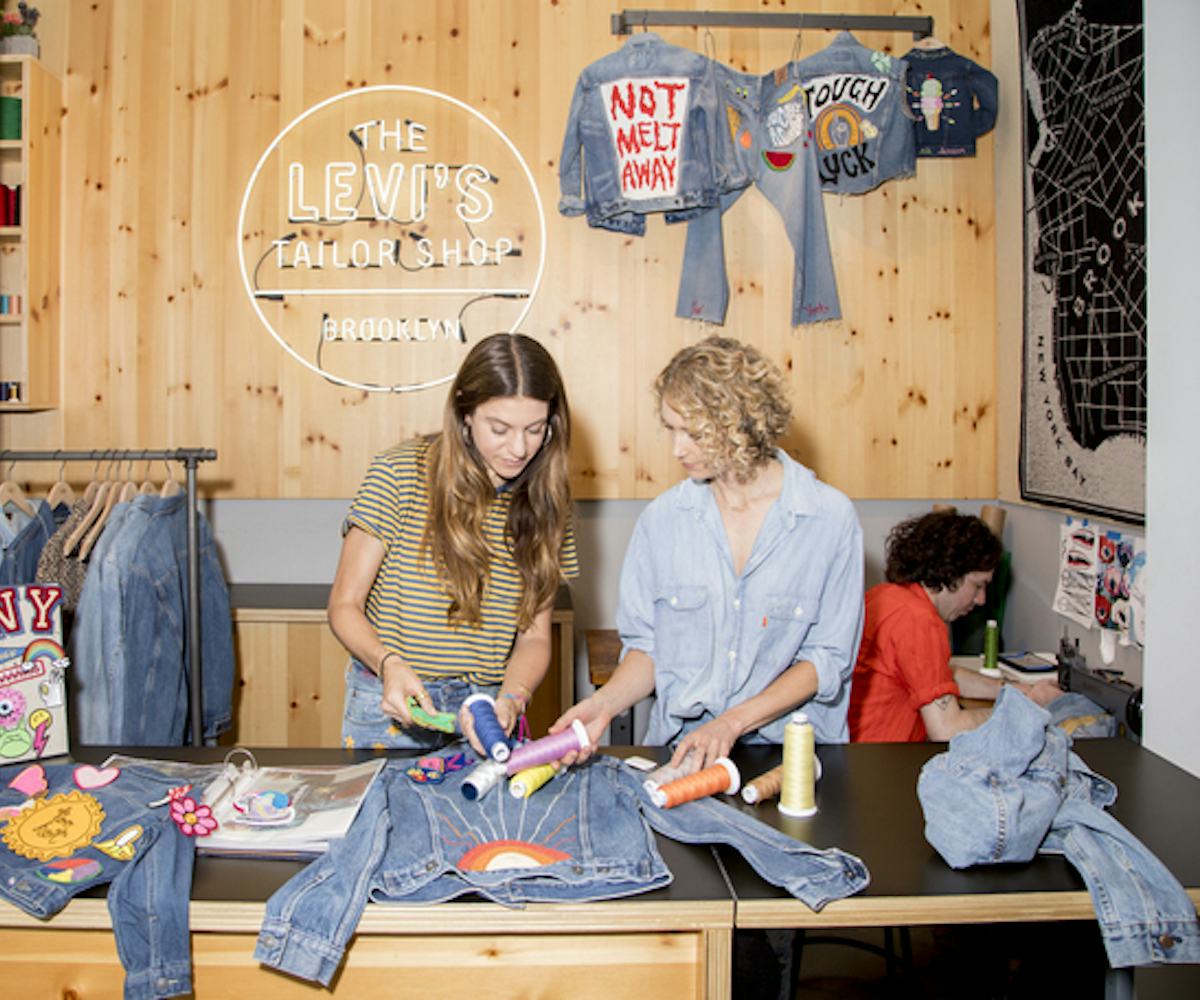 Working with Jill Guenza and Luke Good to design the jacket of my dreams. Photographed by Jonathan Grassi.
Factory Girl Dani Stahl Visits Levi's Custom Tailor Shop In Brooklyn
The following feature appears in the August 2017 issue of NYLON.
Fashion changes every season, but the one thing I can always count on being there is denim. It may get cropped, hemmed, rolled, or dyed (you name it, and it's been done), but denim never goes away. And no one understands denim quite like Levi Strauss & Co.
I never get rid of any of my old Levi's—the OG denim brand will always have a place in my closet, with pieces folded in multiple tall stacks that will fall over like a Jenga game if I'm not careful. Need further proof that I'm Levi's obsessed? This is my third Factory Girl story with them, which I consider to be a very high honor. To shake things up for the third edition of this adventure, I visited the custom tailor shop nestled inside their store in the heart of Williamsburg, Brooklyn, New York, where you can bring your wildest denim fantasies to life. They make their own patches and customize everything from tops to jeans to my personal favorite: jackets. 
Months before even arriving at this denim lover's wonderland I was in talks with Jill Guenza, global vice president of women's design at Levi's, about the jacket I wanted to design. This is my third Factory Girl with both Levi's and Jill, so she and I are totally in sync. Throughout the years, I've collected basically every shape of denim jacket, but after trying on a few styles in the main area of the store, I feel drawn toward the men's trucker jacket. Since the oversize shape is having a moment in fashion right now, I keep wanting my jackets bigger and bigger. Once I choose a silhouette, I have to pick a wash. I find myself feeling like Goldilocks (and not because of my golden hair) as I try to decide; one wash is too dark, one is too light, but I fall in love with one that's made in a classic true-blue denim color—it is just right. 
I move over to the tailor shop, where I am greeted by a wall of colorful patches including ice cream cones, roller skates, cacti, and bananas. An embroidery machine from the early '50s sits behind the counter. Luke Good, one of Levi's premier tailors—I've worked with him on a Factory Girl before and he has definitely acquired some new artistic skills—tells me that all of their embroidery is custom-made in the store and that they often draw inspiration from vintage pieces with unique details. He even lets me give the embroidery machine a try. (I'm not half bad! It must have something to do with my Proenza flatforms controlling the pedal.)
When dreaming up a design of my own I was drawn to a sun motif, something that seems to be following me these days considering I have a little girl named Sunny.  Sometimes in my Factory Girl stories I get too excited in the process and overembellish my designs, so as we lay it all out I want to be cautious and make sure that this jacket is chic and wearable. Spelling out sunny above the design and adding a daisy-chain detail on the front is enough. Et voilà!
While I'm thinking about sunshine and my baby girl, I can't help but ask Jill if they have any children's jackets. My face lights up when she says they do. I was really trying my best to keep my jacket refined, so designing Sunny's jacket gives me room to play! From a sun patch that reads too hot to her initials, sk, which just so happen to be on the patch board, I have no problem going all out. 
Once I get the Sunny seal of approval, we pose for a mother-daughter moment in our denim jackets; we've both achieved baller status. At home she now runs around dragging it behind her and screaming "Jacket, jacket!"—picture Linus from Peanuts with his blanket. Like I said, denim is ever-changing, but Levi's will always be there. 
Watch the video here. 
The perfect fit.
#Twinning
Laying out the design for Sunny's jacket.
A work in progress.
Patches for days.
Embroidering with my trusty Proenzas on the pedals.
When I saw Sunny's initials on the wall, I knew it was meant to be.
Attaching the daisy chain.
Like mother, like daughter.