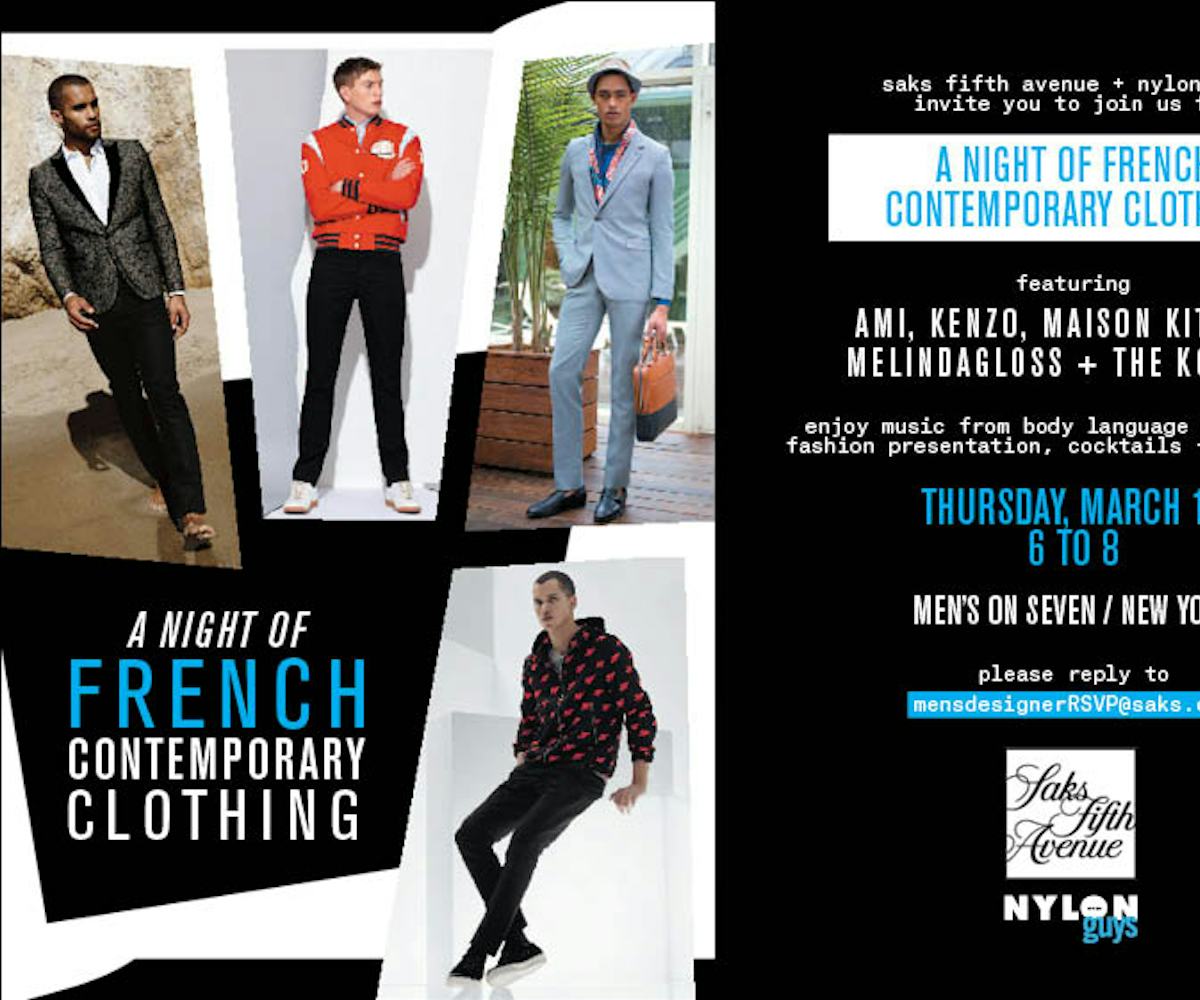 nylon guys + saks celebrate french fashion
It's hard enough to put together a killer spring wardrobe, so we're going to help you out. NYLON Guys is partnering with Saks Fifth Avenue for A Night of Contemporary French Clothing on Thursday, March 12 at the Saks' flagship store. Featuring a DJ set by Body Language, a fashion presentation featuring top menswear brands, cocktails, and some light bites, this is one event you won't want to miss. Here's a rundown of all the awesome brands that will be featured and what you can expect to see from them this Thursday night. 
The Brand: Established by Dior, Marc Jacobs and Givenchy veteran, Alexandre Mattiussi, Ami is something of an anomaly in the world of high fashion: stylish and affordable. A "brand for friends," Ami has had wild success in creating jeans, shoes, tuxedo jackets for just about everyone, and has held some pretty amazing shows for their display.  
This Season: Paying homage to high school days gone by at his Paris showing in June, Matussi made clear that his SS '15 collection has something for everyone: checkered shirts and suspenders for the rebel, streamlined, sporty chic for the jock, and a heart and arrow print for the class clown. In its entirety, the collection is a muted masterpiece interspersed with '90s norm. 
The Brand: Started as Parisian boutique, Jungle Jap, in 1970 by Kenzo Takada, the house of Kenzo has certainly come a long way in the past forty-five years. Though it began as a women's line, Kenzo debuted its first ready-to-wear collection for men in 1987. Six years after the brand joined the luxury titan LVMH Group in 1993, Takada stepped down as the Artistic Director. In 2011, Opening Ceremony founders Carol Lim and Humberto Leon were appointed Creative Directors of KENZO, and have since worked towards redfining the revolutionary spirit with which the brand was founded. Roar!
This Season: KENZO has never shied away from the bold, and the SS '15 season is no exception.  With a range of colors set to make any Crayola colorist jealous—think powder blue, mint green, burnt orange, and peach—the collection also boasts eye-catching prints, polka dots, and homages to both Lady Liberty Les Misérables' Cosette. Also, sheer sweaters and racing-inspired get-ups. 
The Brand: Described as a "unique concept of trendy and modern luxury intermingling [with] fashion and music," Maison Kitsune was born in 2002 following the meeting beween then-manager and artistic director of Daft Punk, Gildas Loaëc, and former architect, Masaya Kuroki. Part music label, part fashion house, Kitsuné does not shy away from collaborations, and has worked with both classic and contemporary designers like Petit Bateau, Michel Vivien, Oliver Peoples, Pernod Absinthe, or Yasmine Eslami. 
This Season: For the dapper dons of the city streets, Maiso Kitsune's  SS'15 collection redefines cool. With crisp cuts, striking solids and playful prints, the collection is as classic as it versatile—a must for the modern man. 
The Designer: Founded in 2009 by Rémi de Laquintane & Mathieu de Menonville. 
This Season: Retro, but definitely not tired, Melindagloss' spring collection makes for the perfect Throwback Thursday. Accentuated by ascots, high waists, and vintage cuts, this collection will certainly lend you your much-needed seventies swagger for this season. With their clean, simple shorts, you will be looking and feeling cool all summer.  
The Designer:  Known for their couples campaigns and "boyfriend"/ "girlfriend" apparel, this Paris-via-London label was founded by brothers Alexandre, Lauren, and Raphael Elicha, whose parents created a borrowing-friendly women's line, Comptoir des Cotonniers. Amazingly androgynous, and made for sharing, this up-and-coming label is now making quite the name for itself on this side of the pond. 
This Season: Giving their typically rock-inspired look a sporty twist, The Kooples have truly also made advances in texture this season with their array of knitwear and leather goods. Ideal for the high street and the skate park, The Kooples SS '15 is casual yet chic.