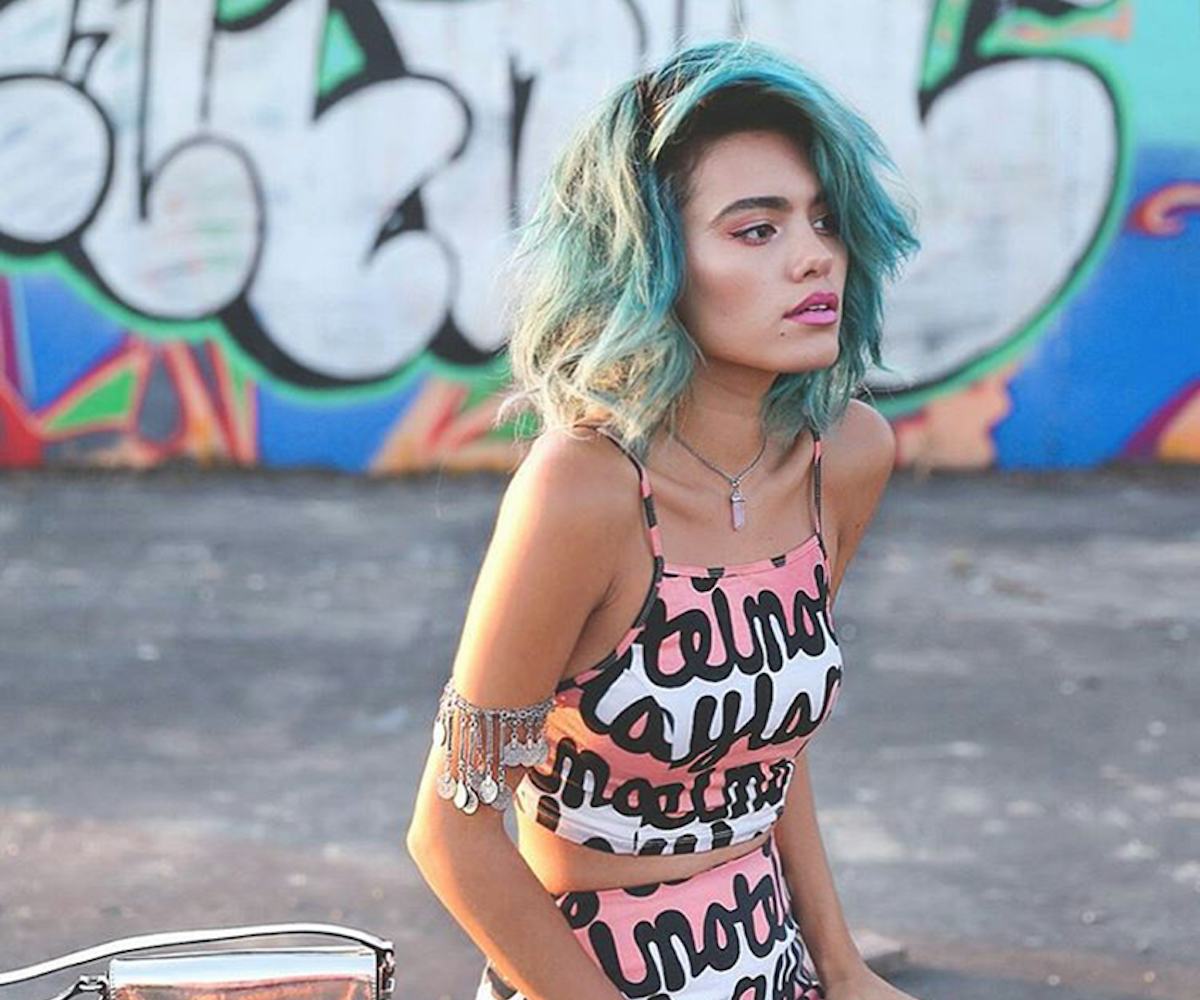 Photo via @xandervintage Instagram
how to style like an instagram it-girl
(it's easier than you think)
We know how much you love getting outfit inspo from Instagram every morning, but sorting exactly what you like about a look can be harder than it sounds. Steal your favorite Instagram It-Girl fashions by flipping through the gallery, and find out what works and why. Shop all the looks here at NYLONshop, and you'll be styling like an It-Girl in no time.
Juxtaposition is your friend. By pairing hard silver chain jewelry with a soft peachy-pink print, this outfit creates the perfect combination of sweet and sassy.
NYLON X MOTEL, Abstract Crop Top, $49 and Abstract Cut-Out Skirt, $50, available at NYLONshop. Regal Rose Headpiece (worn as arm piece), available at Regal Rose. Similar purse, ASOS Hologram Purse, available at ASOS. Similar necklace, Galisfly Quartz Choker, available at NYLONshop.
Tying a shirt in the same print as your dress around your waist is the perfect way to break up a simple silhouette.  
Nana Judy, Queen Dress, $75 and Rebel Plaid Shirt, $65, available at NYLONshop. Similar bag, Valentino Camo Tote, available at Nordstrom.
Keep your look from feeling too top-heavy by balancing your favorite statement sweatshirt with loose, distressed jeans.
Burger and Friends, Parlez-Vouz Francais Raglan Sweatshirt, $36, available at NYLONshop. Similar jeans, Pistola Denim Arizona Denim, available at NYLONshop. Similar boots, Saint Laurent Studded Ankle Boots, available at Barneys.
Don't be afraid of gettin' matchy-matchy. For a look that wows, make your two-piece set into a three-piece set with shoes that fit the print perfectly.
See You Monday, Fries Crop Top, $36 and Fried Skirt, $32, available at NYLONshop. Shoes, Buffalo x Solestruck Platform Fries, available at Solestruck.
If you love how easy a dress is, make sure you don't take away from its laid-back feel with too many accessories. Keep the outfit toned-down with oversized sunnies and delicate jewelry.
Crap Eyewear, The Human Fly Sunglasses in Matte Turquoise, $54, available at NYLONshop. Syd and Mallory, Prickly Tits Dress, $65, available at NYLONshop.