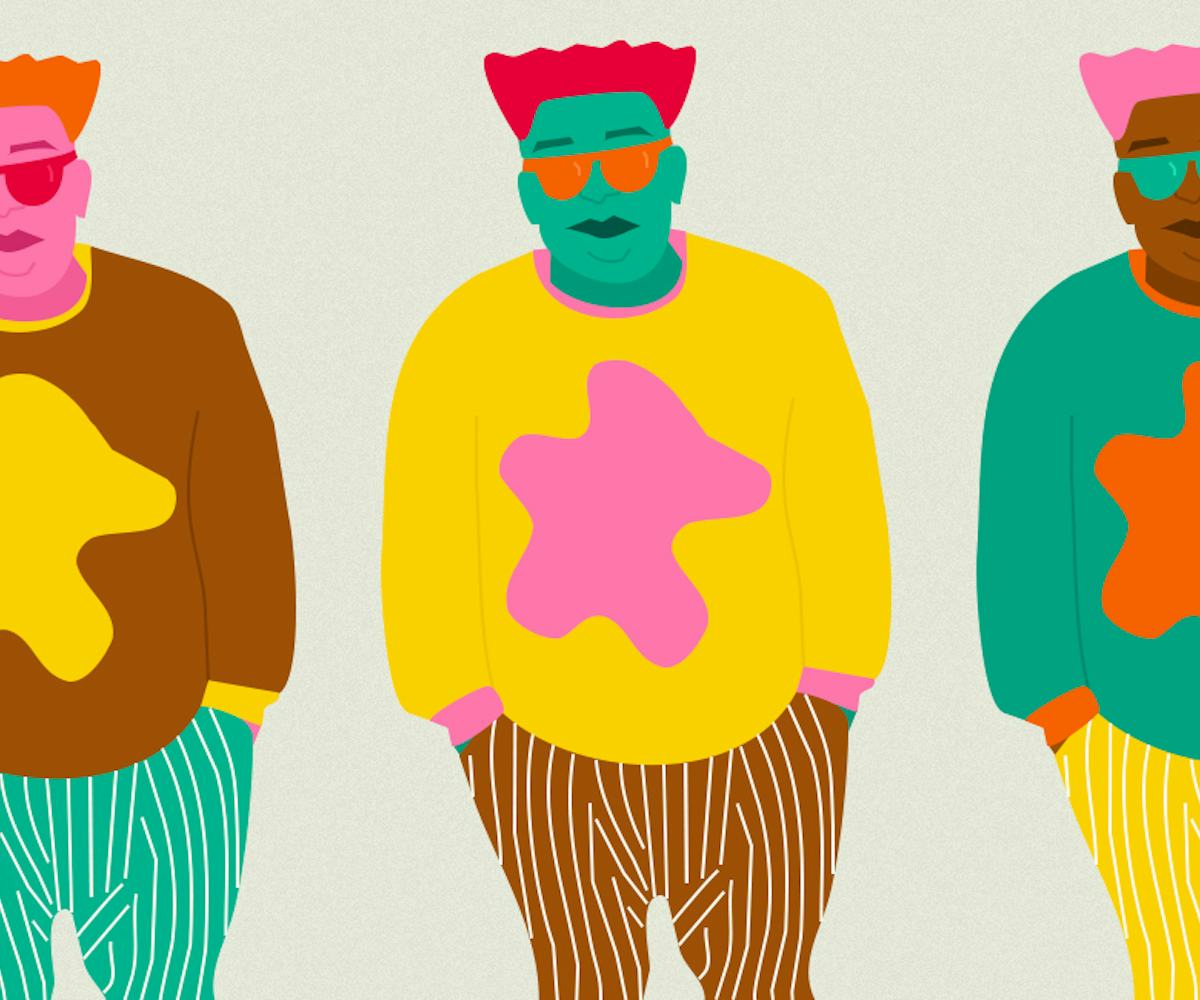 Illustration by Lindsay Hattrick
When Are We Going To Talk About Size Diversity In Menswear?
Brands need to realize the plus-size men's market is waiting
Walking out of my first New York Fashion Week show, I finally, for the first time, understood what Miranda Priestly meant when she said, "Everybody wants this. Everybody wants to be us." It took a front row seat at a runway show, but, suddenly, I understand the glamour of it all. And yet once my adrenaline high wore off and my attention began to drift from that stunning yellow Carlos Campos suit, I was left with the same question that crosses my mind whenever I think about fashion, Where were all the plus-size men?
This is not just a high-end fashion problem. This past May, in preparation for my first trip to Paris, I embarked on what should have been a simple shopping session. On my to-buy list were four items: slim fit white jeans, slim fit light washed jeans, a floral printed shirt, and a gray patterned pant. Determined, I went through almost every menswear store at my local mall in upstate New York—from H&M to Zara to Banana Republic—only to find that nearly no store had options in my size. The Gap, for instance, had a beautiful selection of ripped light wash jeans on sale. The largest size, however, was a 36, which equates to a size large. No matter how hard I tried, my 38/40-inch waist was not squeezing into those. So after two hours of searching and groaning, I left with a blue floral print shirt from Old Navy (in a size XXL, which is one size up from my usual, since many of their clothes run small) and a sour taste in my mouth.
That experience is a familiar one to all plus-size people, though it is rare to hear plus-size men speak about it, probably because of the shame factor: We're viewed as slobs. And yet, by refusing to offer us adequate clothing options, we are not even given the opportunity to prove that judgment wrong. After my experience in May, frustrated with my lack of options, I launched Hard at #Werk, a plus-size menswear and lifestyle blog that is focused on filling this fashion industry void. 
And it was through the launch of this blog that I found myself at New York Men's Fashion Week, front row at the Carlos Campos show. As I took my seat, I found myself closely observing the fashion icons that stood before me; all these recognizable men in suits, in one-pieces, in designer coats, in suspenders and high-waisted shorts—it was a dream come true. And while I did notice a handful of plus-size men around me (I counted five from where I was sitting, but likely missed some from the commotion and room arrangement), and was very thankful to Campos' team for inviting them, it was clear that I was in the minority. That's not to say that I felt inferior or judged by the skinny, fit fashionistas walking amongst me (my outfit was clean and simple, so I felt confident in that), but it was hard to avoid noticing that the body diversity level was low. 
The show was mesmerizing; Campos is an incredible designer, and who doesn't love a full-on yellow suit? But as I Instagrammed each model strutting past me, I knew instantly that there wouldn't be anyone above a size small or medium walking down that runway. And frankly, I knew that it would be that way for almost the entire run of NYFWM. 
Historically, there hasn't been much body diversity shown during runway shows. And yet that is slowly starting to change. In February at NYFWM, there were a select few plus-size models included on the runway, the most notable being for a collection by ASOS. And while this is progress, as is ASOS' big and tall line which runs up to a 6XL, there was no show entirely devoted to designing for the fashion-forward, plus-size male. Things are slightly better when it comes to NYFW: Women's, where it's expected that several designers will include at least some plus-size women in their shows; a rising number, in fact, take the opportunity to embrace this, including trailblazer Christian Siriano. While there is still a really long way to go, body positivity has begun to flourish in women's fashion, but can't seem to take root in the world of menswear. 
Off the runway as well, plus-size women are finally in their rightfully deserved spotlight, with multitudes of designer clothing lines available to flatter many body types. They've also been appearing with much more regularity in mainstream media publications, including NYLON, with Tess Holliday recently commanding attention on the recent cover of Self. There's certainly work to be done, especially when it comes to creating inventive, forward-thinking clothing for plus women that they haven't seen hundreds of times before, but it's clear that the women's fashion industry is taking strides to increase diverse body inclusion—even if for no other reason than that they have realized that plus-size women have disposable incomes which they want to spend on clothes too. 
But menswear and men's media still has a long way to go. Take a look through recent issues of GQ or Esquire, and you'll be hard-pressed to find an overweight man. As with women, slim men are the ones who are awarded the opportunity to be fashion-forward and stylish, plus-size men or those who usually fall anywhere above a size small or medium are left with the scraps. We're given Walmart T-shirts, even when we want Balenciaga sweaters and Gucci coats. 
Perhaps one of the reasons that plus-size men are still ignored when it comes to fashion is because an interest in clothes is still viewed as gendered and "feminine." But considering that statistics from the National Institute of Diabetes and Digestive and Kidney Diseases show that 3 out of 4 American men are classified as overweight or obese, it's pretty difficult to believe that none of them are interested in looking as stylish as possible. 
It must be acknowledged that there are a handful of options available to the plus-size man. ASOS has created a section entirely devoted to big and tall men, as have a number of other retailers. Brands like Destination XL and MVP Collections are doing their best to provide men not only with clothing that fits but clothing that is also stylish. They've tapped into a deep problem that retailers who often market to overweight men don't realize: We don't just need clothing, we need the same stylish, trendy options that skinny men have. 
A quick Instagram scroll through the follower counts and engagement rates of the few plus-size male influencers we have—from Kelvin Davis to Michael-Anthony Spearman—show clearly how many wannabe plus-size fashionistas are ready to join the conversation. 
The market is there. The money is ready to be made. The men are waiting to be dressed. So which designer will be the first to take the lead?