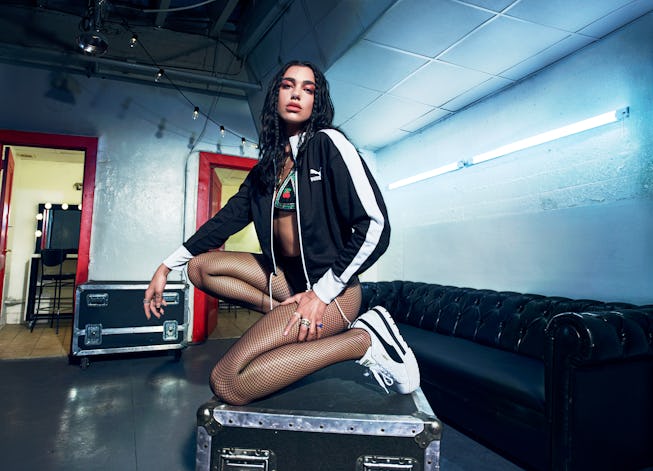 Courtesy of PUMA
PUMA's New Mayze Sneaker Serves Big Platform Energy
3 creative women put their street-style spin on the statement-making style.
While sneaker culture has historically been a bit of a boys' club, a shift toward the celebration of women in the sneaker-sphere has never been more apparent. Puma has been leading that charge through high-profile collaborations with inspiring women, its "She Moves Us" initiative, and sought-after silhouettes that fly off the shelves and straight into double-tap-worthy selfies.
Puma's latest drop, the Mayze, is a chunky, creeper-style sneaker that proves that the brand is serious about giving women what they actually want from a shoe. The brand says it drew from a mix of "archive inspirations and contemporary Puma classics" to design the sneaker, which is "made for those who embrace the spotlight" — just like Dua Lipa, who was first announced as the face of Puma last November. The pop sensation joins an esteemed club of ambassadors that has included stars like Rihanna, Cara Delevingne, Kylie Jenner, Selena Gomez, and more.
"The Mayze is the perfect fit – it works for me on stage and off. The classic stacked sole is so versatile, I can work it into any look," Lipa said earlier this month. The British pop star fronts the sneaker's global ad campaign, shot by legendary fashion photographer Mario Sorrenti.
The best part about a great sneaker is that effortlessly-cool versatility (no matter who you are), so we tapped three creative women to put their own street-style spin on the shoe — and the Mayze's bold silhouette is turning every look into a serious moment.
"Versatility has always been a thing for me," says the Toronto-based DJ. "I've always taken an interest in a broad range of styles — whether it be in fashion or music — and enjoyed partaking in those worlds. The Puma Mayze reminds me of a combination of my old-school taste (being a '90s baby) meeting a more modern and edgy look. A classic silhouette, but with a bold twist."
"Stepping into my Mayze brings me a sense of 'level-up' — literally — from the added height with its stacked sole to the edgy-yet-chill feel," says the Montreal-based entrepreneur. "I always want my daily look to bring me that extra boost of inner confidence, screaming – 'I got this!' The Mayze does just that and adds a layer of raw street style to my overall vibe"
"I love the new Puma Mayze because it completely encompasses my personal style," says the Vancouver-based digital creator. "It's a classic silhouette with a trendy platform, making it very versatile when styling different types of outfits. I can pair this sneaker with my go-to oversized black suit, a summer dress, or even my favourite sweatsuit! Over time I've become more conscious of my consumption, and as much as I love the occasional trend, I find myself gravitating towards my more timeless and functional pieces. These are shoes that I'll definitely be able to wear over the years."
SHOP THE STORY