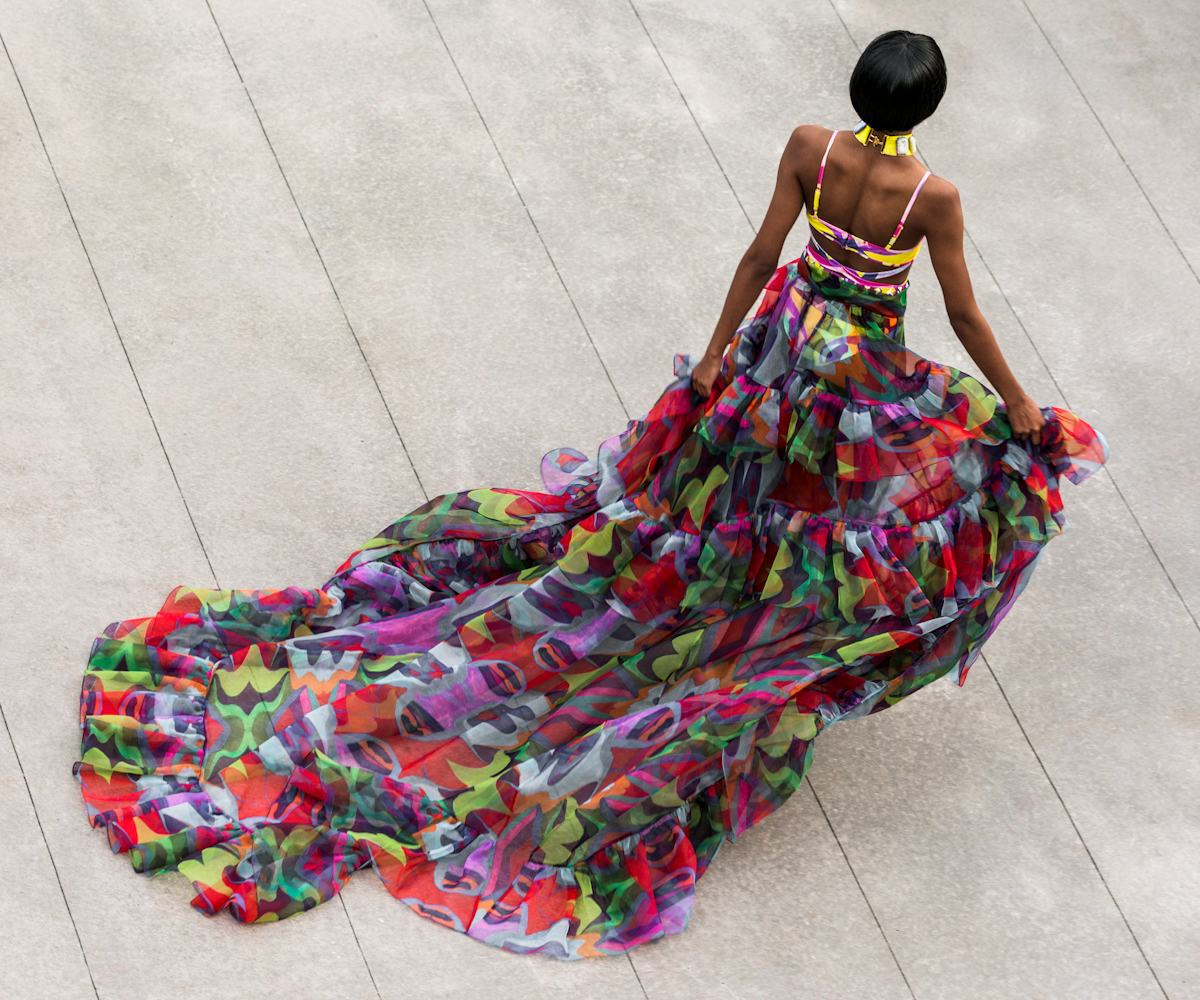 Photo courtesy of SCAD
A Love Letter To SCAD's Finals Fashion Show
Dear sartorial-slaying, fashion-majoring seniors of Savannah College of Art and Design,
I am writing you a head-over-designer-heels love letter (well, blog post) re: the awesomeness I witnessed during SCAD FASHWKND.
My blood pressure levels have yet to chill out and my search for my lost mind is ongoing as a result of the whirlwind of a weekend. In other words, I scored the golden ticket to SCAD's annual Fashion Show, where 43 selected seniors participated in SCAD's final showcase.  
Friday's fashion show took place outside on SCAD's gorgeous main campus in gorgeous Savannah, Georgia, where each designer presented up to three head-turning looks. (I prefer to call them lewks.) The models, all SCAD students, stormed the runway like they were all winners of America's Next Top Model, which makes sense since their strutting coach was none other than Miss J Alexander, who's been coaching SCAD seniors for years. Besides designing and modeling, students also were in charge of the show's soundtrack, the lighting, the casting, photographing the show... every little thing. 
Saturday morning, I was off to Atlanta to hit up SCAD's ATL campus, where the same students showed their looks via a presentation. I've witnessed presentations that took place at many an interesting venue (parking garages, horse-racing tracks, a front-row situated in a swimming pool), but SCAD ATL killed it by giving their classroom hallways a major makeover. It all was an overwhelming, sensory overload, albeit in a good, goosebumps-inducing kind of trippy dream way. 
The locker- and painting-lined hallways gave off labyrinthian madhouse vibes—or something. I'd walk a few steps and find myself in a beauty salon where student designer-clad models were reading fashion magazines, sitting under old-school beauty shop dryers. I'd turn the hallway, and there'd be models in funky flapper-ish dresses dancing under disco balls and strobe lights. But the models rocking the zaniest of lewks struck a pose in front of walls glued with multicolored Chuck E. Cheese-y balls and swung on swing sets (designed by SCAD students, of course) as JLo's "On The Floor" played on loop. (Yas, queens!) My favorite moment featured just one (very cute, hi!) male model wearing an oversized, deconstructed AF getup, lounging on a bench, covered in a Starbursts explosion. A+! Yum! 
The talent (everything was hand-sewn!) and the drive of the students were get-your-shit-together kinds of inspiring. Also inspiring was David LaChapelle's words of wisdom for the students and artists in general. (LaChapelle was honored with the SCAD Étoile award and also gave an in-depth presentation, in which he danced behind a podium to Michael Jackson and Stevie Wonder as he flipped through his iconic images, which were massively projected behind him.) In short, the iconic artist basically called BS on the whole staying "relevant" thing; what's actually important, he explained, is staying true to yourself, evolving as an artist, making work that's meaningful to you—and finding peace and balance in this chaotic world with its social media mania. (And sometimes even disconnecting hard-core, which he did by moving to Maui, Hawaii, years ago.) 
"As artists, what can you say that's yours and what do you love? And to answer those questions, the only way you can do that is to turn everything off." So true.
For all you SCAD students, your years of studying, sketching, and designing really paid off with these unique, forward-thinking, must-own-now designs. It's all happening.
To celebrate, y'all really should soak up the sun on summer break. I have a feeling that many high fashion job interviews/international fashion week awaits you, so go on and indulge in endless fried green tomatoes and/or fried chicken and/or red velvet waffles. Yes, Georgia REALLY knows how to throw it down in the kitchen. (I have a feeling the chefs are SCAD graduates. Talk about multitalented.) 
The future of fashion belongs to you. Remember us when you're famous. 
---- 
Here are some of our favorite looks gallery: