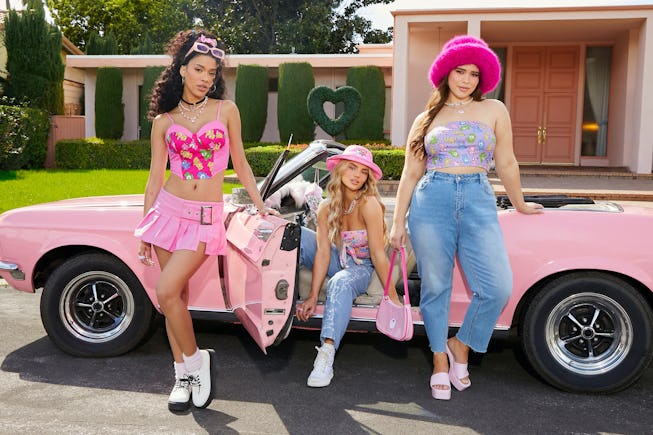 SHEIN
SHEIN Launches A Colorful New Summer Collection With Care Bears
Shop sweet styles from graphic tees to rainbow dresses.
With the weather finally warming up, you may feel inspired to book that getaway you've been dreaming about for the past few months. And whether that trip takes you to the beach or the mountains, you'll want to plan cute looks to match. If you're in need of inspiration for your vacation wardrobe, take a cue from SHEIN's nostalgia-filled Care Bears collection, the latest drop from #SHEINCollabs. The Care Bears are known for their cheery dopamine colors, and this collection embraces that energy. Filled with nothing but rainbow-hued clothing and vibrant accessories, this particular line has all the looks you need for a vibrant summer ahead.
The retailer's second partnership with the 1980s animated series has 138 pieces to choose from, including dresses, tees, denim, sleepwear, accessories, and so much more — all in inclusive sizing. Dress for sunny days ahead with the help of our very caring friends, the Care Bears, and their colorful mantras: Stay cheerful by wearing celestial purple or dreamy blue, or style a blushing pink and fuzzy green for happy and healthy vibes. See the full breakdown of each color's meaning below:
Pink (Blush Crush): Sweeter than poolside punch, these crush-colored pinks attract positivity and love, making them ideal for sparking a vacay romance or restoring a happy, healthy self-love status.
Purple (Sweet Celestial): A true getaway will take you out of this world. Celestial vibes are yours when sporting introspective purples with undertones of empathy and cheer.
Blue (Dreamy Daze): Dreaming of blue skies that hypnotize! Whether counting clouds or catching waves, these oh-so-caring blues evoke a mood that's anything but.
Green (Fuzzy Fresh): Freshly cut lawns, palm fronds — "seeing green" has a new meaning this vacay season. Rediscover your zen joy in the luckiest, most grounded color of them all.
Yellow (Sunny Haze): They say optimism is contagious, so why not spread a lil sunshine? Your confident radiance will go a long way dressed up in mood-matching happy yellows.
Shop The Line:
This article was originally published on