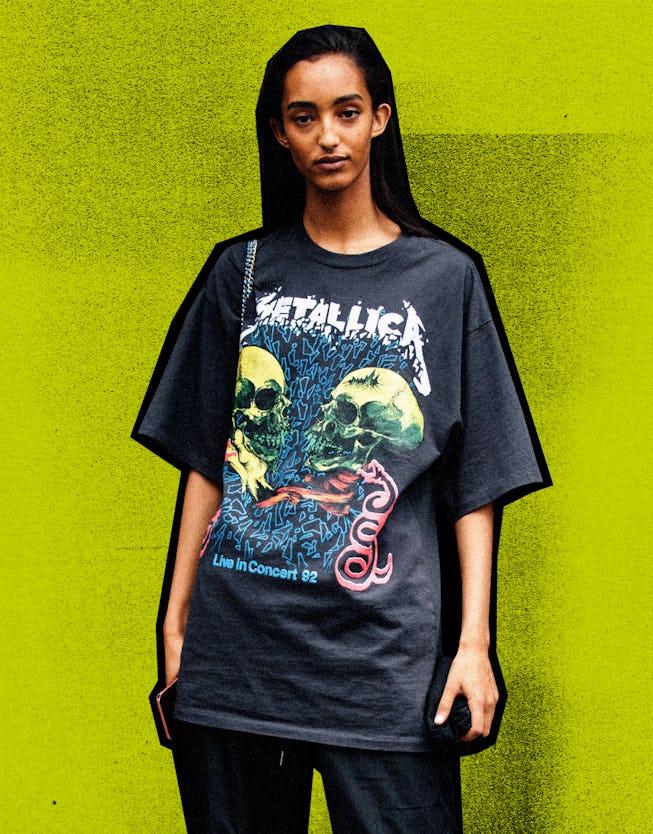 Melodie Jeng/Getty Images
How To Shop For Vintage Band Tees, According To Experts
Scoping out the real from a sea of fakes.
Aside from seeing your favorite musician perform live IRL, one would argue that the best part about concerts and festivals is the exclusive merch designed to mark the occasion. The (often) steeply-priced pickups are more than just souvenirs, they mark a time in fashion history, which is one of the reasons why shopping for authentic vintage band tees has become one of the most sought-after grail hunts of our time. Even if you do find the exact style you're looking for, be prepared to cash out.
When trying to understand why these vintage tees have amassed such a cult following among recent generations in the first place, Rebecca Ravenna, founder and creative director of LHLL (Little High, Little Low), broke it all the way down:
"The thing that makes a vintage item special is that there is only one," she tells NYLON. "Individuality, originality, and, perhaps, most importantly, exclusivity are all important factors to the millennial and Gen-Z customer. The vintage band T-shirt market provides all of these things. Plus, it allows for an even deeper layer of self-expression. Music is this ineffable form of connection and communication. When wearing your favorite band's T-shirt, you become part of that connection."
Secondhand online retailer Grailed reports that the music tee's origins date back as early as the 1940s, when rockabilly fans of artists like Frank Sinatra wore these pieces as an "act of nonconformity." After nearly two decades and what the music industry dubbed as an unforeseen surge in the demand for official merch, these T-shirts became a new type of self-expression in the 1960s, from forms of protests to displaying cultural groups and your favorite band. They hold the same power of identity that Ravenna describes some 50 years later.
However, you have the likes of skate culture, Fear of God designer Jerry Lorenzo, Kanye West, and Justin Bieber to thank for its most recent boost in popularity. In 2016, these artists made a strong case for making music merch more fashion-forward, from skinny jeans and pencil PVC skirts to creating a whole new era of vintage-tee consumers. As a result, retailers of all sizes began churning out their own versions of popular band T-shirts, as well as designing their own takes, which now calls for the need to know and identify the difference between a mass-produced dupe and the real thing.
To be clear, there's no shame in buying a newer version of a vintage-designed T-shirt. In fact, it's a great way to get the same retro look for a fraction of the price. But for those who are looking for a true vintage band tee, understanding the difference between the two is key to scoping out the real from a sea of fakes.
"There are so many factors to take into consideration and it can be extremely difficult for shoppers to navigate, which is why shoppers should turn to trusted, reputable vintage resellers," suggests Ravenna, whose own thriving secondhand business is known for highlighting the intersection between music and fashion. "They should be able to provide you with photos, measurements, specific details that speak to its authenticity." Other places to check out for real vintage T-shirts include Chris Fernandez of @1980somethingco on TikTok and his not-to-be-missed virtual flea market on the weekends.
Before starting your search for a vintage band tee, read ahead for a list of tips and tricks to ensure you're getting exactly what you paid for.
Shopping For Authentic Vintage Band Tees Tip #1: Check The Tags
One of the quickest and easiest ways to spot a fake is by checking the tag, especially when it comes to styles from the last three decades. If you're shopping online, check the product photos for a shot of the tags and if there isn't one, ask the seller to provide them. This could provide insight on the decade from which your particular shirt came from. For T-shirts that claim to be associated with big world or national tours, sometimes you may even be able to do a quick Google search to find the manufacturer responsible for producing the merch in question and compare labels to know whether or not you have an authentic find on your hands.
Shopping For Authentic Vintage Band Tees Tip #2: The More Authentic And Rare The Tee Is, The Higher The Price
"If [the price] seems too good to be true, it probably is," Ravenna reveals. "Authentic vintage band T-shirts are rare (and span into extremely rare) so the prices reflect that." For those looking to relive a nostalgic '90s or early-aughts moment with a tee from mainstream artists, expect to spend a chunk of your budget. T-shirts with popular names like Selena and Aaliyah can cost upward of a few hundred dollars — at least. So if you find yourself perusing eBay and the price is well below market value, just know that there's a good chance it's a manufactured dupe.
Shopping For Authentic Vintage Band Tees Tip #3: Stay Away From Certain Stains
Much like with vintage sweaters and cardigans, it's important to be cognizant of the stains and blemishes on an old band tee before purchasing it. Aside from the fact that the spot can make the overall find appear less desirable when it comes time to actually wearing it, if you're planning to value your lineup as a whole, those forever stains can do more harm to the collection than good. Not to mention if you ever decided to trade in or sell your tee to retailers like Round Two Vintage in New York City, styles in pristine condition will give you the most bang for your buck.
Shopping For Authentic Vintage Band Tees Tip #4: Distressed Vs. Destroyed
While on your search, you're bound to come across a few finds with holes or signs of distressing from years natural wear and tear. Some can add to the T-shirt's personality, while others can be an overall dealbreaker. Knowing the difference will save you money and ensure that you don't get too attached to a piece that may only have a few more washes and wears left in it before it needs to be repurposed. (Pro tip: Cut up your old tees to turn them into "rags" to use to clean your house.)
Shopping For Authentic Vintage Band Tees Tip #5: Light-Colored T-Shirts Are Tricky
More often than not, in-store retailers will have their offering of vintage tee organized on the racks according to color from lightest to darkest. If you find this to be true when starting your own search, start with the darker shades. Old white, gray, and other light-colored vintage T-shirts — with a few exceptions — can appear dingy (for lack of a better word), something even a few washes and a little bleach may not be able to fix. In some instances, the shirt may have a sheer, slub finish that's hard to underpin now the piece has thinned out a bit. Rather than play the guessing game, consider just sticking to darker hues.
Shopping For Authentic Vintage Band Tees Tip #6: Placement And Precision Are Key
Another indicator that a vintage tee is real is the placement of the graphic itself. For designs from the '80s, '90s, and early aughts, images appearing both on the front and on the back are a sign that it's real, especially those with the specific date-and-city tour lineup. Also, be sure to pay attention to the margins of the graphic, as the alignment is also a great way to tell whether or not a piece is authentic. If it appears like there is more blank space than there is design, it's likely it's a screen-printed version of an original.