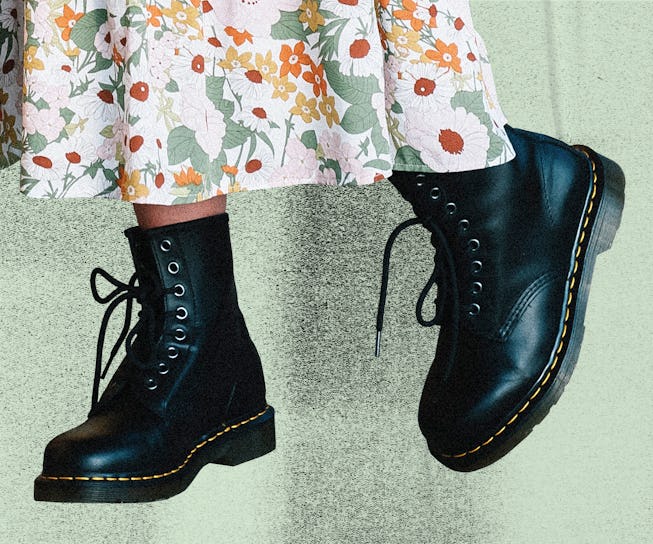 Naomi Rahim/Getty Images
6 Shopping Tips On Finding The Best Vintage Boots
Here are all of the details to look out for.
Vintage footwear is one of those secondhand categories that leaves the majority of shoppers divided. Some are drawn to the thrill of stumbling upon that perfectly imperfect pair in their size, while others are put off by used footwear. Then there's the issue of never really knowing a pair's true condition until they're quite literally falling apart while you're walking down the street (true story). However when it comes to shopping for vintage boots, if you're able to get past these initial concerns, the pre-loved style can be a purchase worth making.
Unlike their footwear counterparts, boots are made to last. By design, they are built for a range of functions outside of just aesthetics. From hiking and horseback riding to driving motorcycles and everything in between, there's always a boot designed for the occasion. It's for this reason that they tend to hold wear and tear a little better or at least differently than, say, flats or sandals. Which is one of the things that makes them a true investment piece and, in my opinion, one of the only footwear categories worth buying as vintage and secondhand.
"Luxury resale is growing four times faster than the primary luxury market," explains Tracy DiNunzio, CEO of secondhand e-tailer Tradesy. "Our customers are focused on investment pieces, like shoes, with impeccable craftsmanship that can be the foundation of their wardrobe for decades to come but that can also serve as good investments to wear now and sell later on without losing money."
The key, however, is knowing the difference between a pair of boots that still has a substantial foundation that can be repaired and ones that are too far gone. Otherwise, you may be left with a shell of a shoe that could end up costing you more to completely restore, and in turn, isn't even worth all the trouble in the end. To save yourself the frustration, here are a few tips and tricks to ensuring you get the best buy possible.
Shopping For Vintage Boots Tip #1: Shopping In Person Is Best
While there are exceptions to the rule, it's almost always better to shop for vintage footwear, be it boots or other styles, in person. If you're able, getting the chance to see and hold a pair IRL is the preferred way of shopping the secondhand category. There are quite a few details that you won't be able to fully grasp from behind the comfort of your computer or phone screen while shopping online. A prime example: Oftentimes with older designs, key information is inscribed on the inside of the shoe — an angle that can't always be captured with a camera. (It may take tilting the style on its side to fully take in the official stats.) Even if you don't try them on, if you can safely get into a store to shop around for a pair, you'll find the little details to be the aspects that matter the most.
Shopping For Vintage Boots Tip #2: Look At The Soles And Heels
Whether you're shopping online or perusing in real life, the first thing you must do when buying a pair of vintage boots is look at the soles and heels. This observation will tell you everything you need to know about the remaining life of a shoe and whether or not they deserve a spot in your wardrobe. Be sure to see how worn down the sole is — if it's dwindling down to the edge of the body of the shoe, pass. Otherwise, if there's a good portion of the outsole remaining, a quick trip to a good cobbler will make it like new. There's no sense in falling in love with a pair of shoes if it isn't wearable. (Pro tip: If you're shopping in person, gently pull on the heel of the boot to ensure it's not loose and won't give out on you.)
Shopping For Vintage Boots Tip #3: Identify (About) What Year Were They Made
In most instances, it may be hard to identify the exact year a pair of vintage boots was made. But if you can at least get in the ballpark of its origin date, it will help you gauge how much wear it has left in it before it requires a trip to the cobbler. Plus, once you narrow it down to a specific decade with the help of a little research, you may be able to then identify the designer of no-name styles and see whether it's worth the asking price. If you plan to put them back on the market after you've gotten some good use out of them, knowing the year and make will allow you to price them accordingly, as well.
Shopping For Vintage Boots Tip #4: Check The Fastenings
What good are a pair of shoes if you can't get in or out of them as the designer intended? While you're checking out all the other parts of the boots, be sure to inspect the fastenings, too. Doing so before you purchase them will help you make a more informed decision, while letting you decide whether or not you want to put the money onto making them wearable. Luckily, if for some reason the zipper is busted or the buckle fastening is a bit to loose and you still want to make them yours, a well-skilled cobbler who's familiar with these types of repairs can easily make your vintage boots wearable again.
Shopping For Vintage Boots Tip #5: Compare Sizing
This is where knowing the exact measurements of your foot will come in handy. Similarly to other vintage categories, boots have a tendency to run on a different sizing chart than the one that we use today. Some people find that they have to size up if a boot is on the narrow side, especially if it has a pointed or almond toe. Chunkier, more durable silhouettes, like cowboy or combat styles, may run big, causing you to size down. It's also worth mentioning that you should make note of the country of origin for your future vintage pair, as sizing may vary based on that as well. So if you're shopping online, check out the product description box for where a shoe's made and the dimensions to compare.
Shopping For Vintage Boots Tip #6: Have A Trusted Cobbler On Standby
One caveat of all the aforementioned tips is making sure that you actually have a trusted cobbler ready to take on whichever task is needed to revamp your secondhand find. Don't make the mistake of trying to find a cobbler after the fact, as some places may only focus on surface-level fixes. In short, do your research and make sure that you find someone that you know you'll be able to rely on to handle any bigger restoring projects. If you're in New York (or even if you're not), the Leather Spa has been a go-to for fashion girls across the city's five boroughs. Also, in terms of smaller local mom-and-pop shops, you can trust the likes of Mina's Shoe Repair and Vince's Village Cobbler with your most serious situations. Multi-label retailer Nordstrom is also known for having a pretty good alterations team and cobblers at its many locations around the United States.