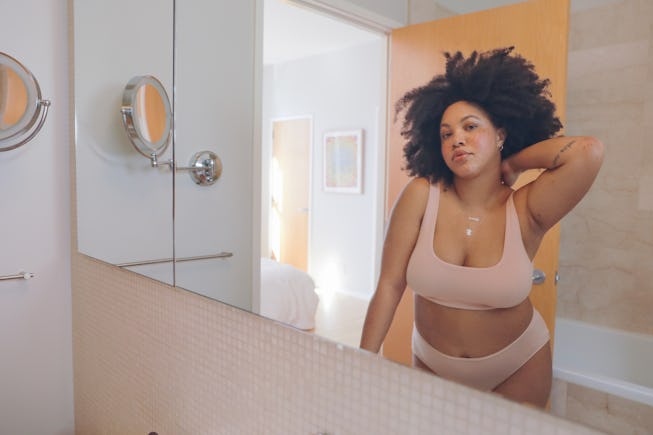 Courtesy of Yaminah Mayo
Swimwear Brand Andie Is Branching Out Into Intimates
With a campaign starring Bekah Martinez and Yaminah Mayo.
Andie is expanding its brand and tapping into the growing undergarments space. The label known for inclusive swimwear is now branching out with its debut intimates collection called Andie 24/7.
The collection covers all the basics with two bralette and three underwear styles made from moisture-wicking rayon and available in up to five shades, ranging from neutrals like black and sand to more vibrant hues, like deep terracotta and blush.
"I'm very excited to launch a new category, and we're getting into intimates for a few reasons. We're four years old, and we've been laser focused on creating well-fitting swimwear. So we've really developed an expertise in garments that are close to the body and vulnerable for women," Melanie Travis, founder and CEO of Andie, told NYLON. "As we've grown and in listening to our customers, we've learned that the number one thing women ask for from Andie outside of swim is a good collection of bras and undies. So we're applying our fit and construction expertise to create this new line of intimates, which are so comfortable you'll want to wear them 24/7."
The new launch's campaign stars multi-hypenate influencers Yaminah Mayo and Bekah Martinez, both wearing the undergarments in the comfort of their homes.
In keeping with the brand's inclusive ethos, Andie's new intimates line available in sizes from XS to 3XL. Shop the new collection over on Andie's website now, and check out the campaign images, below.