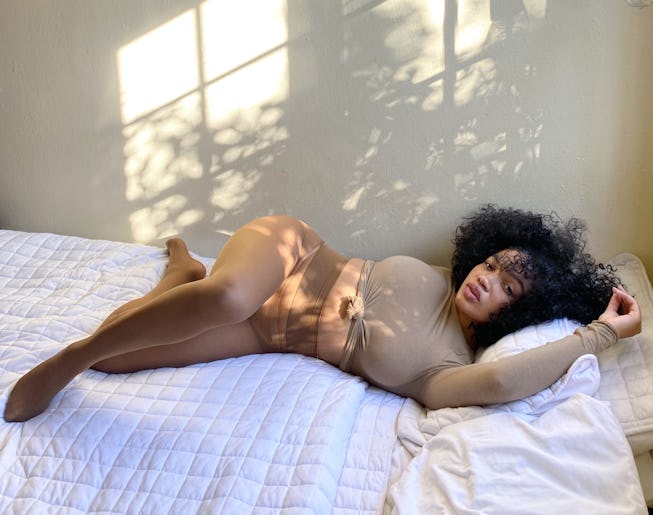 Tamia Johnson Starts Her Day — And Every Look — With Layering Essentials That Make Her Feel Her Best
If there were accolades given out for stylishly lounging at home, Tamia Johnson would take the crown. The LA-based artist and influencer has mastered the art of looking fly, even when she's just hanging out in her cute apartment, playing with her cat, Moo, or working on a new oil painting. But there's so much more to admire than Johnson's swoon-worthy fashion sense. Her whole vibe encompasses a celebration of self-love and powerful confidence — making Calzedonia's feel-good legwear the perfect accompaniment to her everyday wardrobe.
Johnson's daily routine can be hard to predict, as it could include anything from work-related projects to a spontaneous thrifting adventure. But while the to-do list may fluctuate, one thing is certain — she's always fulfilling her creative spark, whether it's through painting, photography, experimenting with her culinary skills, or putting together the perfect outfit. That's where Calzedonia comes in. The brand's hosiery is not only versatile, but prioritizes comfort with a snug fit and flat, wide waistband that won't roll down — the ultimate foundation for a comfortable, fuss-free look that allows you to feel your best.
When she's chilling out at her apartment, taking film photos, or watching her favorite '90s sitcoms, Johnson opts for Calzedonia's Total Invisible tights, which feature seven shades — unlike the limited "flesh-toned' pantyhose options our moms had to deal with years ago. So whether you're looking to find your perfect match or fake a summer glow mid-winter, there's a Calzedonia colorway that will do just the trick.
"A day lounging at home is ten times better when you're wearing pieces that make you feel comfy and beautiful in your own skin,"
says Johnson. Johnson pairs the tights with a bandeau bra and a cozy boatneck sweater from sister-brand Intimissimi. It's a combination that she can feel like herself in, without having to compromise her sense of style for comfort.
Johnson loves experimenting with the fashion trends of eras past. She invokes a '90s-inspired layered look by styling tights from Calzedonia's 'A Wish For You' collection — a fun, fashion option that allows her to show off the creative, lighthearted side of her personality. This particular pair says 'I love you' in multiple languages from English to Italian to Russian and more.
"Calzedonia tights and layering pieces give me a confident foundation to build my looks off of," she says. "I would wear this out to lunch or dinner, or on a museum date."
When it comes down to it, Johnson tends to plan her outfits according to her emotions, and she appreciates the way a foundation of second-skin legwear allows her to feel confident from the inside out. "I'm really invested in listening to my mind and body and finding things each day that will make me feel my best," she says.