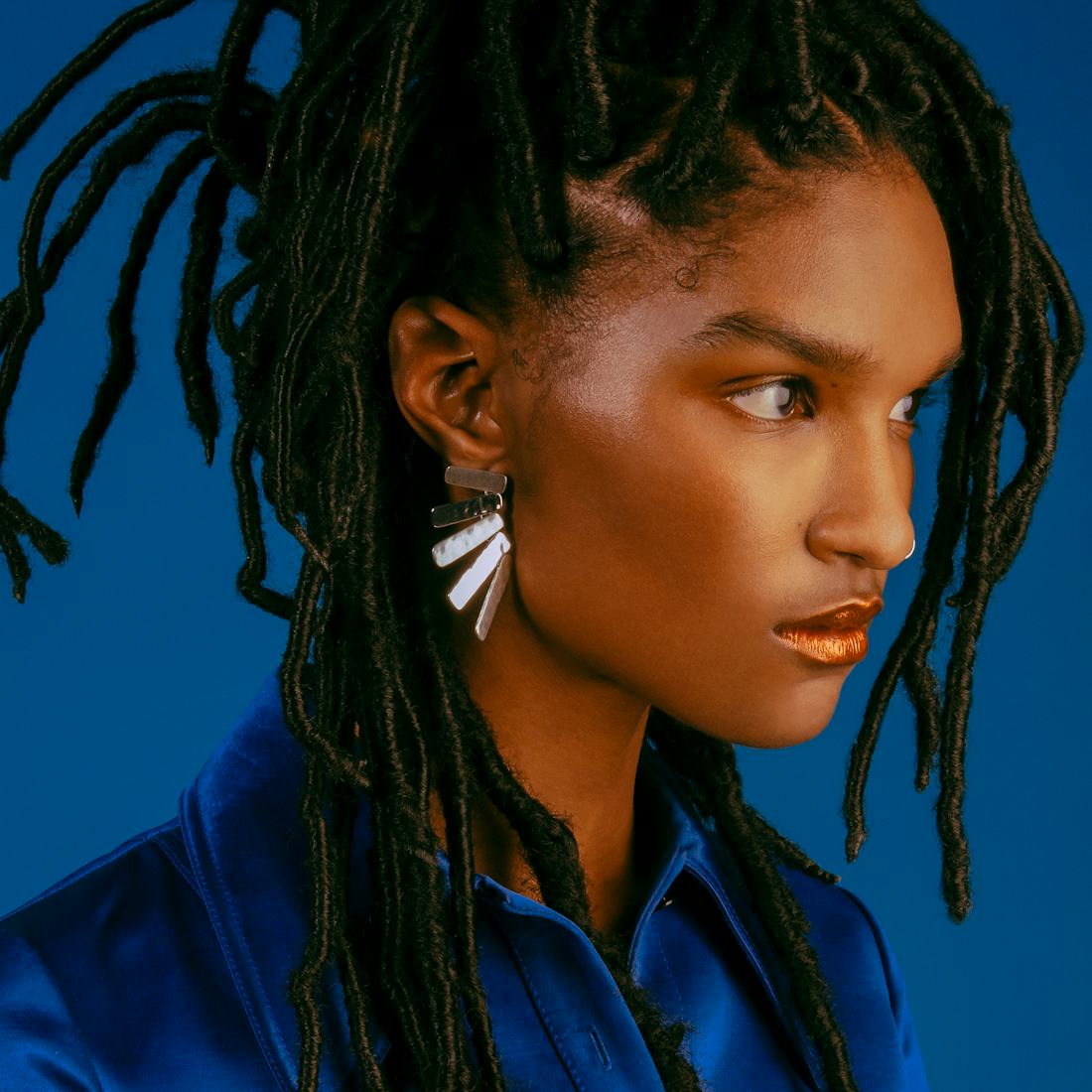 Ari Fitz Tells Stories Through Fashion
Ari Fitz is featured in NYLON's February 2018 cover story, speaking about her conceptions of beauty and fashion.
Ari Fitz balances her masculinity and femininity with ease—choosing to embrace her androgyny and wear "tomboy" clothing. It's her unique look that makes her stand out, but it was also what held her back at the beginning, like when the first agency with which she signed wouldn't accept the way she dressed. That didn't work with Fitz, who "quit that agency, moved to L.A., and started doing more freelance stuff where they would let me be my whole self."
She, too, struggled internally with the dichotomy but eventually realized: "I don't have to pick a side anymore," as she writes on her Instagram. "None of us do."
"I NEVER SAW ANYONE LIKE MYSELF IN FILM OR TV—A BLACK QUEER WOMAN WHO'S MASCULINE AND COMFORTABLE WITHIN HERSELF. SO, [IN MY PROJECTS], I TRY TO TELL MY 13-YEAR-OLD SELF THAT SHE'S OKAY."
Fitz is firm about the fact that she's not just a model. She's also a Real World alum, runs her fashion vlog called Tomboyish, and develops television shows and comic books, for those keeping tabs. She's a storyteller, though, above all else. "I love telling stories that people have never heard of before or thought about," she says. Specifically, Fitz likes to create characters and story lines with which her younger self can identify. "I never saw anyone like myself in film or TV—a black queer woman who's masculine and comfortable within herself. So, [in my projects], I try to tell my 13-year-old self that she's okay."
Modeling is just one chapter in what's bound to be a very thick storybook. And she likes to remind herself of that. "I'm really interested in pushing myself and not getting too limited," she says. "As a model, I feel like it does get really easy to get comfortable and I think that, with the tools that we have with social media, with YouTube, with how cheap it is to make things, we should all be out there creating as many things as possible—especially people of color because our stories aren't out there." She lists Lena Waithe, Ava DuVernay, and Shonda Rhimes as fellow storytellers she admires. Fitz hopes to hear her name said in the same breath as these women someday. "Given the fact that there are so many tools, I'm gonna do it all. And I want to do it all. And I want more people to do it all because when have we ever had the means to do so?"
PHOTOS
PHOTOGRAPHER: ADRIENNE RAQUEL
PHOTO ASSISTANT: SENEM GUNES
BEAUTY
MAKEUP: KIM WEBER
MAKEUP ASSISTANT: KYLE SHEEHAN
NAILS: GRACIE J.
STYLIST: CHRISTINE NICHOLSON
STYLIST ASSISTANTS: TYLER OKUNS, DAVIAN RODRIGUEZ, RAVEN SHEPHARD
HAIR: ANDRITA RENEE
VIDEO TEAM
PRODUCER: MAURA GAUGHAN
SHOT BY: CHARLOTTE PRAGER, DANI OKON, KATIE SADLER
EDITING: CHARLOTTE PRAGER, DANI OKON, AND DYLAN PAILER-FRIEDMAN
SOUND: DREW JOY
This article was originally published on