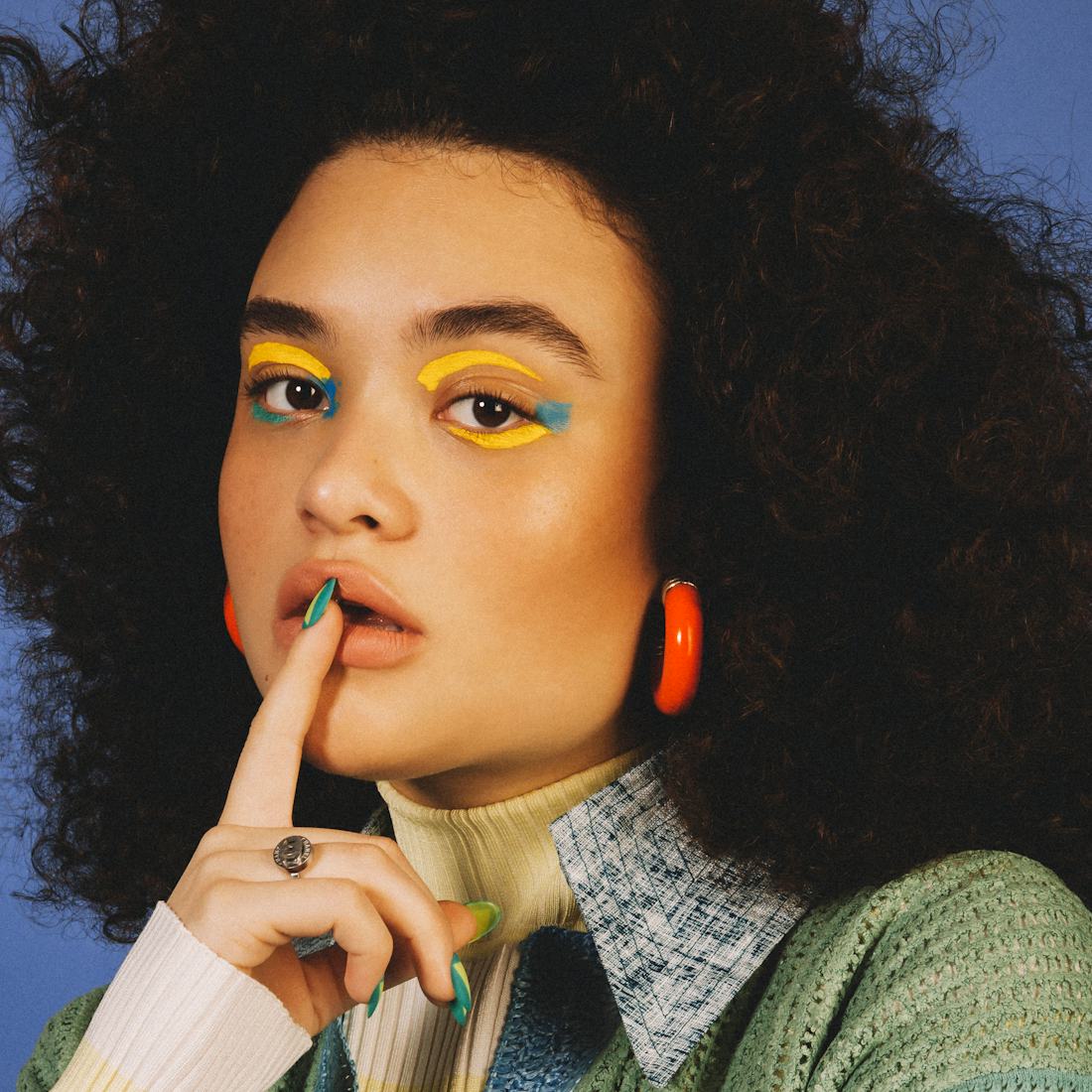 Diana Veras Will Not Apologize For Her Body
Diana Veras is featured in NYLON's February 2018 cover story, speaking about her conceptions of beauty and fashion.
This summer, Diana Veras posted a series of pictures of herself posing in a pink gingham bikini on Twitter. "Hello, summer is here and I look fab," she captioned the images. Amongst the likes and retweets, one spiteful user decided to make an unsolicited comment about the model's body. "You're fat," they wrote. To which Veras replied: "And? The fuck lmaoooo," with a GIF of a man shooing someone away.
The very next day she posted more pictures of herself from the same shoot. "Here's more of my lil chubby ass in a bathing suit since it offends men so much," she wrote. Veras' reaction went viral, but it wasn't because she was saying anything new. She's been this unapologetic and proud for a while. The internet is just now taking notice.
Veras wanted to be a model for a long time but didn't think it was attainable. "This kid in high school remembers me saying, 'I'm gonna be famous,' and he's like, 'How are you gonna do it?' and I'm like, 'I don't know,'" she says. "It was always in the back of my mind, but never realistically. It was a picture, just not a realistic one for me at the time."
When Veras was about 17, she caught the attention of photographer Petra Collins during an American Apparel event. She had posed for some photo shoots before here and there, but this was a bigger deal than the others. "I didn't know anything about fashion at the time, so she just kept putting me in editorials," she says. "And I kind of didn't know what I was doing, but I really liked shooting." So, she went on doing it, eventually got an agent, and landed her first big campaign with Marc Jacobs a couple of years ago.
As a curvy Afro-Latina, Veras knows that she's representing teenage girls who historically haven't been seen in high fashion campaigns. But she's also aware of the fact that a lot of women of color look at her and still don't feel seen.
"I feel like I'm a very privileged woman in the sense that I'm very light-skinned, I have a looser curl pattern, it's very easy to put me in a campaign and have people be okay with it. It's what's idolized," she says. But, there are so many facets to the "different" people out there who deserve to be put in campaigns just as much as she does. "There are curves within curves, and there are shades within black, and there are different textures within curly hair," she says. "It's so easy to make things that are already socially acceptable beautiful on a larger scale."
"I FEEL LIKE EVERYBODY NEEDS THAT PUSH, SOMEONE WHO LOOKS LIKE THEM, SO THAT THEY CAN BE LIKE, 'SHIT, MAYBE I CAN DO IT ONE DAY, TOO.'"
For now, though, she's willing to be a conduit for the gradual change that is happening. Even if, eventually, that means missing out on a gig to another girl. "Everyone needs to be included in everything," she says. "Yes, I'm beautiful, but I'm not the only curvy girl that exists, and I shouldn't be the only one used for everything." It shouldn't need to always be said, but representation is important. "I feel like everybody needs that push, someone who looks like them, so that they can be like, 'Shit, maybe I can do it one day, too.'"
PHOTOS
PHOTOGRAPHER: ADRIENNE RAQUEL
PHOTO ASSISTANT: SENEM GUNES
BEAUTY
MAKEUP: KIM WEBER
MAKEUP ASSISTANT: KYLE SHEEHAN
NAILS: GRACIE J.
STYLIST: CHRISTINE NICHOLSON
STYLIST ASSISTANTS: TYLER OKUNS, DAVIAN RODRIGUEZ, RAVEN SHEPHARD
HAIR: ANDRITA RENEE
VIDEO TEAM
PRODUCER: MAURA GAUGHAN
SHOT BY: CHARLOTTE PRAGER, DANI OKON, KATIE SADLER
EDITING: CHARLOTTE PRAGER, DANI OKON, AND DYLAN PAILER-FRIEDMAN
SOUND: DREW JOY
This article was originally published on