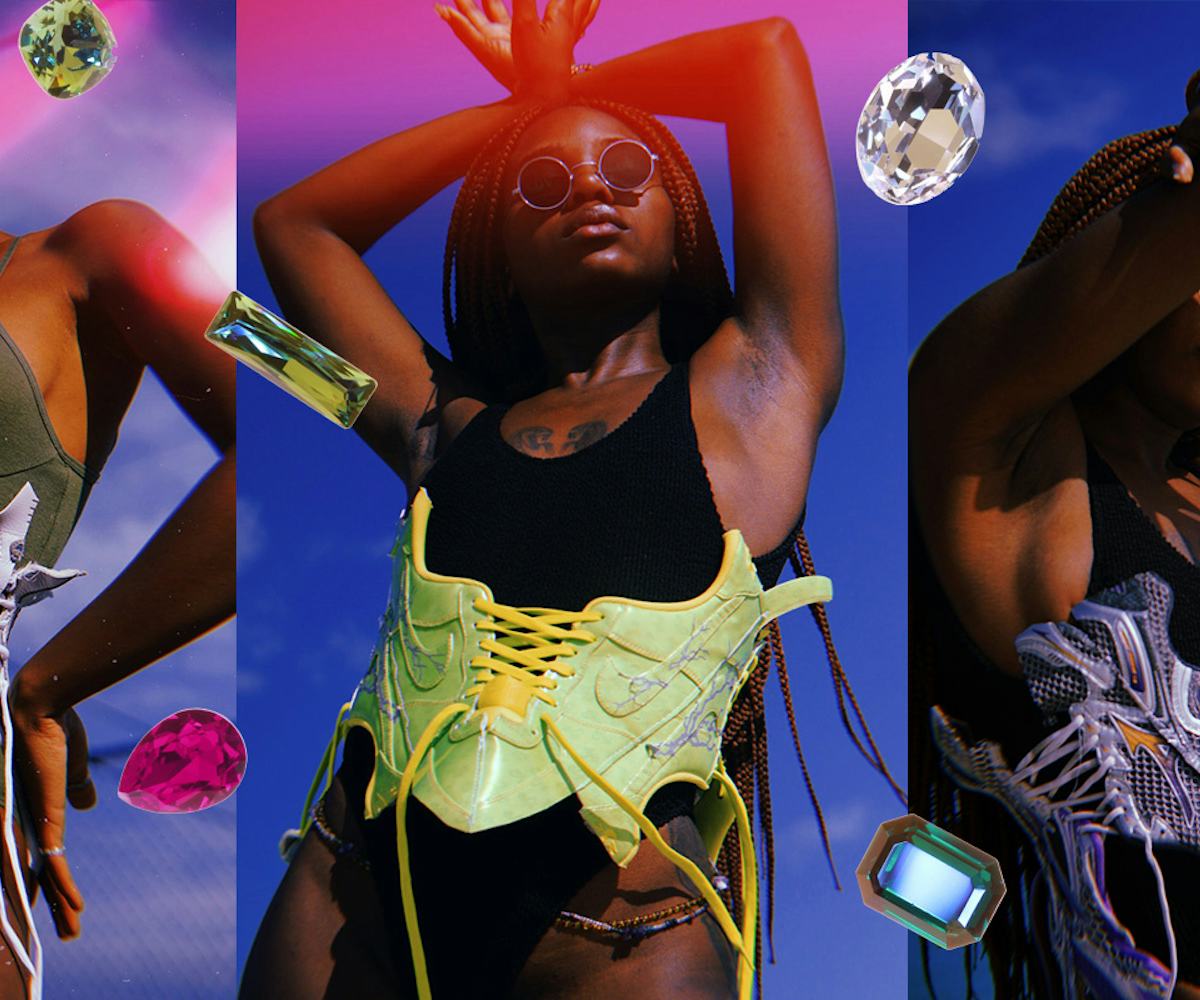 Photos Courtesy of Friskmegood
Meet The Young Designers Upcycling Sneakers Into Extraordinary Creations
From corsets to bedazzled versions, these designers are making a sustainable statement
Take a scroll on Instagram lately, and you might find that, amongst the buzz surrounding the upcycled fashion trend, there's one item in particular that young designers are focused on recreating: the humble sneaker. From corsets to bedazzled versions, designers are making a statement in sustainability by transforming the most basic of shoes into something extraordinary.
For Depop seller Friskmegood, who is creating corsets out of New Balance sneakers, the idea came when she entered a fashion competition in her hometown called FashionMania 2K19 in February 2019. "One of my three challenges was to make a piece without using any fabric," the designer behind the brand, Cierra Boyd, tells NYLON. "I was having a hard time coming up with what material to use, but one night while I was brainstorming ideas, an episode of VICE came on about a guy who makes gas masks out of shoes. That really inspired me, so I decided to put my own twist on the concept by making a top out of shoes. I found some of my dad's old sneakers in the attic and drafted up my top, but it didn't fit my bust area like I was expecting." She moved the piece down slightly and ended up with a corset, which she preferred even more for its futuristic, yet vintage vibe.
For the same competition, Boyd took a trip to the thrift store and picked up a black pair of Nikes that she added chains and spikes to before transforming into a corset. "I ended up getting second place in the competition and put the winning corset on Depop, and it was sold immediately," says Boyd. "My customer loved it so much and told me I should make more. A few months later, I did a photo shoot with the prototype I drafted before the competition, and that's when I came to the realization that I had something unique. After I dropped that piece on Depop, I started receiving tons of inquiries about making more, so after that, I never stopped making them."
Boyd works with a variety of different sneakers but has a penchant for her Nike Air Force One corsets. "I think AF1 is so versatile because they have so many customizable colors and combinations available," she explains. "My favorite AF1 corset that I've made so far has been my limited-edition hot pink one, which sold immediately when I posted it."
Boyd isn't the only one taking sneakers and totally transforming them into something new — there are several other designers who are taking sneakers and upcycling them into new forms of footwear that are a far cry from their original versions.
Ancuta Sarca is also taking Nikes and turning them into Frankenstein-heel combinations that the internet is obsessed with. Based in London, her brand's shoes look like a normal pointy heel from the front, until you glance a little closer and realize that the shoes themselves have been reconstructed out of old tennis pairs. The signature Nike logo can be found on the side of the heels or on the tongue of the shoes, and the mix of the pointy heel and the sporty laces is utterly unique.
Sarca sources both vintage heels and sneakers at thrift shops in London and on resale sites like eBay before she starts crafting each piece by hand. She cuts, sews, and combines each piece together until it's a totally unrecognizable piece of art. "I like, and I think a lot of people like, the clash of masculinity and femininity," she told Dazed last year. "I love the idea that the kitten heel feminizes the sportswear and the sportswear lends the kitten heel a more masculine edge."
There's also a group of designers who have been taking sneakers and upcycling them by way of beading and bedazzling. Take, for example, Margrethe Hjort Hay, the 15-year-old designer from Copenhagen. She has become well-known for her beaded hair clips but, more recently, has been recognized for the beadwork she puts onto Nikes. By trimming the Swoosh logo in pretty pearls, she's glamorizing a sportswear classic; elsewhere, Pechuga Vintage (a vintage retailer in L.A. that Rowan Blancard is a fan of) is adding Dior charms to New Balances.
All Amin, who goes by Haram with Sugar on Instagram, is another young designer whose creativity knows no limits when it comes to upcycling sneakers. Amin creates everything from bustiers to heeled sneakers to collars that resemble a futuristic form of jewelry. "I literally made all of my first shoe designs over one weekend in June 2019," Amin tells NYLON." I applied [for a job] at a shoe manufacturer in Berlin and told them I have good shoe design experience, which was a lie at this time. They wanted me to send them a portfolio of my work. That's when I started to do a portfolio real quick by creating new shoe models out of all the old shoes I had in my wardrobe." Amin previously worked at Foot Locker for two years and had built up an epic collection of sneakers since 2016. "The combination of high heels and my sneakers that I didn't wear anymore, was the most inspiring part for me."
Like Sarca, Amin sources all the materials from a mix of an existing wardrobe, as well as the secondhand market. "I take most of my inspiration from my own wardrobe, flea market shopping, and random gadgets that I find, which look nice to me," Amin says. "Combining stuff together which may not seem to fit in the first place."
Perhaps one of the most interesting things about this new group of designers that are revamping classic sneakers into totally new objects of fashion is that it's purposely being done with sustainability in mind. "I do consider my creations an act of sustainability," says Boyd of her corsets:
Upcycling has been part of my brand since I created FRISKMEGOOD™ in 2017. I was upcycling before I consciously knew what a big impact it was having on the Earth. I didn't have money to buy the fabrics I really wanted, so I started working with the things I had already to create something new. When I really got down to the facts about the impact that fast fashion is having on our planet, it pushed me to continue to explore new ways to sustainably innovate. I know that I'm just one person, but I have the ability to make some type of impact in this industry as an emerging designer. We can't keep waiting on the fashion conglomerates who are already saturating the market to make a change — I think it's up to the next generation of creators to be the change we want to see.
Amin agrees, adding:
I was sick of my own consumption behavior back in the old days and got to the point that everything that I owned was a good resource to create new things out of it without the need to buy new stuff. It was important to me to show that sustainable fashion made out of your own wardrobe could be the new thing for everyone to be more creative with their own stuff. I started to take donations, as well, to give all the materials of other people a second life. The best thing as a sustainable designer is you don't need to buy the materials; they're already there!