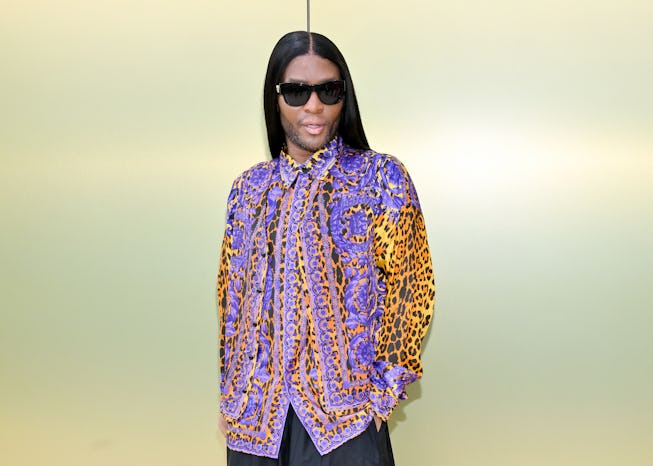 Michael Buckner/Variety/Getty Images
Law Roach Hits The Miami Runway, Proving He's Here To Stay
After announcing his retirement from styling on Instagram, the icon is already exploring other avenues.
After giving us the gift of styling Megan Thee Stallion, Hunter Schafer, and Kerry Washington in three of the best looks from this year's Oscars, stylist Law Roach announced his unexpected retirement Tuesday on Instagram. "My Cup is empty," he wrote. "If this business was just about the clothes I would do it for the rest of my life but unfortunately it's not! The politics, the lies, and false narratives finally got me! You win … I'm out." Law then clarified on Twitter that he and Zendaya are "forever" and walked the Hugo Boss show in Miami on Wednesday night.
Before walking the show, Roach told Vogue that he was grateful the Boss team saw him "as more than just someone who dresses all these amazing celebrities." He also said that his Instagram post did not mean he was retiring from fashion altogether. "I love fashion. I love the businesses, and I love being creative," he said. "What I'm retiring from is the celebrity styling part of it: the being in service and at service of other people." Roach also said that the post "wasn't a PR stunt" but was instead his way of giving himself permission to do something else (which he says involves teaching and creating a legacy of changing people's lives).
After initially posting about his supposed exit from the fashion world, what followed was disbelief. Supermodel Naomi Campbell even commented that she "won't let" him quit. However, Roach had already hinted at his willingness to leave celebrity styling in an interview with Fox Soul in February last year. "You can't talk to me any kind of way. You can't treat me any kind of way," he says in the interview. "I'm not really afraid of this industry because I'm Black. I'm from the hood. I can always go back. If I have to rework what I'm doing, I'm not afraid of that."
While many speculated that Zendaya was allegedly to blame for Law Roach's retirement — rather, a lack of a seat next to her in the front row at Louis Vuitton's Paris Fashion Week show — Roach also cleared that up on Twitter, saying: "So y'all really think I'm breaking up with Z… we are forever." Roach has also previously worked with celebrities including Kerry Washington, Priyanka Chopra, Bebe Rexha, Keke Palmer, Anya Taylor-Joy, Emma Watson, Jennifer Hudson, Bella Hadid, and Addison Rae over the years.
There's no doubt that Roach's styling has transcended the celebrities he worked with, turning him into a household name and a pop cultural force. It's also clear that Roach will thrive and succeed at whatever he puts his mind to (first up, modeling). Law is currently "soul searching" and speaking with people that he trusts in the fashion industry, including Edward Enninful. While we wait for his next move, we can rest assured that his partnership with Zendaya will live on. As Law put it: "it's real love not the fake industry love."