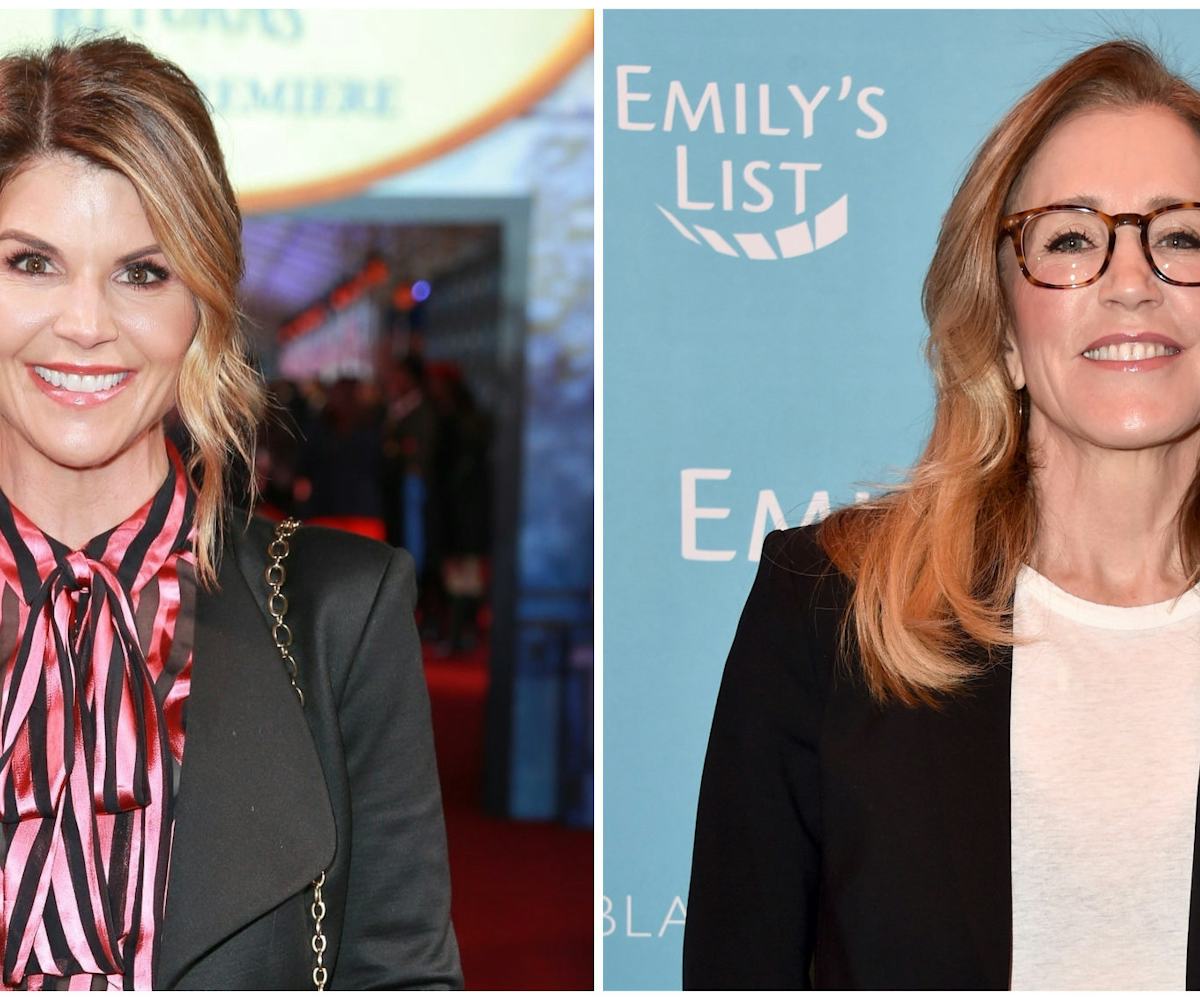 Photo by Rich Fury/Getty Images, Alberto E. Rodriguez/Getty Images
Felicity Huffman, Lori Loughlin, And More Charged In Alleged College Cheating Scam
How "desperate" do you have to be to bribe universities into admitting your kids?
Dozens of actresses and CEOs have been indicted today for bribing prestigious universities into getting their children admitted, including Desperate Housewives star Felicity Huffman (who is married to Shameless actor William H. Macy) and Fuller House's Lori Loughlin along with her husband, designer Mossimo Giannulli.
Yale, Stanford, Georgetown, and the University of Southern California are apparently some of the schools where bribes were accepted in exchange for admission. There are contradictory reports on the number of people indicted as a result, but some sources claim that the count is as high as 50. Meanwhile, I could barely afford my college education even with loans and scholarships.
Huffman, who apparently also has favorites, only bribed one of her children into a good school, by making "a purported charitable contribution of $15,000... to participate in the college entrance exam cheating scheme on behalf of her eldest daughter," according to the court documents. "Huffman later made arrangements to pursue the scheme a second time, for her younger daughter, before deciding not to do so." (There's still time, though, as Huffman's younger daughter was born in 2002, so probably won't be applying to colleges till next year.)
Loughlin and Giannulli spent a whole lot more to get both of their daughters into USC. According to documents, the two funneled their children in by having them admitted as sports recruits. They apparently "agreed to pay bribes totaling $500,000 in exchange for having their two daughters designated as recruits to the USC crew team—despite the fact that they did not participate in crew—thereby facilitating their admission to USC."
While this looks bad for the people involved, not to mention for the people who actually deserved to get admitted, Twitter is having a field day with jokes about the privilege of the parents and the students. As someone who is still in debt from college, I am, admittedly, loving it.
To make things even more absurd, Loughlin's and Giannulli's daughters are Instagram influencers, and it seems that at least one of them is profiting off their college admission: Olivia Jade got a branded partnership with Amazon Prime Student to talk about how she got her dorm room decorated. Hopefully, she's actually taken advantage of her elite education, although we're not so sure she has. Last year, she said that she was more interested in the "experience of like game days, partying." "I don't know how much of school I'm going to attend... I don't really care about school, as you guys all know," she said in a YouTube video. Though, according to reports, some of the children were unaware that their admission was based on a bribe.
It's clear, though, with such wealthy parents, that these kids don't actually need to get a top-tier education in order to be wealthy and successful. Their parents basically just paid to make their kids appear more intelligent and claimed a spot that could have gone to someone who actually had the merit to get into one of these colleges. This all serves as a reminder that you don't have to be smart to get into an Ivy League school if your parents have enough money. Must be nice!