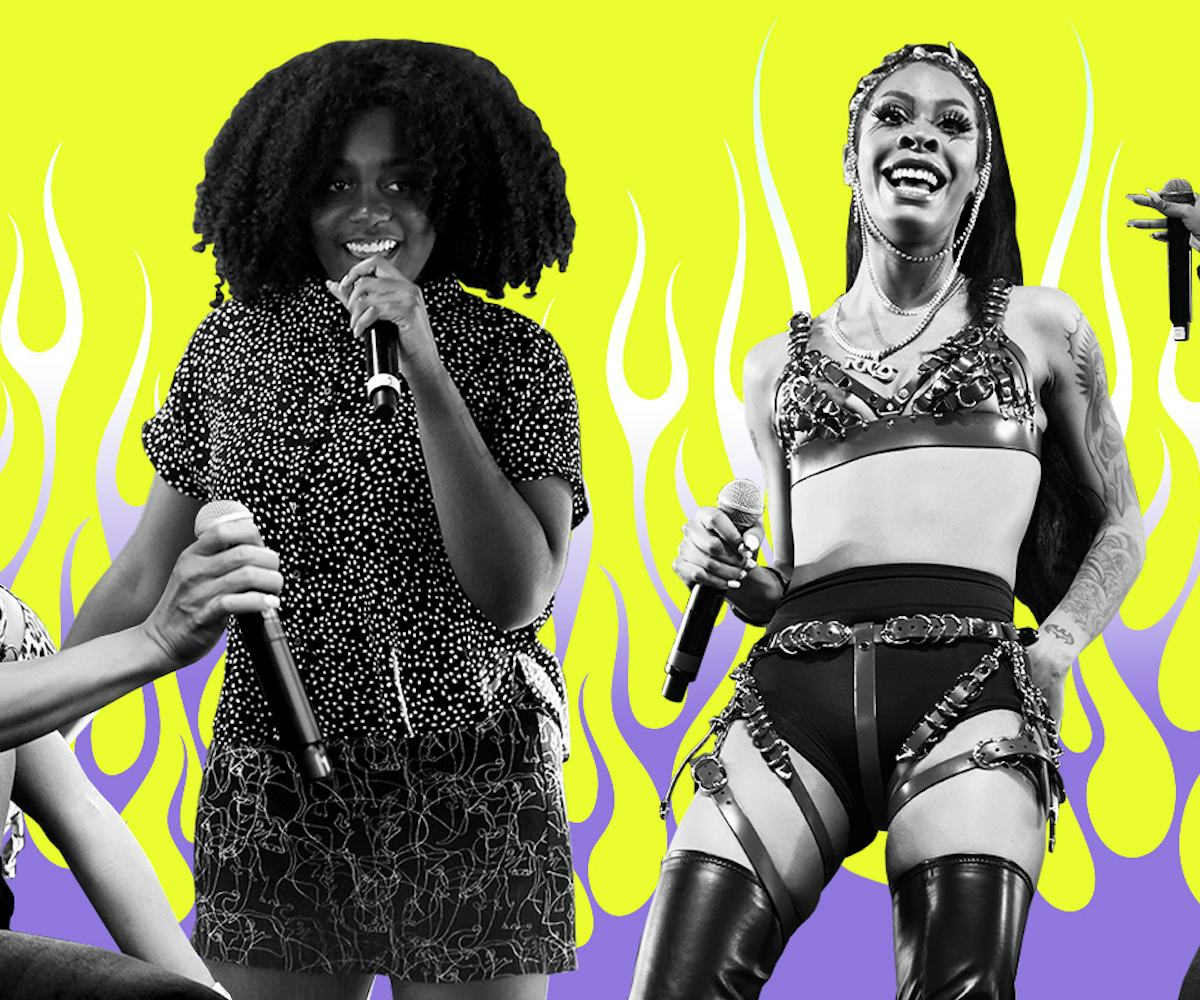 Photos from Getty Images
8 Female Rappers You Need To Have On Your Radar
From Megan Thee Stallion to Tierra Whack
Hip-hop has always been a boy's club, but that's especially true in the last couple of years, with SoundCloud artists and trap beats taking over. But it's the ladies in rap who we're most excited about right now, the ones making creative, genre-defining, non-mumble rap. And no, we're not just talking Cardi B, though she's great, too.
There are those women who will encourage you to shake your ass, and others who will make you want to roll up to a spoken word night. It's this range that we appreciate, and it's the arrival of their talent that makes us wonder whether rap is finally ready to embrace women.
Well, even if they're not, we are. And so ahead we gathered up some of our favorite female rappers of the moment and where you can catch them in the festival circuit this year. A rap revolution is happening, and we might as well witness the women leading it in-person.
City Girls
City Girls rose to fame this past year with the help of a feature from Drake and an assist from Cardi B. The Miami duo, made up of Yung Miami and JT (the latter is currently serving jail time for fraud), aren't for the meek or timid. Or maybe that's exactly who they're for, because, like they've said, once you put on one of their songs, it's hard not to turn into a bad bitch. The pair are booked and busy this festival season, making appearances everywhere from the Roots Picnic to Essence Festival. And in case you're wondering what a concert featuring these ladies is like, might we direct you to their "Twerk" video.
Kari Faux
Kari Faux is a product of what the youth call internet rap. Her style is minimal, and her rap technique is more conversational rather than overly concerned with bars or flow. You can listen to her perform tracks off of her most recent project CRY 4 HELP live at Afropunk and Do Division festivals this summer.
Megan Thee Stallion
The black yeehaw agenda is alive and well with Megan Thee Stallion. But so is the women empowerment and the self-confidence one. Earlier this week, she landed on the Billboard Hot 100 for the first time in her young career, adding to her fan base on social media with her candidness and freestyle videos. As my colleague, Sesali Bowen, points out, Megan's performed at clubs and campuses across the country, but this year she's going bigger: She's performing at Rolling Loud festival in May, Made in America in September, and is working on a project with Juicy J, which she hinted at on Instagram.
Saweetie
When you're done checking out Megan Thee Stallion at Rolling Loud, head over to Saweetie's set. You probably know the rapper from her catchy single "ICY GRL," but she's more than the less-than-two-minute song. Her recent album which, yes, is called ICY, includes a nod to Beyoncé's "Crazy in Love" and features from boyfriend Quavo.
Tierra Whack
Gaining a spot on the Coachella lineup is a big deal. Gaining one with a debut project that includes 15 one-minute songs and a handful of singles is an even bigger one. That's exactly what Tierra Whack has done. Her music is colorful and quirky, unexpected and full of personality. If you're familiar with her visuals, you know that she dazzles on-screen, so we can only imagine the amount of sparkle she'll bring to the stage both at week two of Coachella and the Made in America festival later this summer.
Noname
Chicago rappers share a camaraderie like those from no other city. So, if you were a fan of Chance The Rapper during his Acid Rap days, then you've heard of Noname. If not, then her spoken word tracks might've come into your life with Telefone. If not, then her sophomore poetic rap album Room 25 probably made it on to one of your Spotify playlists. And if you haven't heard of her before this story, then you haven't been paying attention.
There was once a time when the artist preferred to stay behind the scenes (a 2018 Fader profile outlines that she "declines most interviews, has never shot a music video, and rarely posts on Instagram"), but that was then. In 2019, Noname will be front and center and onstage in places like Paris, Barcelona, and New York at this year's Governors Ball Music Festival.
Rico Nasty
Rico Nasty is what you get when you mix the aesthetic of Tierra Whack and the unapologetic nature of Megan Thee Stallion. She's underground rap with a dose of punk rock. Don't let the nostalgic names of her songs—like "iCarly," "Hey Arnold," and "Tia Tamera"—trick you into thinking her lyrics are PG-friendly, though. They're not. If you want something a little more raunchy following Kari Faux's performance at Afropunk, Rico will definitely deliver.
Little Simz
Little Simz might not be as popular Stateside as she is across the pond, but she deserves to be. She raps less about scheming niggas and more about mental health and social activism. (She's been endorsed by Kendrick Lamar and Mos Def which should give you an inkling of what her style is like). Simz has been around for a while, releasing her third album, Grey Area, back in February; and with a slot performing at Coachella this year, we're hoping more people will get a chance to learn her name.