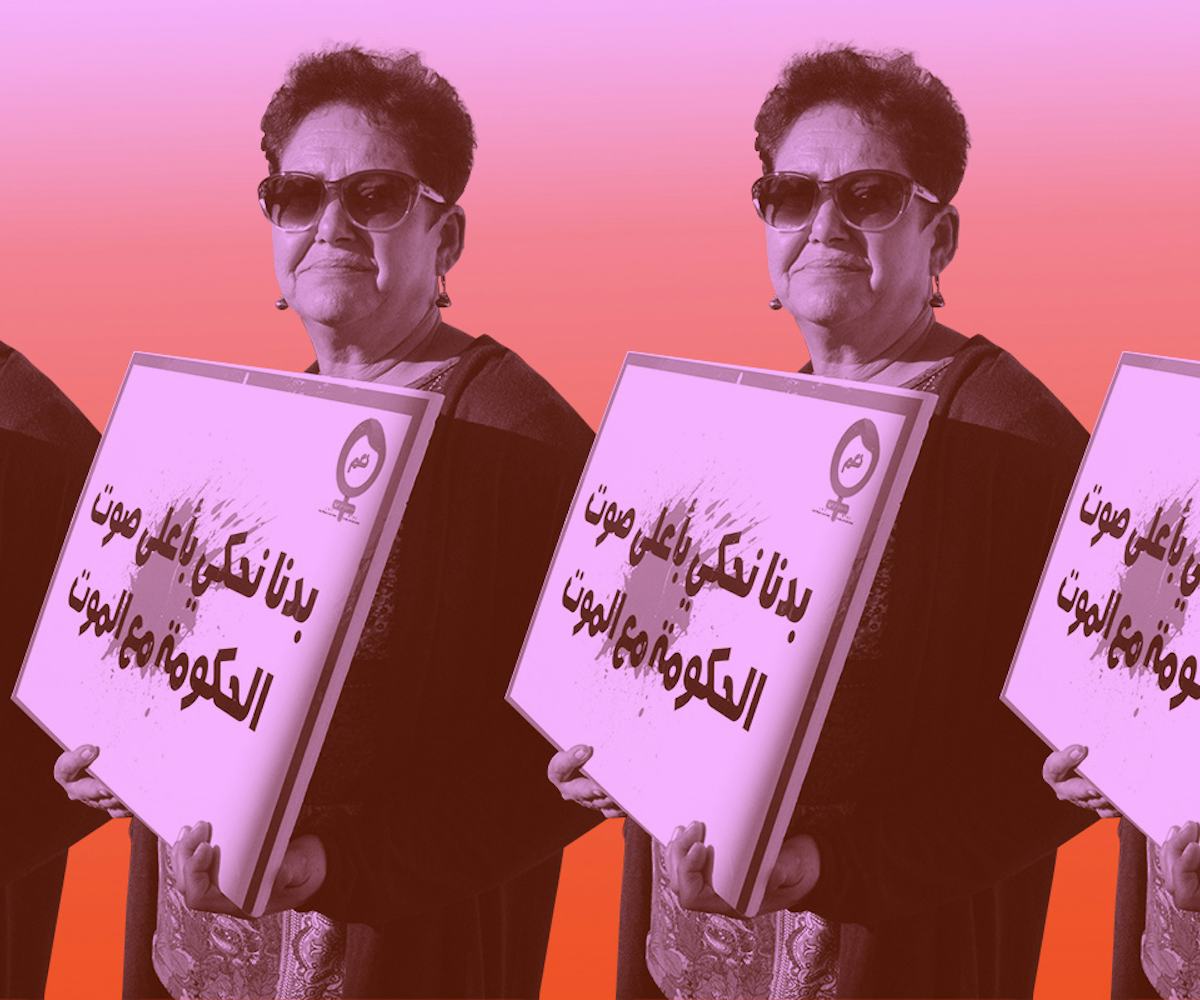 "The Scars She Stands Against": Inside The Anti-Sexism Protests Rocking Israel
How Jewish and Arab women are joining forces against femicides and sex-biased crimes in Israel
On a quiet road in the glaring March sun, they stood: a mélange of genders, ethnicities, and ages, a small cluster of protestors facing the police station in Lod, Israel. The building cast shadows on its officers. Its darkness occasionally danced on those at the front lines as well—heads of graying hair next to glittered eyelids and child-sized Adidas. A toddler rolled happily in the dust as he drew in red on a blank poster. His scribbles matched the signs his elders held. Their words were in Hebrew and Arabic, highlighted by unmistakable splatters of blood.
The blood represented that of Diana Abu Qafitan. On March 13, a day before her marriage to Bakr Abu Ghanem, an unknown assailant put a bullet in the 18-year-old's head. Qafitan had told the authorities earlier in the month that she'd felt threatened by her family and her future in-laws, who vehemently disagreed with the union since it had not been arranged. She and her fiancée fled to Ramallah before being caught by the police, who returned Qafitan to her home after she declined asylum at a women's shelter. She died next to her grandfather in a car on the way to find a wedding dress.
Last November, Israel's Prime Minister Benjamin Netanyahu voted against the creation of a parliamentary committee dedicated to investigating the murders of women by relatives and partners. Later in the month, he and his wife, Sara, visited a shelter for abused women. Their genuine, yet clueless concern caused outrage after Sara said this was "the first time she'd heard about this" problem. When asked why he had voted against the committee, the prime minister said he simply "wasn't paying attention… it was an opposition proposal."
Qafitan's death comes after a series of 26 femicides that occurred in Israel in 2018, the majority of them "honor killings," so-called because they are said to be both motivated and justified by the idea that women's actions reflect on the honor of the household. Their deaths are perceived as preferential to "deviance" from family tradition. This deviance could be anything as small as speaking with an unauthorized man to rumors of sleeping with him.
In April, 62-year-old Margarita Kazinik died after being smashed with a hammer and covered in fluids. Her son remains the key suspect. In October, Angoach Malkumu Wasa's husband shot her dead while her children, ages seven, four, and two months, were home. On Nov. 26, 13-year-old Sylvana Tsegai, an Eritrean refugee, was raped and murdered by her mother's partner (who Tsegai had already reported as violent). That same day, 16-year-old Yara Ayoub, a Palestinian Christian, was found dead in a trash can in Jish. The simultaneous deaths of Tsegai and Ayoub, in particular, awoke the nation to this problem.
On December 4, men and women left their jobs for 24 minutes in solidarity with the number of women who had been murdered up unto that point in 2018. There were over 150 protests nationwide. By the evening, 30,000 people gathered in Rabin Square, making it Israel's largest ever demonstration regarding women's rights. The word "enough!" in Hebrew lit up in the windows of Tel Aviv's city hall. "It's hard to demonstrate how huge this was in the Israeli sphere," says Meretz party member Anat Nir. "Netanyahu tried to do everything so that we wouldn't be mentioned, and we broke right into national news… It was a really nice showreel of what we can do when we stand together."
The demonstration started due to the combined efforts of Nir and three women in their twenties who were grieved by the recent events—Stav Arnon, Ruty Klein, and Dror Sadot. On the International Day for Elimination of Violence Against Women, 29-year-old Arnon attended an annual march against domestic violence on Ben Gurion Street in Tel Aviv.
"I didn't fall asleep all night," Aron says. "I was so concerned about women in Israel suffering. I thought we needed to do something that would really hurt the government, something that would be effective and massive." The following day, when the news of Tsegai's and Ayoub's murders broke, Arnon and her friends, Klein and Sadot, created a Facebook group titled "I'm a woman, I'm striking." Their message called for all to leave work and demonstrate: "If you are a woman, you are a part. If you are a man, join." Klein's apartment in Tel Aviv filled with volunteers working frantically at all hours, from 7am to 2am the following day.
Unbeknownst to them, longtime activist Nir met with 60 other women the same night at the Haifa Feminist Center. Arab, Jewish, Ashkenazi, young, old, religious, and non-religious—they decided to create a coalition of civic society organizations against domestic violence in Israel, declaring a national emergency. They named their movement Red Flag, and wrote "it's an emergency" on their hands in both Hebrew and Arabic.
"We needed to do something that would really hurt the government"
Nir uploaded their artwork that night, only to find Arnon's Facebook group the following morning. She immediately reached out to combine forces. They put together the event in the course of one week, which Nir says "felt like half a year." The Israel Women's Network (IWN), an organization based around equality for women in the workplace, became the financial base for the protest, fielding donations and bills (some of which are still outstanding), as well as paying the municipality to demonstrate and the police to guard protestors. In addition, the IWN gave legal aid to those who wanted to participate, advising them on what they could and couldn't do and contacting employers to allow more people to strike without losing their jobs.
After the protests, Netanyahu's office reached out to IWN's executive director and former Knesset advisor Michal Gera Margaliot to negotiate. His government previously promised a budget of 250 million shekels over the course of five years for the treatment of violent men and the rehabilitation of abused women. Margaliot advised them to release more than the original 50 million shekels for 2019, in addition to creating more positions for social workers and passing a series of bills stuck in Knesset.
"Of course, a budget has meaning, but you cannot translate it to just money," says Margaliot. "You need to educate about this topic. We need teachers to understand that they behave differently to boys and girls and what that means. We need to understand when we tell boys over and over that they cannot cry, then they will not reveal their feelings as adults. They will keep their anger [in] and then it will just burst out."
Margaliot says change must address three circles of impact: the first being treatment of the abusers themselves and their partners. Secondly, the families of violent homes require counsel and rehabilitation in order to break the cycle. Thirdly, she advocates for a shift in education and within the societal outlook as a whole.
The protest accomplished a lot in this regard. Hotlines received more than double the previous number of calls from men reporting themselves as violent and in need of treatment. In addition, the number of women who checked themselves into women's shelters doubled. Margaliot would like to see this number grow, knowing that many women, like Qafitan, still refuse treatment due to inadequate safety measures, difficulties with childcare, etc. Many of the murdered women stayed at a shelter at some point before their deaths. These organizations often struggle to create lasting change as abused women return to their partners after treatment due to economic instability.
Noach Korman encountered this issue firsthand as a young lawyer when a woman showed up on his doorstep with a stroller covered in plastic bags to keep her child shielded from rain. She had run out after her husband nearly killed her. Though she'd suffered through two years of beatings, her friends insisted that she belonged to her husband and they couldn't help her. The local women's shelter wouldn't accommodate her ultra-Orthodox religious practices, for instance eating Kosher. After searching thoroughly for a place that would meet his client's needs, Korman found nothing, prompting him to found Bat Melech, his own anti-domestic violence organization with shelters that cater specifically to the needs of ultra-Orthodox Jewish women. They've now helped more than a thousand women and their children between their two shelters, with each housing 24 families at a time. In addition to providing them a safe place to live, Bat Melech offers two weekly sessions of both group therapy and individual therapy for each mother. They also treat children with dance and art therapy programs.
"They've taught us that there is a way out."
"When we arrived here, we were in a trauma," says Jessica,* who currently resides with her children at Bat Melech. "We couldn't do anything. They've taught us that there is a way out." Jessica's husband beat her for six years. She says she didn't recognize the abuse until her rabbi became aware of the problem and gave her the confidence to leave. After she sought treatment for the first time, her husband found her again through the courts. "Israel has a law that says parents must have equal custody of their children," she says. "There are reasons for this, but my situation is difficult. It's an unfortunate loophole."
Korman acknowledges custody as their greatest difficulty. Bat Melech helps orchestrate the necessary visits between children and their fathers, while also assisting women in divorce and custody battles. In Jewish law, men must initiate divorce proceedings, which women can then accept or deny, meaning it can take years to come to an agreement. The ultra-Orthodox community also views men as the spiritual leaders of the household. Abusive men can manipulate this power to justify their behavior. Bat Melech aims to give a sense of autonomy to these women, who've been told that they are incapable of life on their own. "When women come here, it changes something," says the shelter's director, Einat Engelman. "Many times, [a woman's abuser] tells her 'no one will believe you and you're alone in the world'... when she comes here, she sees that people believe her and she's not alone."
Indeed, Nir says, violence can impact ultra-Orthodox, Bedouin, or other minority women with greater force, simply due to the close-knit nature of their communities. Still, domestic violence does not affect only one kind of woman. Hagit Yaari, the development director at IWN, aims to turn over the problematic view that only women in poverty or of a certain ethnicity experience abuse. "When I talk to groups, I show them pictures of women who were murdered, and some of them are Ashkenazi middle class, some of them are ultra-Orthodox, some of them are Arab, some of them are Ethiopian," she says.
"Women in Israel are neglected by the government. We're see-through."
In a country known for its divisions, these protests united people across all backgrounds, recognizing these deaths as connected, not only to each other, but to humanity as a whole. "I think it was amazing that this was the topic of the largest women's demonstration," says Margaliot. "Women being murdered on a gender basis is something that people do not want to relate to… it is something that you want to see as far [away]."
Though the movement received a warm reception, Margaliot, Arnon, and Nir know that true implementation comes from representation in leadership. "Women in Israel are neglected by the government. We're see-through," says Arnon. "Our life position is unique, and no one will take care of us unless we sit at the table where decisions about our life have been taken [from us]."
After April's election, Netanyahu remained prime minister. There are more women in the Knesset than last election cycle, yet they still account for less than 25 percent of the governing body. Margaliot hopes their efforts will create a broader awareness for those in positions of power regardless. "There are certain things that we think every government should handle," says Margaliot. "Violence against women is a phenomenon all around the world and it's our joint responsibility to change [it]," she says. "What we want is to make it more safe and humane and equal and feminist. I think it's a common interest."
The crowd outside the Lod police station exemplifies this belief. Though their numbers were few, they cannot be categorized by one demographic other than "human." The toddler weaved in and out of the other protestors, stumbling along the way. He held a sign, gazing up at the face of his sister. "Look at this circle of life," says Arnon. "Someone's always dying and someone's always being born."
*This is a pseudonym to protect the anonymity of a woman in treatment.