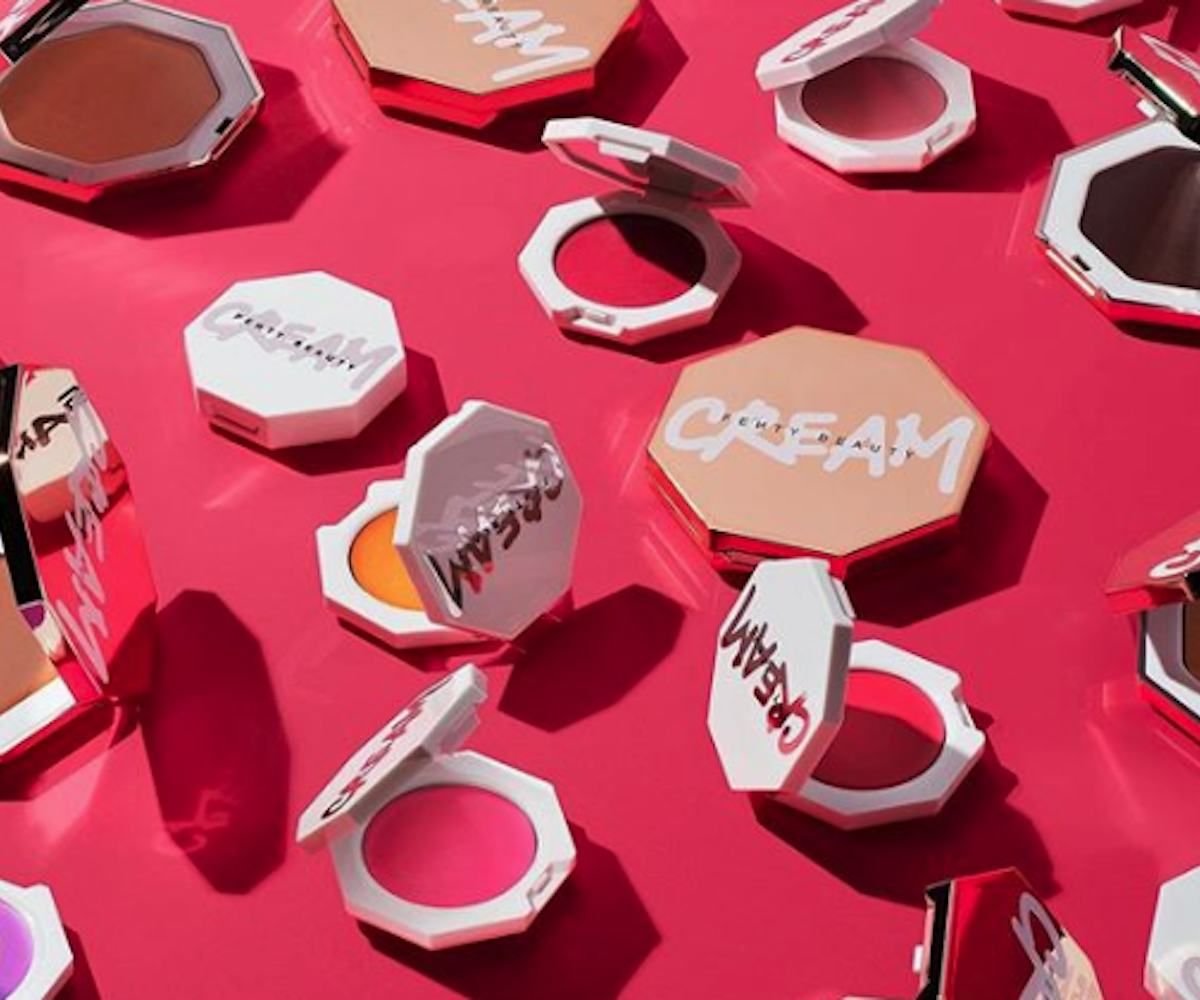 Image courtesy of Fenty Beauty Instagram
The Latest Fenty Beauty Collection Is Rihanna's "Favorite" Yet
Creamy blushes and bronzer are coming — just in time for summer
The Fenty Beauty family is expanding. Just in time for summer, Rihanna announced the debut of the Fenty Beauty Cheeks Out Collection. The line of cream-based blushes and bronzers is set to debut online and in select Sephora stores on April 17, joining an already established, and award-winning, collection of Fenty favorites that include products for your brows, cheeks, eyes, and body.
Rihanna announced the collection herself at an event celebrating the Fenty Beauty House of TikTok Influencers — which saw some of beauty's biggest influencers in attendance including Bretman Rock and Patrick Starrr — calling the the collection "one of her favorite families of franchises in the Fenty Beauty brand," in a video posted to the brand's Instagram Story.
The launch will include 10 Cheeks Out Freestyle Cream Blush shades ($20) and seven Cheeks Out Freestyle Cream Bronzer shades ($32). The blush will come in hues including a bright pink, a sunset orange, a neon purple, and a soft rose. As for the bronzer, colors include a dusty brown, a chocolate brown, and a dark reddish brown. In keeping with Fenty's packaging theme, the products come in purse-sized metallic and white compacts, and the word Cream is scrawled across the top. Fenty Beauty also shared a 'gram of the collection, writing, "Our #CHEEKSOUT collection is comin' soon! Get ready for CREAMY SHEER BUILDABLE shades of blush and bronzer to get y'all #FENTYFACEFRESH... stay tuned." In addition to the blush and bronzer, Fenty also announced a Face Shaping brush ($34) specifically formulated to spread cream and powder formulas.
Following the party, Rock took to his Instagram Story to share his thoughts on the new product, and showed off blushes called "Strawberry Drip" and "Petal Poppin." Although he didn't provide many details regarding application or formulation, he did admit to being appropriately starstruck by Rihanna. Thankfully, Chloe Morello was also on hand to give a more thorough review, and after swatching in a mirror, she shared on her Instagram Story that the bronzer was "very blendable."
Get a peek at the product that's sure to be in your beach bag this summer, below.