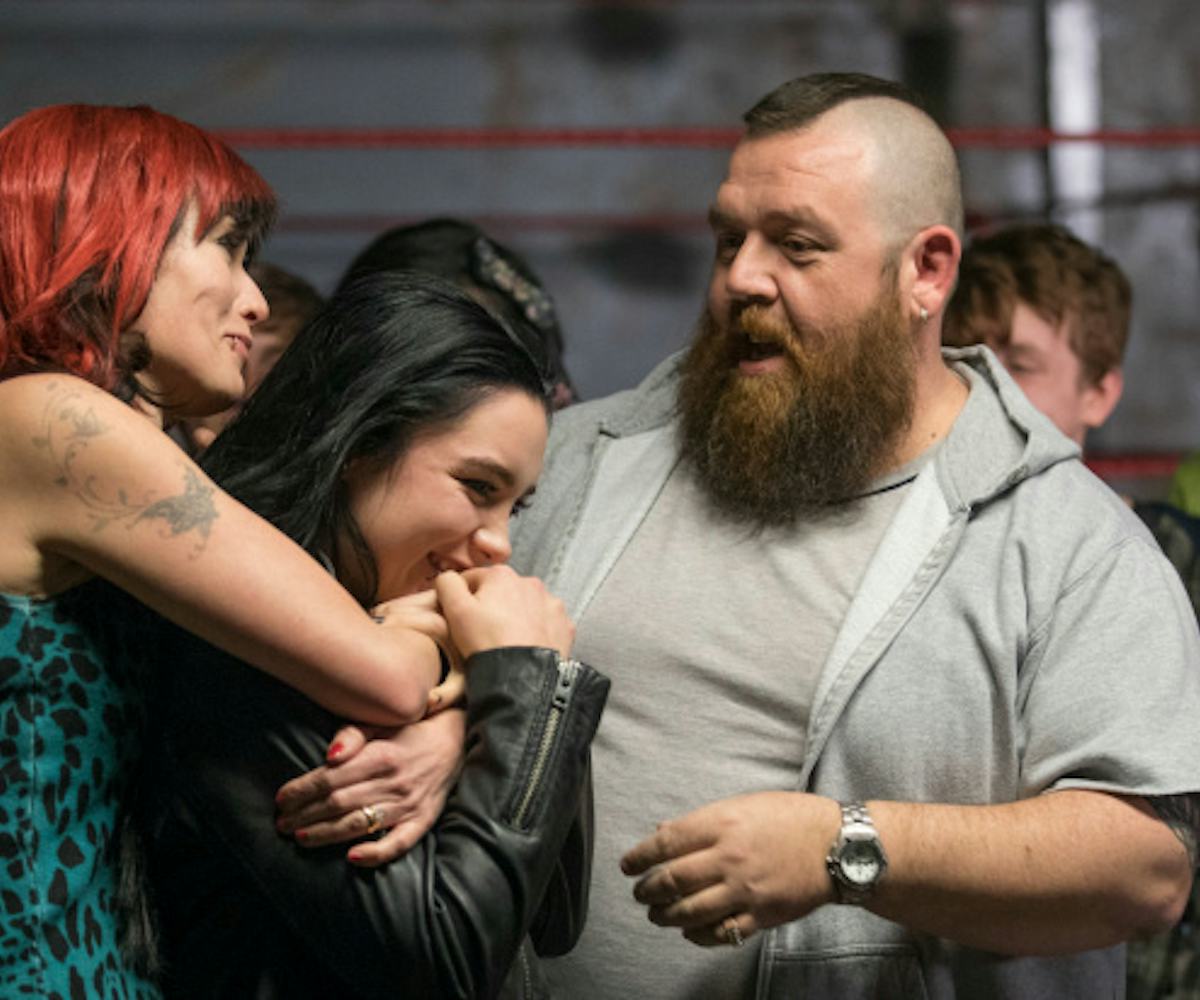 Photo courtesy of WWE Studios.
'Fighting With My Family' Is The Movie 12-Year-Old Me Always Wanted
What, you didn't have an obsession with professional wrestling?
When I was between the ages of 11 and about 14, my Monday and Thursday evenings—usually spent hanging out with my cousins and friends—had a hard stop time. We would stop whatever we were doing so I could rush home just in time for WWE's (then WWF) Monday Night: Raw or Smackdown.
I might have been one of the few girls I knew who was completely enamored with professional wrestling, but there was nothing about it that I didn't love. Dwayne "The Rock" Johnson was my crush. I wanted to hang out with Stone Cold Steve Austin. I had nightmares about The Undertaker and his even scarier brother, Kane (interesting fact: Glenn Jacobs, who played Kane, is now the mayor of Knox County, Tennessee)—but I rooted for each of them at different times. I still aspire to be as extra as Goldust. And Chyna, the woman who regularly beat up up men, was my absolute shero.
My love for wrestling wasn't common among my peers. It was still largely associated with white people, and, more specifically, "white trash." But it was this exact lack of refinement that drew me in. To the rest of the world, I was the Black version of that kind of trash: a rowdy girl from the projects, ready to scrap at the drop of an ill-timed glance. Professional wrestling seemed to validate my rebelliousness, and was probably one of the safest outlets for it. And that's exactly why Fighting with My Family, the new biopic about WWE superstar Paige's journey to become the corporation's next female phenomenon, is the kind of movie I wish I could have seen back then.
Chyna may have been my favorite, but I got a surge of pride every time the line of men in tights was broken to give way to women in bikinis and booty shorts. A millennial raised in the thick of the commercialized Girl Power era, I was always a sucker for anything branded for girls, and that's what female wrestlers offered me. They were versions of who I thought I was, or at least who I wanted to be, at that age: beautiful and sexy, but tough as fucking nails.
But whereas I never aspired to a career in wrestling, Saraya "Paige" Bevis (Florence Pugh) was born into a family of professional wrestlers and was trained from birth to think of that career as being her dream—even if she wasn't always so sure about it herself. Though the Bevis family wasn't WWE famous, they did make a name and a living for themselves in Norwich, England (a town about 100 miles northeast of London), competing and training others through their family-run World Association of Wrestling.
Fighting with My Family follows Paige's often rocky ascent into W.W.E. and the big business of professional wrestling. She and her brother both auditioned to sign with the corporation's developmental league NXT, but only Paige makes the cut. She not only had the technical skills they were looking for, but she had the kind of star power that impressed recruiter Hutch (Vince Vaughn). WWE is, after all, nothing if not entertainment. Viewers follow her as she tries to maintain her own sense of identity while conditioning her body, developing a persona, facing huge crowds, and, yes, meeting the Rock.
Paige spends a good chunk of the film judging the other female hopefuls who are tanned, blonde, serving up "All American" sex appeal, and not trained in wrestling. She judges them. Then she resents their success and tries to imitate their looks in hopes that it will help her advance. That definitely doesn't work as she looks ridiculous. A cocktail of soul searching and tough love from her family lead her back to herself, and the punk rock realness that suits her best. Paige's pale skin and heavy black eyeliner replace the lipstick and contouring of peers. Her lingerie looked less Victoria's Secret Swim and more Hot Topic. Sisterhood becomes more important that smugness and she takes her outsider act all the way to a WWE Divas championship.
As a young fan, I was fully invested in all of the dramatic story lines and the illusion that all of the beefs were real. The WWE was to me what E! and Bravo franchises are to many of today's television viewers. I would have committed even more hours out of my social schedule to have the kind of context and personal narrative that Fighting with My Family offered. I loved wrestling because it spoke to my own sense of identity and individuality, and emphasized the importance of never compromising either of those things. I never aspired to be a wrestling athlete. But growing up in a neighborhood where being tough meant survival, it was refreshing to know that there were other means of expressing that; throwing hands was and would never be the totality of who I am. I still needed to foster other interests and parts of my personality, no matter what they would be. This movie sees Paige come to a very similar revelation about herself. I can only imagine how many scratches I would have racked up on this DVD.
Fighting with My Family is out in theaters Thursday.