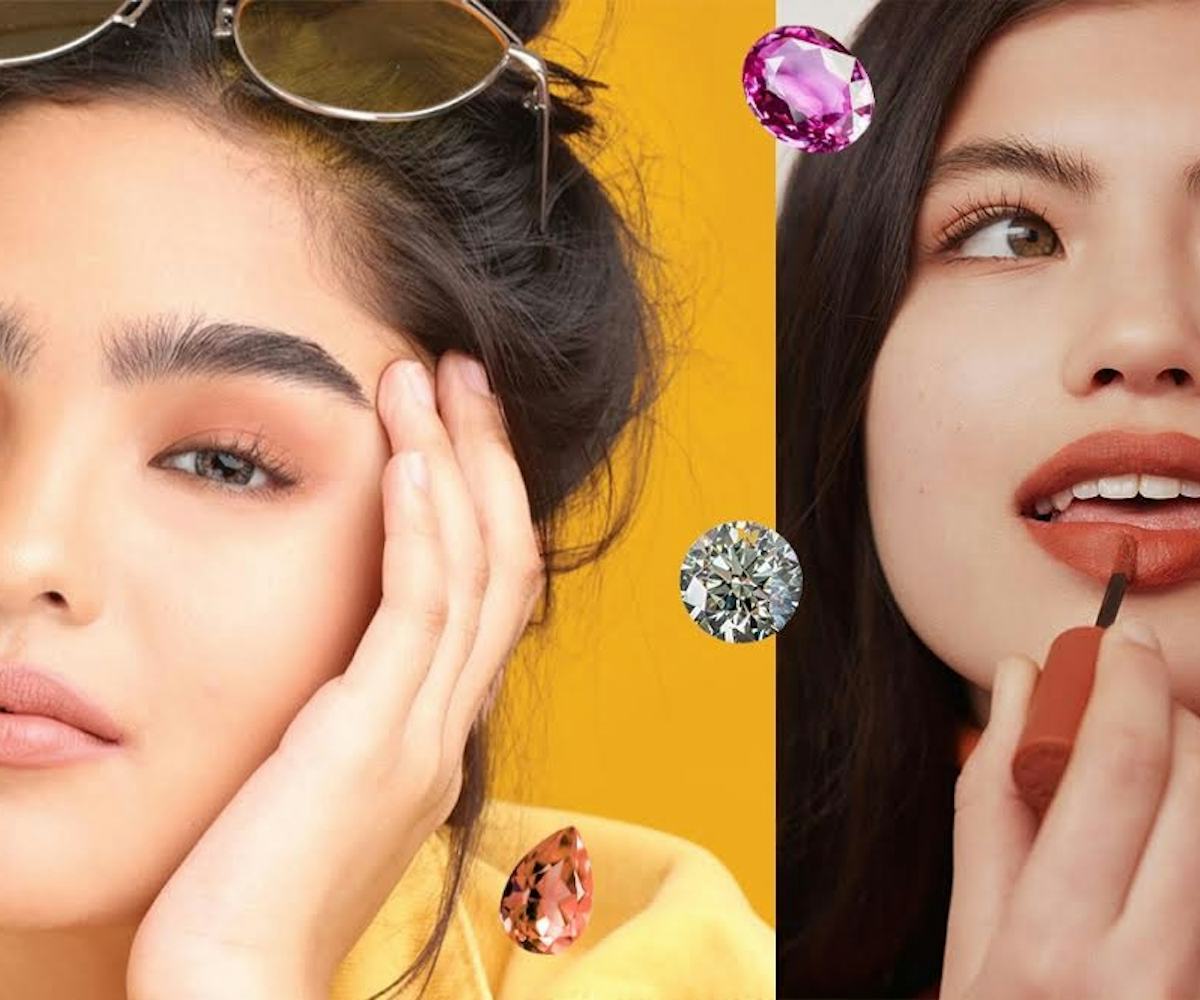 Photos Courtesy of Sunnies Face and Careline
Filipino Beauty Is Primed To Be The K-Beauty Of Makeup
Innovative formulas, Instagram-ready packaging, and tons of color make F-Beauty a category to watch
The world of K-Beauty opened our hearts and minds to 11-step skin care routines, "glass" skin, and snail slime, slowly but surely changing the way Americans take care of and prioritize their largest organ: skin. But as the beauty conversation evolves — narrowing in on inclusion, health, and sustainability — another country's take on cosmetics is gaining noteworthy traction. Enter Filipino beauty, or F-Beauty for short.
First to put F-Beauty on the international beauty map (and Instagram Explore pages everywhere)? Sunnies Face, featuring clean, off-white packaging resembling the likes of Glossier just enough, while adding something new — something warm — to feeds filled with increasingly clinical-looking American cosmetics. Those who managed to get their Stateside hands on the brand's best selling lipstick, Fluffmatte, took to worshipping the velvet-matte formula, and wanting more from the category.
Perhaps most significant to the increasingly eco-minded American consumer is the simple concept behind most F-Beauty lines: easy, quality cosmetics for all. Nearly all items from some of the country's most promising brands retail below the equivalent of $10 USD, are paraben- and cruelty-free, and cater to a range of skin tones and types, making conscious and inclusive beauty available to a variety of beauty lovers.
And while many brands have yet to begin shipping to the U.S., the overwhelming American social media response to Filipino products has caused brands to reconsider — with many dropping hints that international shipping isn't so far away. In the meantime, online shops like PNYbeauty.com have launched to hold you over with all of the F-Beauty your heart desires.
Ahead, check out five F-Beauty brands you should get familiar with now, before they inevitably sweep the States.
Sunnies Face
The question on the Sunnies Face "About" page is one that I frequently ask myself: "Will we ever find one brand that has everything we love about makeup? One brand that gets us completely?" After whipping up 22 formulas and 350 color samples, Sunnies Face has become that brand for many in under two years — and one of the most visible F-beauty brands Stateside thanks to its social media. The line's hero product, Fluffmatte, was one of the first lipsticks to jump-start the sheer matte lip trend, with chic minimalist packaging and a formula designed to feel weightless and comfortable all day. Even though the full Sunnies Face collection is not available in America just yet (the worst tease ever), you can still purchase some of the brand's best-sellers — including various shades of Fluffmatte and the brand's easy-wear Airblush — through the Rose Inc. x Sunnies Face collaboration.
blk Cosmetics
"Our goal is to keep things simple," says Jacqe Yuengtian Gutierrez, who co-founded blk Cosmetics with Filipino actress Anne Curtis. Like the color black, the intention behind each product in the collection — which includes face, eye, and lip products, and even perfume — is to be "timeless, elegant, and uncomplicated." Famous for its Creamy Cheek Paint sticks and All-Day Intense Matte Lipsticks, blk is also proud to be one of the few Filipino beauty lines with an official PETA cruelty-free certification.
Happy Skin
This cruelty-free line boasts everything from an assortment of lip and cheek tints to correctors to blur creams, all operating on the belief that makeup worth keeping is three things: multi-use, easy-to-use, and made for all. The brand —which also features colorful packaging — doesn't yet ship internationally on its own just yet, but you can try the line's best-sellers (I recommend the Kiss and Bloom Lip and Cheek Tint) for yourself here.
Vice Cosmetics
"Ganda for all!" declares the website for Vice Cosmetics, founded by Philippines television personality Vice Ganda. Gandolls, as Ganda's following is called, are encouraged to "look and feel their most beautiful" with an affordable range of color cosmetics (The brand's best-selling liquid lipsticks? Less than $4 USD). Products are vegan and paraben- and cruelty-free, so shopping responsibly is possible for all budgets. Bonus: the brand ships internationally, straight from its site.
Careline
Careline is most easily compared to e.l.f. Cosmetics for its low prices (the most expensive product on their site is $4 USD) and rave reviews. With launches like the Suede Lipstick and Blur Stick primer housed in charming, brightly-colored tubes, I haven't been able to stop thinking about Careline since I first saved one of the brand's Insta posts months ago. Sadly, the brand is sold exclusively in its home country — here's to hoping that showing Careline some Instagram love en masse will make the case for worldwide shipping.