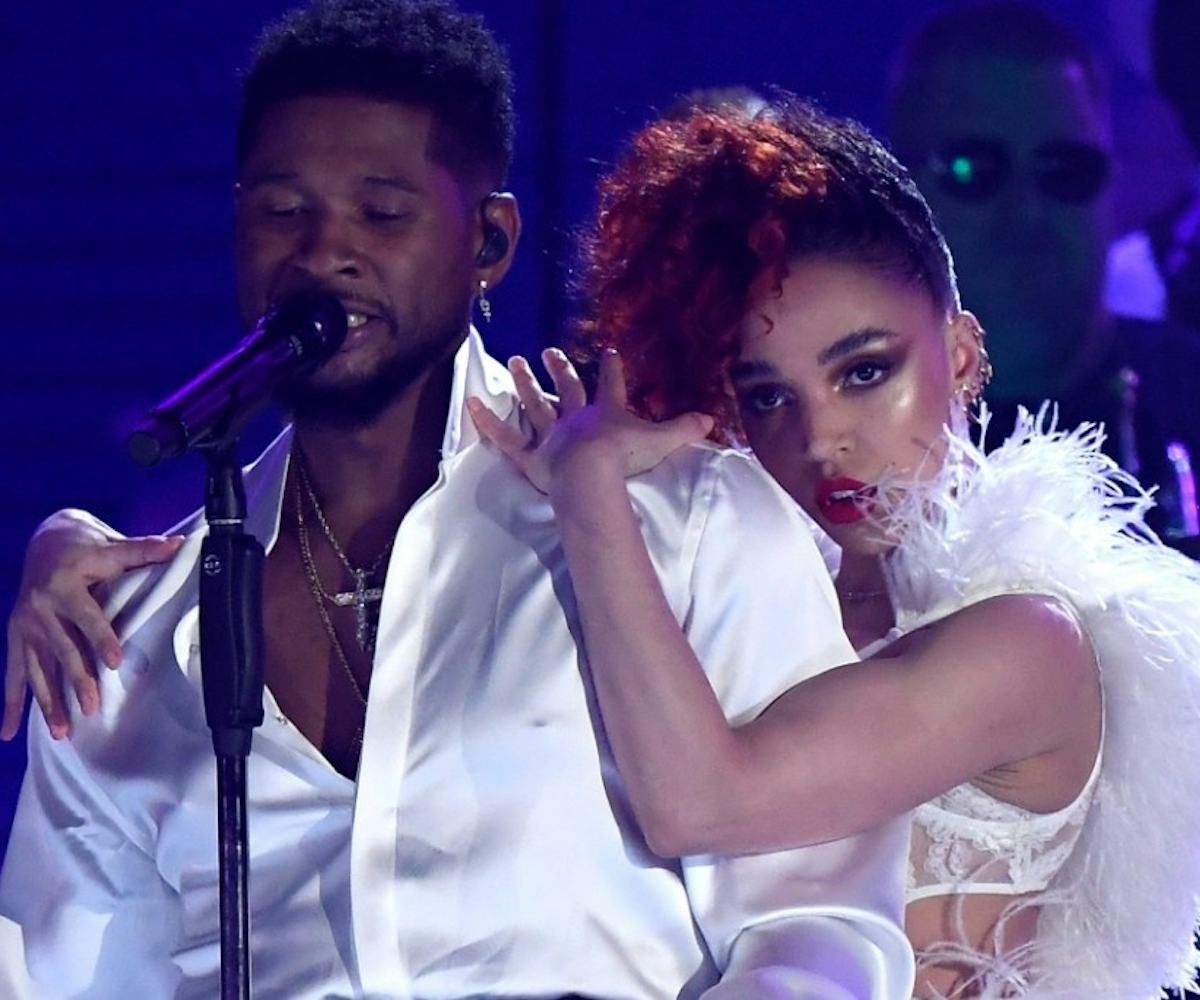 Photo by Kevork Djansezian/Getty Images
FKA Twigs Pole Danced For The Grammys Prince Tribute
Sadly, twigs did not sing
Nearly four years after Prince's death, the Grammys organized a tribute to the Purple One at the 62nd iteration of the award show with Usher, Sheila E and FKA twigs taking part in the performance. They performed "Little Red Corvette," "When Doves Cry" and "Kiss" from the late and iconic singer, though FKA twigs didn't get the chance to lend her vocals. Instead, twigs hopped on the pole for the performance — twirling and twisting upside down as Usher sang alongside her — a move we're sure the late Prince of Funk would've whole-heartedly approved. See clips of the performance below.
Although twigs' acrobatic skills have been the most impressive moment of the award show so far, it's still disappointing to note that the "Cellophane" vocalist did not get to sing at all. Instead, once she demounted from the pole, she spent the rest of the tribute dancing next to Usher, as he belted his way through "Kiss."
According to a Grammys representative, twigs made the decision not to sing during the tribute. Sheila E. seemed to corroborate the statement, telling USA Today that "she didn't want to sing...First she wanted to but then she didn't want to when we ran through it because she didn't have a (microphone) pack and (in-ear monitors), so she couldn't hear. And she would rather have danced—which is what we asked her as well. She chose not to, she said 'No, I'm OK.'
Twigs herself tweeted after her performance: "of course i wanted to sing at the grammys. i wasn't asked this time but hopefully in the future. none the less what an honour. congratulations to all winners x". Which leads us to ask: So what is the truth?
Either way, Twigs' pole dancing skills deserved to be broadcasted on national television. Kelly Yvonne, twigs' pole dancing instructor, called the singer a "pole dance prodigy" in a 2018 NYLON interview, revealing that the singer-dancer extraordinaire had only been training cumulatively for one year when she filmed "Cellophane."
Twigs was nominated for one Grammy award this year: Best Music Video for the excellent "Cellophane." Sadly she did not win the award, losing to "Old Town Road" by Lil Nas X.