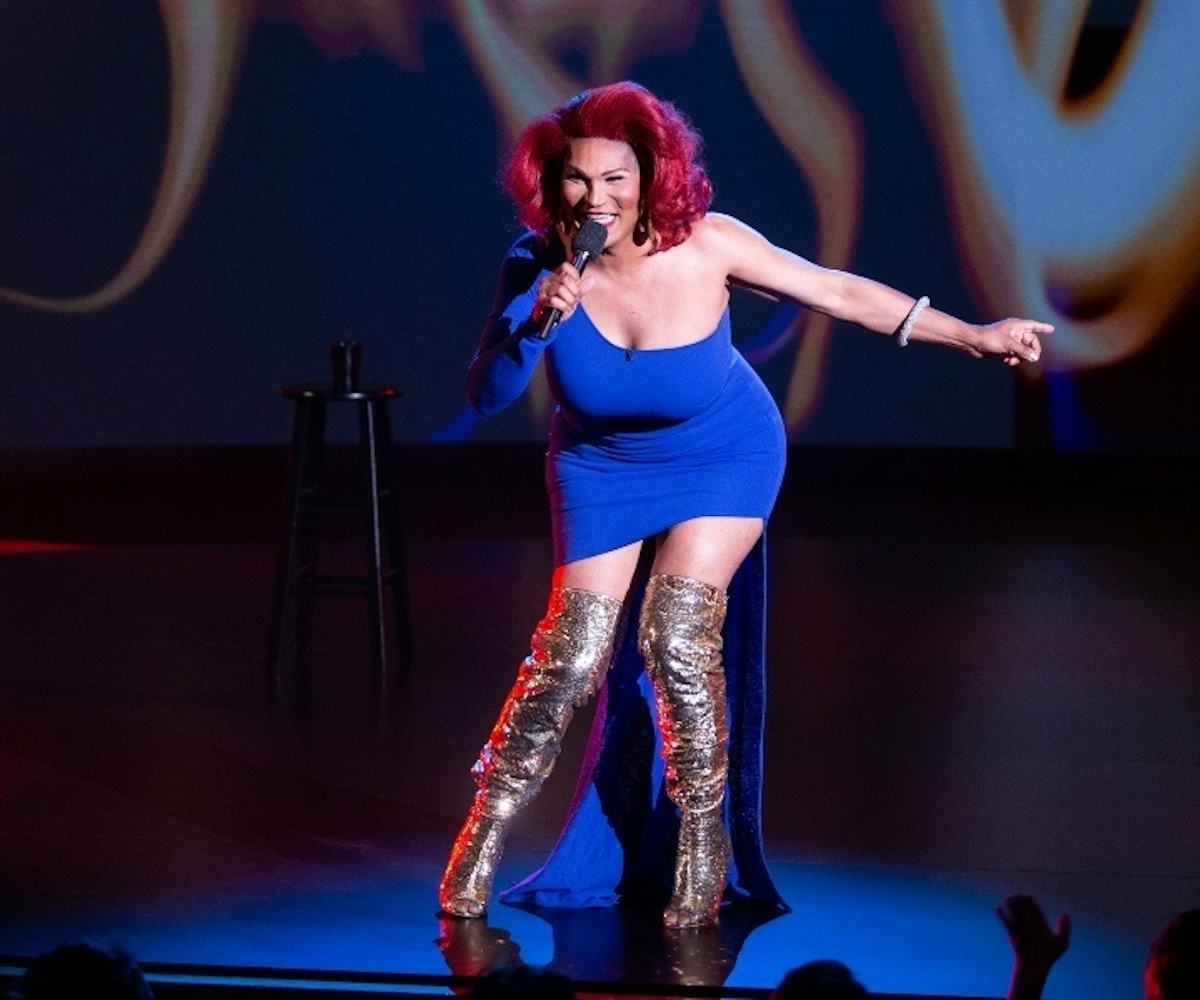 Photo courtesy of Netflix.
Flame Monroe Doesn't Care About Pronouns
The comedian and trans woman is focused on other things
Flame Monroe wants you to know that she's not a transgender comedian—she's "a comedian who just so happens to be transgender."
This is one of the opening lines of her set on Tiffany Haddish's They Ready on Netflix, where Monroe is one of six comedians doing original stand-up routines.
Monroe doesn't like to be labeled as being anything other than a comedian first, and has strong opinions about people who think the art of comedy is secondary to just being able to get up on a stage. "You get one or two one-liners in, and you think you are a stand-up comedian," she told me over the phone recently. "There is so much more that goes into being a comedian, including writing, and putting in the work, and being diligent, and going to these little hole-in-the-wall rooms that you don't want to go to until you've worked out your material to where you wanted to be." That's what Monroe has been doing for over 20 years.
Monroe started as a host in Chicago's underground comedy scene, and told me that she only got up on stage one night to an actual comedy routine as a dare. The road to success was not always a smooth one: Monroe remembers one New Jersey club where, "if you didn't do well, they would throw Champagne bottles at you on stage." But she performed anyway, in all of her glory, and "killed it."
Then, about a decade ago, Monroe met Haddish, and they hit it off immediately. "It was just very organic," she told me about their friendship; she has long advocated for Haddish's talent, even if it fell on deaf ears: "Pre-Girls Trip... I told [people], 'This girl is going to be a star.'" Now that Haddish is a household name, she's crowned Monroe one of the next big things in the comedy world.
For all the ways that Monroe is just like other comedians—she's paid her dues, she hustles hard, and has put in the time and effort to figure out what does and doesn't work onstage—the reality is that she stands out from the hoards of straight, cisgendered folk in the industry, and she knows it. "Shock value is what gets me in. My talent and my material is what keeps me there," she said. Monroe subverts the reductive gender binary in her stand-up routines, taking advantage of the way her body and gender are still read as male to tell hilariously crass stories about her sexual experiences, politics, and being a parent.
But she is a far cry from a trans activist. "They keep trying to make me an activist for the transgender community," she complained to me. "That is not my fight, nor is it my get down. I will stand with my sisters and my brothers when they are right, but they are not fighting for the right things, if you ask me." Those "things," like pronouns and gender-affirming bathroom spaces, are not as important to Monroe as "fighting this current administration over housing, health care, and mental [health care] for the trans community."
Acceptance isn't necessarily what Monroe is gunning for. On the contrary, she thinks the trans community is "fighting to be pushed into a world that will receive you on their own terms" and believes that they're ultimately pushing mainstream audiences away. Her position marks a generational difference between "old-school" members of the community and younger queer folks. "The LGBT community is so segregated and divided right now that is like a powder keg waiting to explode," she said.
Still, though, Monroe is fighting for her seat at the table, and told me, "I want to host all of the award shows, and I would like to have my own talk show one day." It's easy to see how that will come to pass, because, as Monroe explained, "I live in the whole world. I live in the entire world. So I have to branch out to the masses."