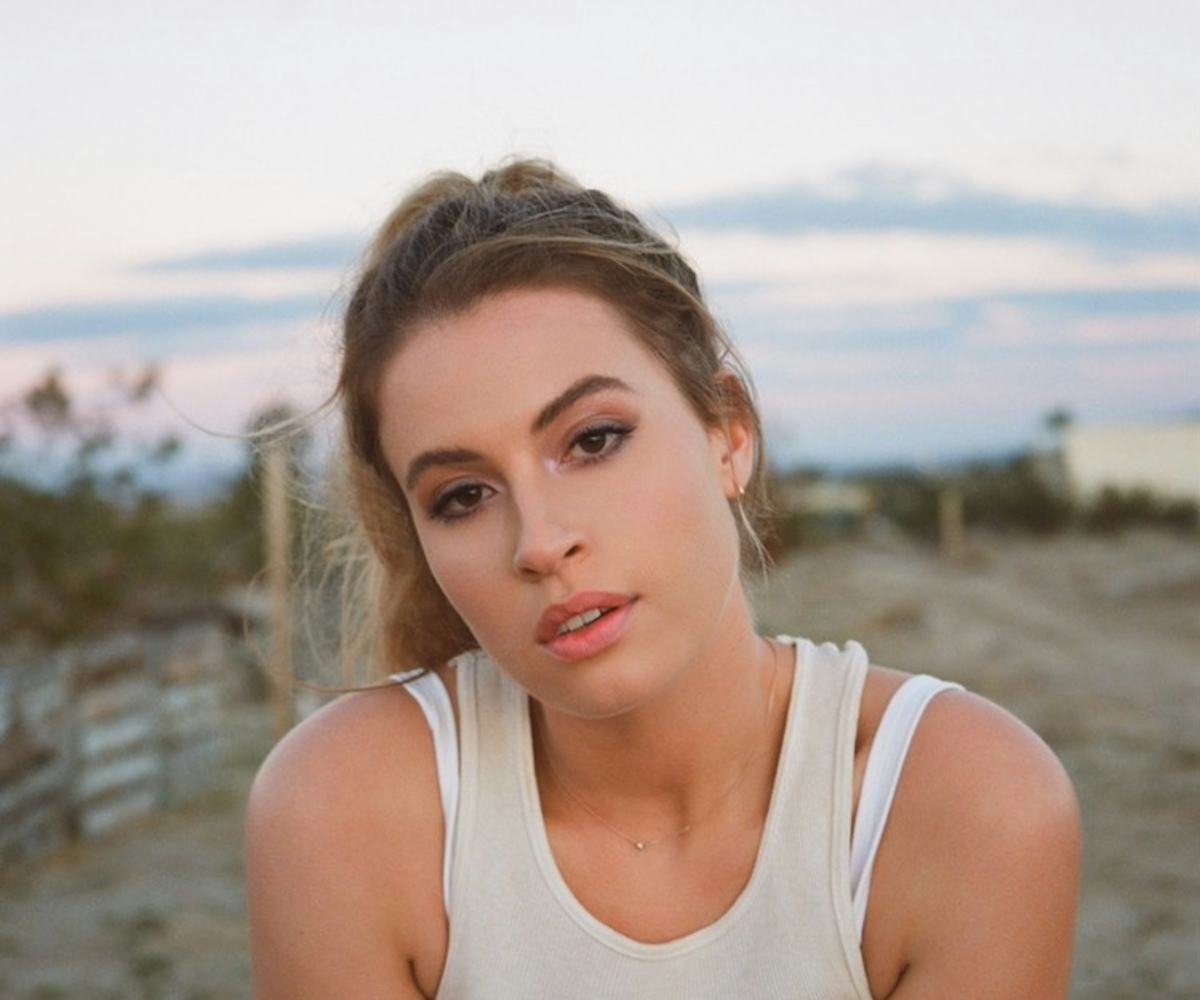 photo by Grace Pickering
FLETCHER's "Undrunk" Is A Fuck You To Heartbreak
It's also about free sexual expression and vulnerability
FLETCHER is carving out a space for herself in pop music. Over the last decade, mainstream pop has cracked and broken into shards of mini-genres. Her new single "Undrunk" is representative of this shattering—sonically, the happy-sad bop can't be stuffed into just one category. Lyrically, it tackles heartbreak and trauma in real and nuanced ways that feel true to the human experience. Pop music has always veered between sunshine and stormy weather—but now, there are definitely rainbows.
The queer singer-songwriter, who hails from a shore town in New Jersey, has examined sexuality in the past, with her Sapphic music video "Wasted Youth." She's joined the ranks of other LGBTQ sweethearts of mainstream pop, like Hayley Kiyoko and Troye Sivan, who have not only normalized queerness in Top 40 music but have reformed the genre. With a brand-new EP on the horizon, FLETCHER seeks to expand further.
In "Undrunk," you'll notice FLETCHER sings to a genderless "you." In the video, which premiered today, on Valentine's Day, as a "fuck you" to heartbreakers, her love interest is played by Quin, an actress and model. The single marks the first release off FLETCHER's second EP (no premiere date yet) and offers a glimpse into the pop star's brain and heart. Clearly, she's a storyteller, like the Taylor Swifts and Shawn Mendeses of the world—her words are honest, torn from her soul.
Recently, I sat down with FLETCHER to talk about the "Undrunk" video, free expression, vulnerability, and female storytelling.
What's the background on "Undrunk?" How did the single come about?
It was a rainy Friday night in New York in one November, and I was working with some friends at a studio in Koreatown. We were taking tequila shots, and one of us said, "We need to get a little undrunk right now so we can write a song." I was like, "Oh my god, this is incredible." The inspiration behind it is really just—it's a song about wishing I could undo loving my ex, a person that really broke my heart and let me down in a big way. It was a situation that I never got any closure from. "Undrunk" is sort of like my letter to that person—the things that I didn't get to say after we ended.
What was the inspiration behind the music video? I felt like it had this cool "hometown hero" vibe—I saw you visited the famed Stone Pony in Asbury Park, New Jersey.
Totally. I really wanted to capture hometown vibes, and this juxtaposition between a really gray, grungy New Jersey, mixed with the yellow and blue hues of the desert. I just wanted to capture places that have played a role in my life and in my music and have been crucial in the development of myself, both as an artist and as a human being. That's the Asbury Park vibes in [the video].
But what I really wanted to get across with this video is what my hope of the world will look like one day, with such a free expression of sexuality and gender and love. That's the world that I want to live in and I really wanted that to come across. I just really wanted to highlight the freedom of love and expression and my hope that the world can be that one day.
What has the reception been like with "Undrunk?"
The reception has been so crazy and just so much more than I ever could've even imagined. My favorite part has been people sharing their personal stories with me and their experiences with somebody that broke their heart, or somebody they got ghosted by and wish they could un-fuck or un-love. It's been so cool to see. I was really nervous about putting out a song that was so vulnerable. But people have been so vulnerable in return.
What kinds of themes do you explore on the new EP? What messages did you want to communicate on "Undrunk," and the new project as a whole?
The whole EP is about one person. It's about my experience with having my heart broken for the first time with my first love. It really just feels like it's letters ripped from my diary and put into songs, and it's been the most honest and real I've ever been with my music. I think it's all such a depiction of who I am and what I want to get across.
My biggest thing is just wanting people to feel something. I think, now more than ever, with the political climate and the world that we live in, people want to find a cathartic release in music, and feel something that's real and actually depicting shit that they're going through. I just want to represent real female stories, what it means to be a woman in 2019, and all the things that we fucking feel—the best way that I can do that is by sharing my story and what I've been through. If one person connects with that, or feels something, or sees a little bit of themselves in it—then I feel like my job is done.
How would you describe yourself and your artistry? I don't want to play the comparison game and ask "which artists are you similar to," but rather: How do you stand out from them?
I think every artist has a completely different experience. No two people have the same story. I think that with this music, I have been so unapologetically myself and I've put my heart on my sleeve. There's a lot of edge to it. I like to talk about things that are maybe kinda taboo or uncomfortable, that people are thinking but might not be able to say. I think that sharing my really specific stories and experiences that are mine is definitely what defines my music.
Who else are you listening to right now? What is your assessment on the current state of pop music?
I think it's an interesting time for pop music because I feel like people are turning to artists and connecting to artists who are just saying real shit, and people that are carving out a lane for themselves. The fact that genre doesn't really exist anymore—we live in a space where someone like Billie Eilish has these super-dope, sick, Kanye hip-hop beats, with the most airy, ethereal vocal tones I've ever heard. I'm just like drawn to stuff like that right now, stuff that's making noise in a way that's unique. I'm trying to do the same thing and be my own person.