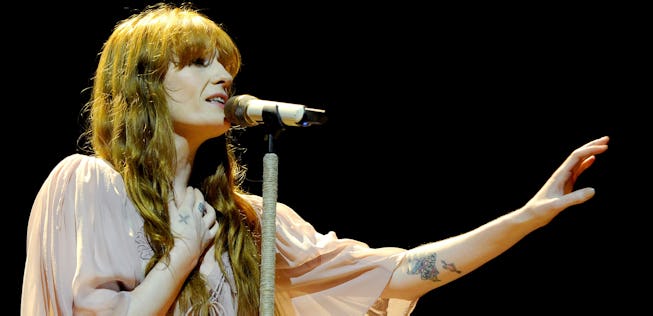 Photo by Shirlaine Forrest/Getty Images for Gucci
Listen To The Haunting Lullaby Florence + The Machine Sang For 'Game Of Thrones'
During the closing credits of last night's episode of Game of Thrones, we were blessed with Florence + The Machine's voice instead of the usual classical score. The singer covered the song "Jenny of Oldstones," which is originally found in George R. R. Martin's novels, and turned it into a haunting ballad that had everyone instantly googling "who is singing the end credits game of thrones song in episode 69?"
During the show, the song was introduced by Podrick Payne (Daniel Portman), who sang it in a beautiful tenor (turns out Pod is, um, talented in more ways than one) on the night before the Battle of Winterfell. Previously titled "Jenny's Song," this is one of the few songs from Martin's A Song of Ice and Fire that hadn't already been sung on the show, and it now contains new lyrics that readers had not previously known.
According to a press release, Florence is the only artist who will be featured in the last season of the HBO show, and she was personally approached to be included by the show's producers, David Benioff and D.B. Weiss, who are "longtime fans." Her version sounds like it would be right at home on one of her albums.
"We've always been huge fans of Florence's music, and the Season 2 trailer with her song 'Seven Devils' was possibly the most powerful we've ever had," said Benioff and Weiss of the choice to include her. "So the opportunity to hear her otherworldly voice on our show was always at the forefront of our minds. We're still pleasantly shocked that she agreed to sing 'Jenny of Oldstones,' and we're in love with the result."
Florence Welch herself shared that the song's Celtic elements held meaning to her. "When I first heard the song it sounded like a Celtic lullaby to me," she said. "Celtic music has always been in my blood, so I felt like I could do something with it. The magic and ritual in Game of Thrones, not to mention the costumes, have always appealed to me. I am honored to be a part of the final season."
Listen to Florence + The Machine's "Jenny of Oldstones," below.