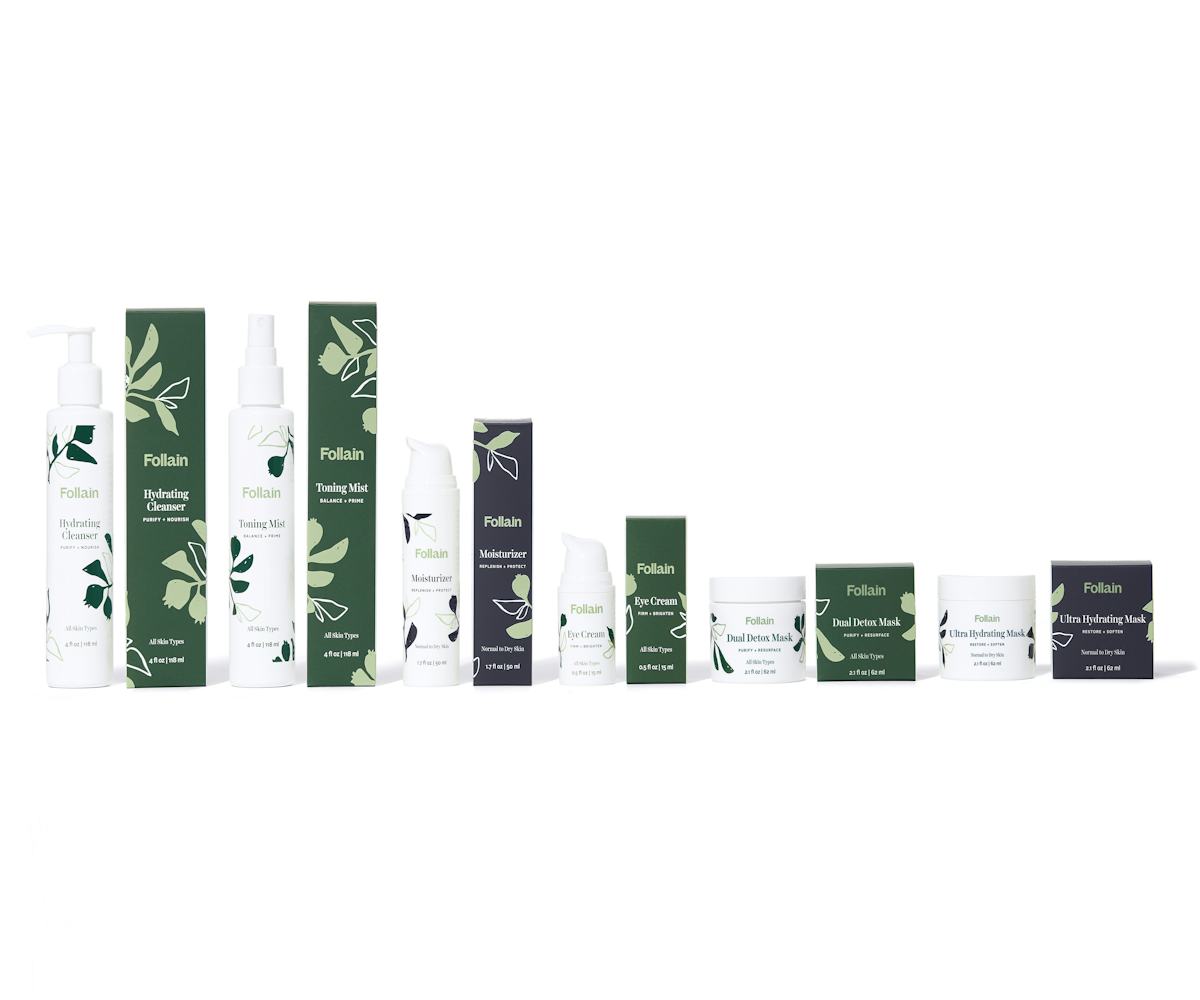 Courtesy of Follain
Follain Skincare Wants To Make Clean Beauty More Accessible
The brand is expanding into big name beauty
Clean is clearly a buzzword in the beauty industry, with numerous brands announcing endeavors to help create more sustainable practices and products. But despite how popular the terms are, finding "clean" beauty still has a long way to go before the option is accessible to all. To combat that, starting on March 2, Follain Skincare is expanding to be sold in both Ulta, QVC, and Anthropologie in an effort to give everyone the chance to embrace a more environmentally-friendly beauty routine. The expansion coincides with the brand's growing offerings, as Follain unveils four more clean beauty skin care products into its lineup.
Tara Foley, founder of Follain Skincare, told NYLON that everyone should have access to clean beauty products. "Clean beauty wasn't meant to be relegated to only certain parts of the country, as it is today. With Ulta we can expand the reach of clean and help more women than ever fall in love with it. That's always been our mission," she said.
As part of the Ulta expansion, Follain added some new items, including a Hydrating Cleanser ($22), Eye Cream ($36), Dual Detox Mask ($34), and Ultra Hydrating Mask ($34). The newly released products join an already released Toning Mist ($18) and Moisturizer ($32). All six products are intended to be used in conjunction with one another, resulting in a skin care ritual that will feel good, and is good for the environment, too.
For those new to the world of Follain, Foley suggested beginning with an application of the Ultra Hydrating Mask immediately after using the Dual Detox Mask. However, she noted that all six items could be considered "staples" in a routine, and that products are friendly on most skin types.
When it came time to deciding on what new products to pursue, Foley told NYLON that the brand met with tens of thousands of women, and through those conversations, she realized something needed to change. "Many people were coming into Follain and were turned off when we recommended an $80 face oil as their first clean beauty product. We created this line to help more women than ever fall in love with clean," she said. "And when we started making the products we fell in love with how well they were working - with such powerful ingredients and performance that we had become familiar with over the years. We also recognized that it was important to offer a full line of essentials. Our four newest products help round out that full routine."
The term clean beauty is still open to definition, Voguereports, with beauty brands deciding on individual intentions for its use of the phrase, but at Follain, Foley sees the term clean beauty as encompassing a line of products that prioritize personal wellbeing and environmental health. "Follain has a long, evolving list of unsafe ingredients that are banned from our portfolio, and we work with scientists and doctors to update this list regularly; but clean beauty is really about so much more than the absence of unsafe ingredients," Foley said. "It's about feeding your skin with real vitamins, minerals and nutrients that will truly work better; delivering healthier, stronger skin. Because of the abundance of real, nutrient dense ingredients in clean beauty products--it provides a pleasing experience, one that smells and feels like you're doing something great for your health and wellbeing. Because you are."
Get familiar (and maybe even shop) with some of Follain's products below.
Dual Detox Mask
Follain Skincare, Dual Detox Mask, $34, available at Ulta.com
Make way for smoother skin. This mask includes Clay and Hydroxy Acids, which leads to purified, refreshed skin. And don't worry about a mess when applying, because this clay is smooth and spreadable.
Eye Cream
Follain Skincare, Eye Cream, $36, available at Ulta.com
This eye cream is one you need in your arsenal of products. Containing Vitamin C, Peptide, and more, ingredients included were made to tighten, brighten, and firm up the under-eye area.
Moisturizer
Follain Skincare, Moisturizer, $32, available at Ulta.com.
No skin care routine is truly complete with a moisturizer, and as one of the original Follain products, this is a great place to start. The lightweight formula is perfect for nightly application or can serve as an under makeup primer.
Toning Mist
Follain Skincare, Toning Mist, $18, available at Ulta.com.
Prep your skin for anything that the day will throw your way with this Toning Mist. Compromised of Rosehip, Aloe, and Rosewater, a spritz of this will leave your skin feeling soothed, balanced, and prepped for makeup application.
Ultra Hydrating Mask
Follain Skincare, Ultra Hydrating Mask, $34, available at Ulta.com
Make time for some self-care with this Ultra Hydrating Mask. Intended to help dry and dehydrated skin, you can wear the mask overnight for a full dose of nourishing skin ingredients, or if you're pressed for time, it can also be worn for 20 minutes.
NYLON uses affiliate links and may earn a commission if you purchase something through those links, but every product chosen is selected independently.