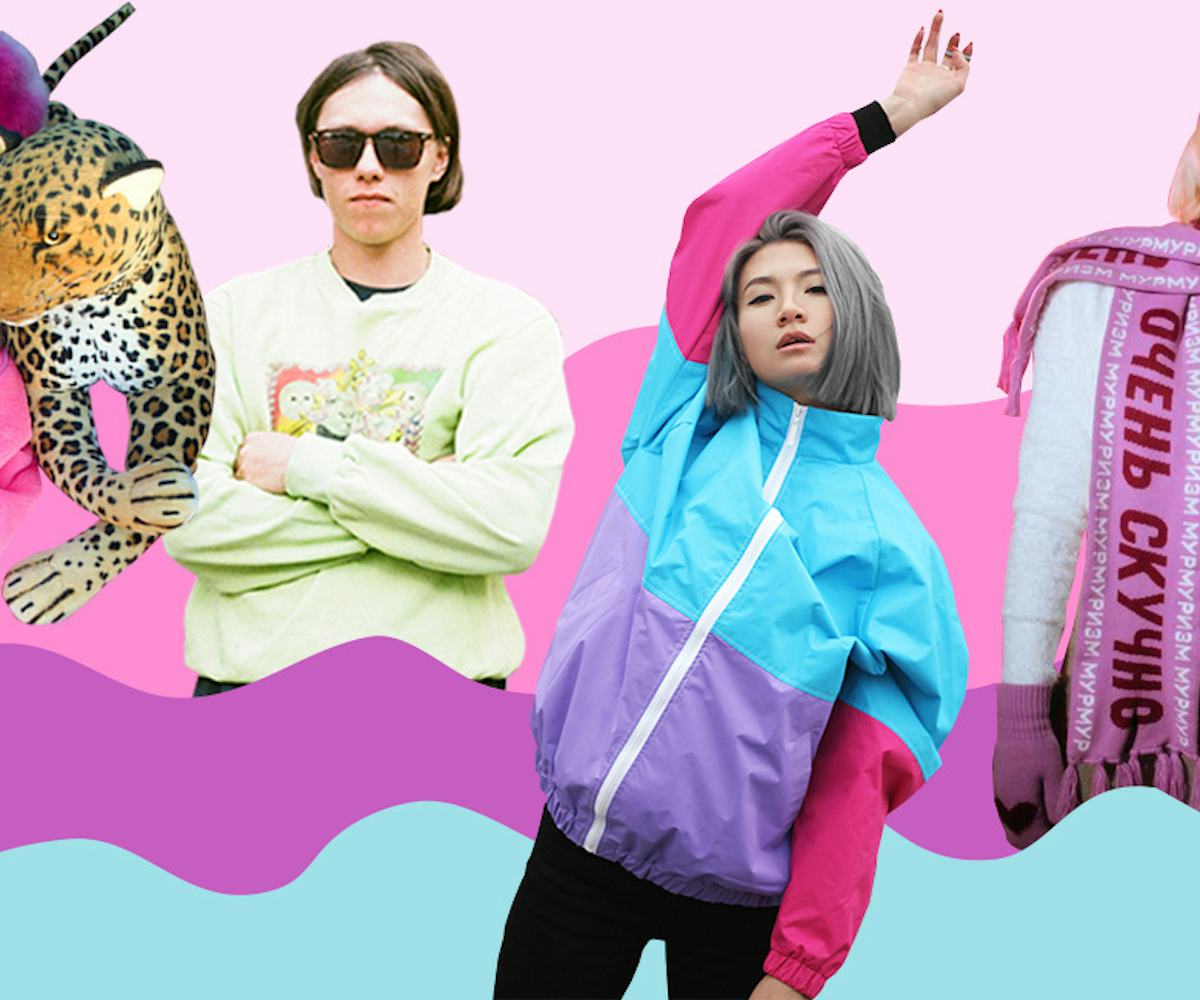 Get To Know The Pop-Up Bringing Russian Streetwear To New York
Fortochka is giving Americans a chance to see Russia in a new way
The current state of the relations between the U.S. and Russia is, err, tense to say the least. What this means is that a lot of Americans have a skewed view about what Russia is like, and vice versa. But there's more to Russia than just the Trump-Putin debacle, and that's exactly what Fortochka, a new fashion pop-up coming to the Lower East Side this weekend, wants to make clear.
Fortochka stems from the passions of two best friends living in two different countries: Smith Freeman, located in Brooklyn, and Olivia Capozzalo, who lives in St. Petersburg, Russia. It all began when the long-distance friends started a podcast called She's In Russia, where the two discuss everything from the current state of politics to Russian ways of life (oh, and memes) as a way to teach Americans about Russia, and improve Russian-American relations on a more personal level.
To further this sentiment, they decided to throw fashion into the mix with the new, ongoing series of pop-ups, bringing some of the best Russia's fashion scene has to offer Stateside. It's their way of facilitating an actual "person-to-person exchange" between the two countries. What better way to learn about another's culture than with tangible objects that surpass a language barrier?
Fortochka, which basically translates to "a small window within a window," will give us a peek into the world of Russian fashion, something we don't typically have the opportunity to see here in the States. They're not interested in bringing us the Gosha Rubchinskiys of the game, but the small-but-cool emerging brands, the streetwear labels to know, and the meticulously handcrafted works of art. Over 100 products from more than 20 brands will be available to shop, and we can guarantee you haven't heard of all—or even any—of them. And with the bulk of prices ranging from $50 up to $150, how could you resist?
Fortochka will be open on December 8 and 9 from 10am to 9pm at El Triunfo, 332 East 4th Street, New York.
Won't be in New York this weekend? Keep reading to take a closer look at a handful of the brands that will be a part of Fortochka's debut.
Murmurizm
The world of Murmurizm is quite a colorful one. The Moscow-based label sees fashion as art and wants its customers to wear its pieces as a means of self-expression, and to celebrate each other's uniqueness. You'll find a neon and pastel assortment of hoodies, tees, winter accessories, and more splattered in ironic Russian inscriptions.
While you'll find a selection of pieces at tomorrow's pop-up, you can shop the collection online at Murmurizm.com.
E-404
E-404 is the brainchild of photographer Artem Bryukhov and illustrator Ksenia Cheremnova; the two created streetwear from a child's point of view. Inspired by the primitivism art movement, favorite TV shows of their youth, and the subtleties of everyday life, you'll find bold and bright streetwear staples—hoodies, tees, track pants, and more—with inscriptions, child-like scribbles, and contrasting prints juxtaposed over clean silhouettes.
While you can get a taste of the brand at Fortochka, you can shop the full collection at WeAreError404.com.
Tie Dye Maniac
St. Petersburg-based Tie-Dye Maniac considers itself more than just a clothing label—it's an experiment. As you would expect from the name, every piece created is tie-dyed in some way—but it aims to break away from the typical tie-dye stereotypes of clothing for skaters and hippies by paying tribute to the digital age. The two-person design team produces several collections a year, never following trends or seasonality, typically creating only 20 or so pieces of each design, with others never exceeding over 100. Even if the brand isn't following seasonal trends, it certainly doesn't hurt that tie-dye is so hot right now.
"We do not want to sell lifestyle but simply explore a wide range of phenomena that we live in. And in this case, a dress, T-shirt, or sweatshirt is a medium, a carrier of information, a way to communicate with the environment," they say. You can check out more of its offerings at TieDyeManiac.com and place U.S. orders through Instagram DM or on its Facebook page.
NGOC
St. Petersburg-based NGOC draws its influence from both European and Asian fashion, creating simple yet elevated wardrobe staples with a heavy focus on outerwear. From neon windbreakers to velvet puffers, it has you covered for every season.
The brand ships worldwide through its Instagram, where you can DM for purchase.
Aloe
Aloe is an unapologetically in-your-face brand of our dreams, and it's certainly not for the faint of heart. The brand, founded in the '90s, seeks to be the unique alternative to the fast fashion look-alikes of the world. Its quirky designs include everything from holographic lamé bodysuits and giant tulle skirts to neon oversized sweater dresses. The brand also carries a handful of vintage pieces, from '80s party dresses to shaggy outerwear.
Can't make it to Fortochka tomorrow? Aloe delivers worldwide, and you can shop the full collection at Aloenot.com.
Sputnik1985
Moscow-based streetwear label Sputnik1985 is, according to founder Sergei Pakhotin, more a line of merch than a clothing label. While the pieces are simple and comfortable—tees, sweatshirts, socks, and more—it's committed to visual presentation, with graphics and logos meant to be interpreted with subtle irony and humor. And, as Pakhotin describes, it's a line meant to take you from climbing fences to going out to the theater.
The brand ships worldwide, and you can shop the full offering at Sputnik1985.com.
Goldmans
Moscow-based Goldmans is the brainchild of Siberian sisters Ulia and Zhenya Goldman, whose the goal is to make everyday things—and everyday clothing—less boring. From repurposing and painting vintage jackets to creating art-printed skirts and embroidered underwear, the goal is to put the Goldman sister touch in everything they do. What is that, exactly? "A little provocation, a little negation, and artistic sentiment. And, in general, we don't chase after tags, we just do what we like," they say.
While you'll find an offering at tomorrow's pop-up, they do ship worldwide. You can order via Instagram DM or through email.