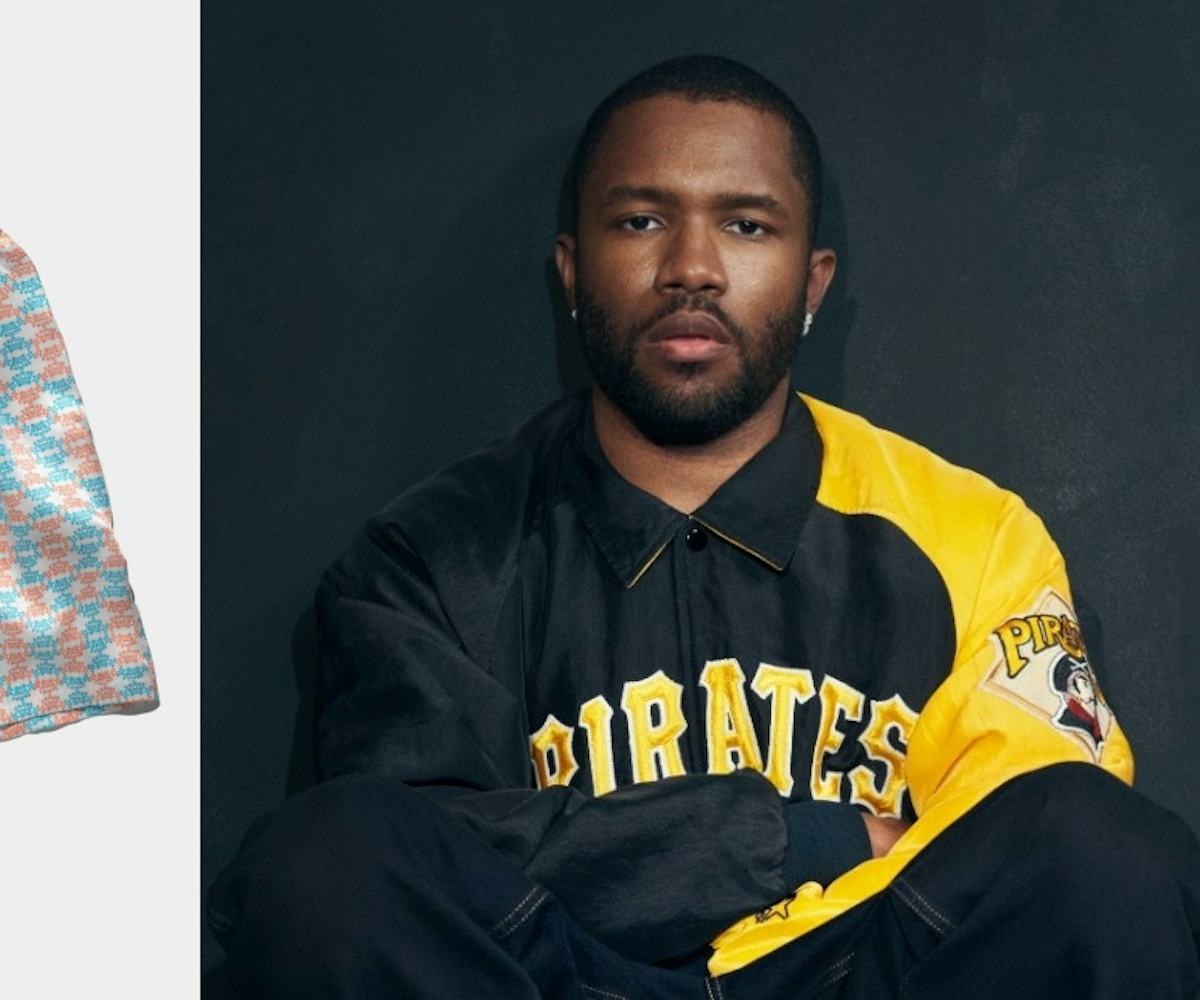 L: blonded.co ; R: Courtesy of the artist
You Can Now Own Frank Ocean Boxer Shorts
In a surprise drop that may make your weekend, Frank Ocean released Blonded merch. The enigmatic auteur revealed the six-item line of apparel and phone accessories dedicated to his Beats 1 radio show on Friday afternoon, announcing the launch to the world by (wordlessly) posting a photo of someone modeling the sweatpants on his Instagram.
The collection involves a mix of comfy-looking clothing and utility items. There are the previously mentioned fleece sweatpants with the "blonded" logo emblazoned on the side, some retro-looking gym socks, silk boxer shorts, three different colored phone cases, one of those metal phone rings that attach to the back of your device (this one comes with a rotating phone stand, too), and a blonded hoodie. Depending on what you get, an item will put you back by approximately $15 (phone ring) to $150 dollars (sweat pants and hoodie).
Merch from Ocean has always been a rare and highly temporary occurrence, many of his previous drops only available for a short period of time. The last time Ocean sold apparel was in October 2019, when he was debuting his new New York queer club night series, +PreP. There's no word yet if these new items are limited-edition and, likewise, will only be available briefly.
If you're wondering what to purchase first (naturally), here's NYLON's very scientifically ranked list of the drop below.
1. blonded boxer shorts
Imagine... every pair of pants you own can feel designer if you wear these underneath. This is silk! And only $60.
2. blonded sweatpants
Talk about lounging around the house in cozy and branded comfort. This also comes in black, and a quite lovely forest green. $150.
3. blonded socks
Everyone needs socks. Now you can have your very own Frank Ocean-approved pair. $25.
4. blonded hoodie
How many people will attend the next Frank Ocean concert in a matching blonded hoodie and sweatpants set? Surely too many, and yet — I cannot imagine a uniform I want more. $150.
5. blonded phone case
The perpetually, eternally useful phone case! Props to Frank for putting the logo on the bottom. $20.
6. blonded phone ring/stand
Hmmm, okay, I am not entirely sold. At least it's just $15!