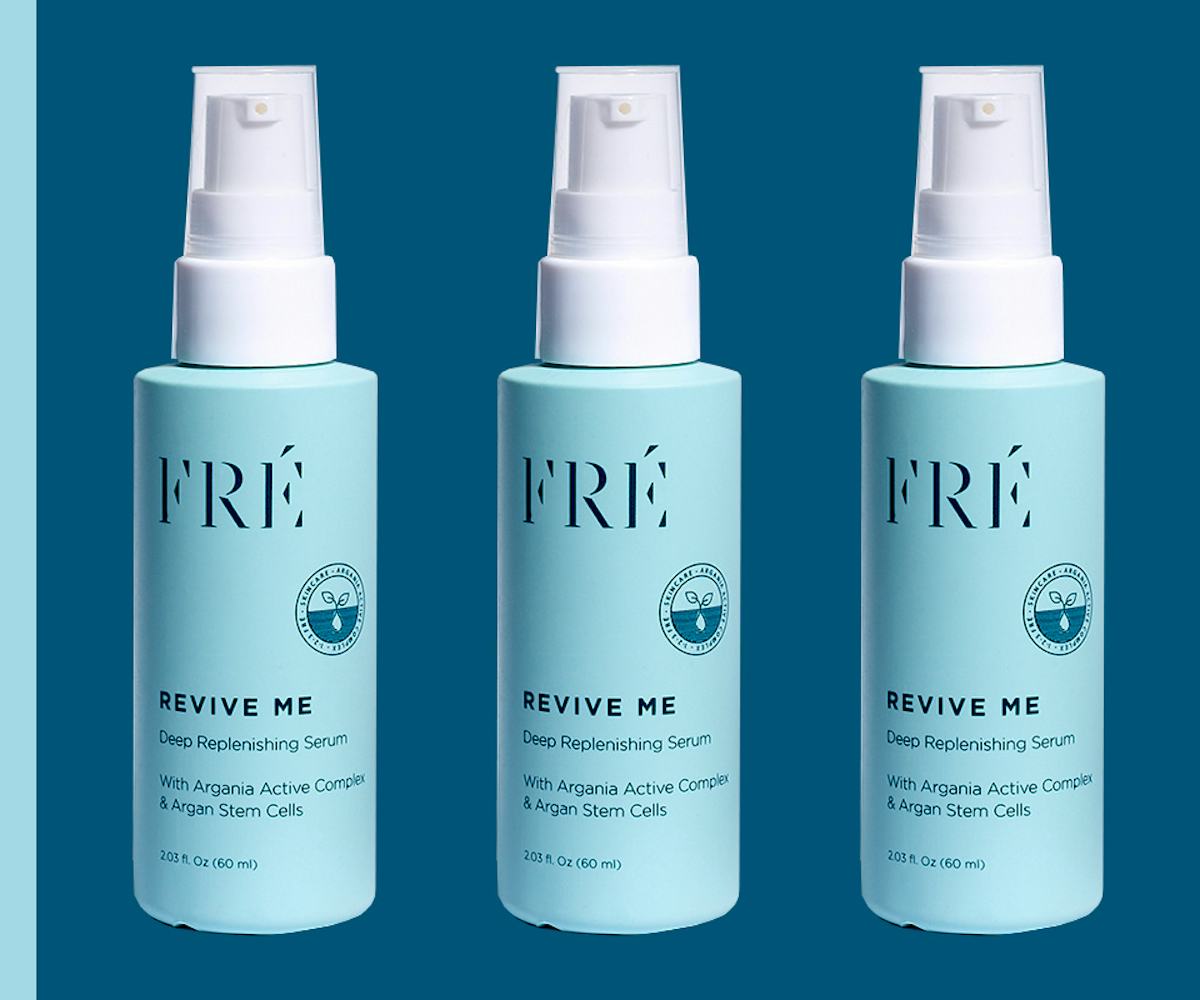 Photo courtesy of Fré Skincare
This Serum Doesn't Clog My Pores Because It's Literally Made To Sweat In
And it's drip season, people
Friends don't let friends miss out on all the cool, under-the-radar things they know about, like which little-known beauty brand is low-key making the best highlighter around. And because we consider our readers to be like friends, we gather together all our best finds in our Don't Sleep On Thisseries. Check in every week to see what things we can't wait to share with you.
You know the moment I'm talking about: You're feeling absolutely amazing post-workout. Not only are you super proud of yourself for finally hitting pause after three hours of bingeing the latest season of Queer Eye, but now you've also got a burst of endorphins going from breaking a much-needed sweat.
It's only after you get home, peel off your drenched clothes and turn on the shower that you finally look in the mirror to find red, irritated skin and a new cluster of zits, likely caused by the mix of salty sweat and your oily moisturizer. Look, I've been there. I have really dry skin, which means I absolutely have to wear some form of facial lotion at all times. I'm also an athlete and lover of all things fitness. So my pores? Well, they get clogged. But that's where Fré Skincare's Revive Me Serum comes in.
My best friend, who works at a fitness studio, had been raving about Fré to me for the longest time. She said that a lot of the instructors used Fré's products and that, despite their constant sweating, it never made them break-out. Likely story, I thought. But finally, after much prodding, I tried a bit of her serum before a run—and when I got back to find that not only were there no irritation or breakouts in sight, but that I was also glowing? Well, I was hooked.
Now, I slather on the Revive Me Serum before and after almost all of my workouts, especially when my skin looks flat, dull-ish, and needs a little pick-me-up. The ingredients, like argan stem cells, sterol, and squalene help keep my skin hydrated and gleaming while also protecting me from environmental pollutants that my face encounters during exercise (and, like, during my everyday life by simply stepping outside).
Basically, I'm shiny and my face feels fresh as hell. It's a huge step up from my typical facial moisturizers, because it's literally asking those humans with hyper-sensitive skin (me) to wear it while they sweat. Now I feel like I don't have to compromise my complexion during my workout, even when I'm wiping the sweat from my already-soaked shirt against my skin for the billionth time.
Fré also sells products like exfoliating facial cleansers and tinted moisturizers with SPF for face as well as an entire line dedicated to body care. You can buy the various products in "sets"—like the 'Detox Set,' the 'Recover Set' and the 'Glow Set' just to name a few—or you can buy each individually based on your various skincare needs. If you don't want to invest in a set, then I'd suggest, like me, giving the Revive Me Serum a shot before you dig in to your savings account. Either way, your sweat glands will thank you.
Fré Skincare, Revive Me Serum, $65, available at Fré Skincare.