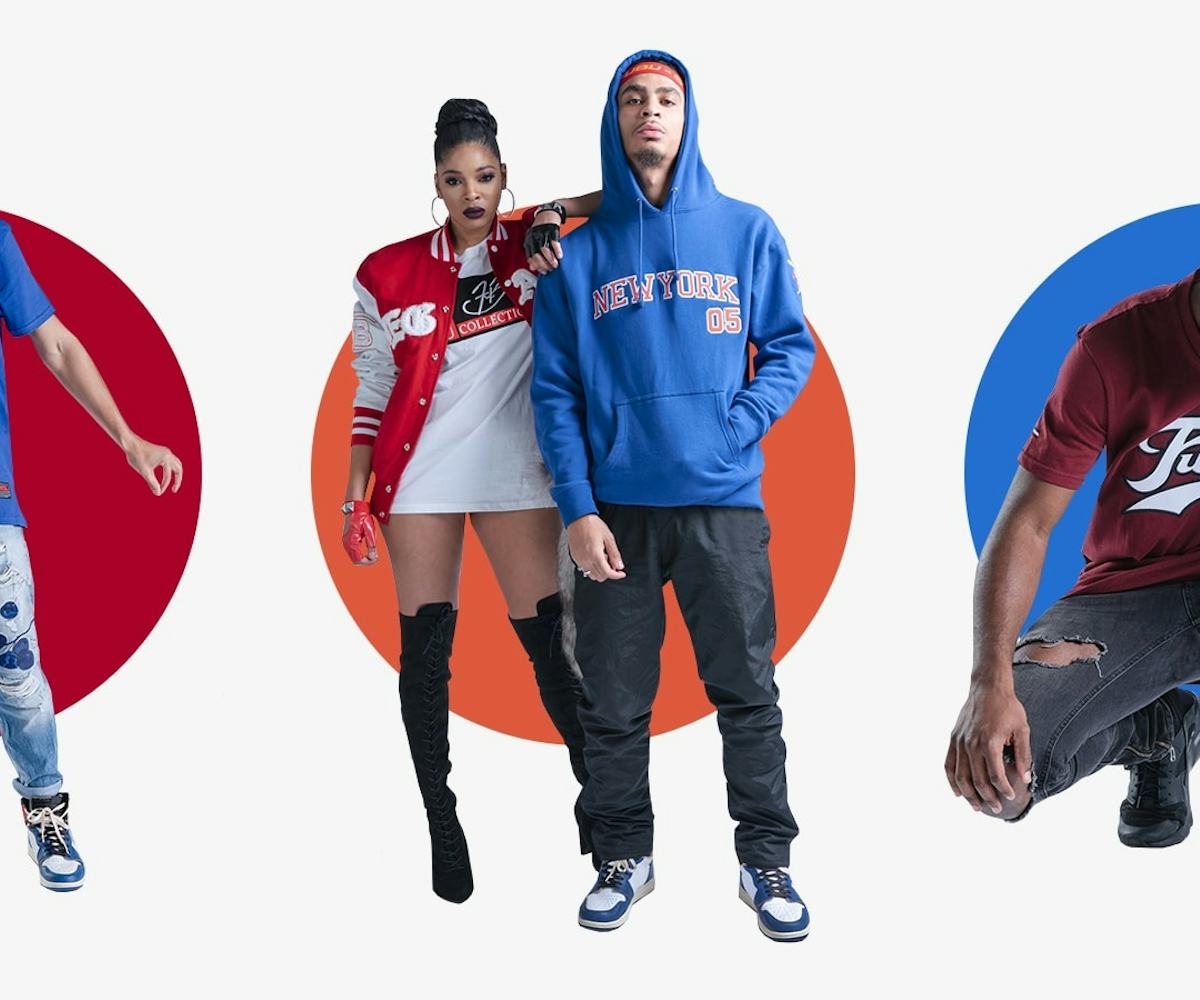 The Second Coming Of FUBU
Taking a look at the rise, fall, and rise again of the classic brand
Last September, to the sounds of a church choir singing Kendrick Lamar's "Alright," Pyer Moss' Kerby Jean-Raymond's runway show featured looks from a Black-run fashion brand that wasn't his own, one that many of those watching—myself included—hadn't seen in years: FUBU.
"Kerby had reached out to us and said he would like to set up a meeting and discuss his ideas," Keith Perrin, co-founder of FUBU, tells us. "He came down and explained why he wanted to do a collaboration and said that [it was because the] people that came before him don't get enough attention; that they really don't give us our props when it comes to the impact we made on the fashion industry." Perrin says he and the other FUBU founders agreed. "They always said we weren't real fashion, but at the same time we made $6 billion doing it."
FUBU launched as an apparel company in 1992 by Daymond John, J. Alexander Martin, Carlton Brown, and Perrin. Outside of Martin, who was going to FIT at the time, "no one was really formally educated in fashion," Perrin explains. But that didn't matter. They were determined to carve out a space in the industry for their people—the hip-hop generation, the Black community—at a time when many companies were trying to shut them out. Perrin recalls: "There was an article talking about a company that didn't want the inner city kids to wear their boots. We were like, 'What are you talking about?' Everybody had on Timberlands at the time, so we couldn't really understand why they would make that statement." Stemming in part from their frustration, the group decided to stop making these people who, he says, didn't really care about them, rich. "We needed to make a company for us, by us."
Outside of Black-owned brands like Cross Colors and Karl Kani, which the guys gleaned inspiration from, they didn't have a lot of guidance for how to turn their idea into a tangible business. So, let's just say, there was a very sharp learning curve in the beginning that included burning unused fabric, the fire department, and many fines. "It was more trial and error," Perrin says. "I think that's why we kept stopping and starting, we didn't have the funds to keep going. We were making those mistakes early on that cost us a pretty penny, but they were valuable lessons to be learned." Since they didn't have a designer amongst the group, they started out with two designs that they slapped on everything from T-shirts to hats and hockey jerseys. It wasn't until they signed a deal with Samsung in 1995 that they were able to hire the help they needed and really get creative. Then, the department stores came calling.
"We were so popular that we kind of created the urban market in department stores," Perrin says. Prior to FUBU, stores like Macy's and J.C. Penney were dominated by brands like Tommy Hilfiger and Ralph Lauren, which didn't really mesh with the FUBU vibe. So, when department store heads asked Perrin and his team what other brands they wanted to surround themselves with, they decided to recommend popular hip-hop brands like Pelle Pelle and Mecca. "We thought it was healthy competition to include them into that fold because some of them didn't have the opportunity or connections to actually get into these departments," Perrin says. "So, by us telling the buyers, 'Go get these guys,' that's what they did, and that's how the whole urban department was made back then."
And it only grew from there. The brand had its biggest peak in the late '90s and early aughts, with pieces worn by everyone from Destiny's Child to, oddly enough, *NSYNC. But the brand's biggest endorsement came by way of LL Cool J who, somewhat controversially, wore a FUBU hat in a commercial for the Gap (and slid in the line "for us by us, on the low"), which reportedly resulted in FUBU grossing $350 million in worldwide sales in 1998. Not much later, brands like Phat Farm, Rocawear, and Sean John also launched. "I remember talking to Diddy, and he was like, 'Man, you guys are killing it out here, getting all this money from clothing?' And before you knew it, he had a clothing line," Perrin says. These brands became part of the hip-hop lexicon, worn proudly not only because the clothes were great, but also because they were Black-owned. "For us by us" didn't just apply to FUBU anymore, it became a widespread initiative.
Then, the bubble popped. Over time, people moved away from wearing oversized jerseys and fitted hats. It happens: Fashion is cyclical, and trends come in and out of style. That's part of the reason why FUBU fell by the wayside, but Perrin has some other theories for the brand's dip in popularity. The first is that they oversaturated the market and "opened up too many doors for too many people." The second is a move the team made in order to get rid of extra inventory. It was around Christmas time, so they decided to donate items to shelters. "Next thing I know, we had people calling and saying, 'You've got homeless people out here wearing FUBU!'" He recalls. "I didn't really think about it at the time, I thought I was just doing a good deed, but people started to associate it with people that shouldn't be wearing it and then they didn't want to wear it anymore."
So, for some time, the team decided to put FUBU on pause and pursue their own endeavors separately. John joined Shark Tank, Martin started working on a TV network, Brown was trying to build the brand's first hotel, and Perrin started FUBU radio. "We were trying to spread it out and reinvent ourselves," Perrin says. Then, streetwear and nostalgia came back in style and "old-school" brands like Fila and Champion started popping up again.
Perrin says they attempted a relaunch in 2008, but they didn't put a lot of effort into it. Ultimately, it was the fans who ended up fully coaxing FUBU back. "I run the brand's social media, and I was getting messages like, 'I bought everything off eBay and I can't find anything!' or 'I went to every thrift store I can find, I can't find any more FUBU, make a new line,'" Perrin says. "We listened to that for about a year, and then we were like, 'Okay, I think these guys are ready.'" They had companies like Puma and Urban Outfitters reaching out to collaborate, but they started small, with capsule collections. Because even though Perrin says the popularity of the brand never died overseas, they recognized that, here, "it was dead in the water." "At the time, we didn't want to jump back in, make a bunch of product, and it doesn't sell," he says. "Let's test the waters, gauge it, and see what consumers think of us now." Once they knew people were hungry for the product again, that's when they decided to dive in and make a comeback in a big way, which is where the brand's recent partnership with Century21 comes into play.
The new launch doesn't just include clothes, but also eyewear, underwear, watches, and suits; with a women's line coming soon after. Pieces will be offered at a discounted price, but with the same quality. "It took us about two and a half years to get this ball rolling, so I'm excited," Perrin says. Of course, there's a chance that a FUBU comeback could flop, but that won't change the fact that the brand's legacy has already impacted the culture in ways both big and small.
"We had our time, andwe did the damn thing," Perrin reflects. "We were very successful, put people through college, started a lot of people on their own businesses, we were content. You can't make someone appreciate you, you just have to be comfortable with what you're doing and what you've done." And, during a time when it seems like most big brandfashion names don't care about offending the very people fawning over their products, there's perhaps no better time to support those who have always been for us and by us.